Mario Bros. Museum of Plumbing
From the Super Mario Wiki, the Mario encyclopedia
Jump to navigation
Jump to search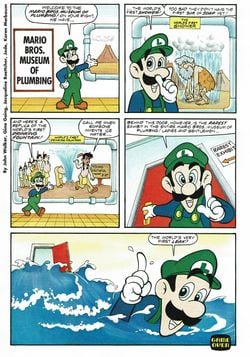 Mario Bros. Museum of Plumbing is a single-page comic in the Nintendo Comics System, first appearing in Super Mario Bros. #2 and reappearing in Super Mario Bros. #3. The story is written and created by John Walker, Gina Going, Jacqueline Roettcher, Jade, and Karen Merbaum.
The short story follows Luigi, who offers the reader a brief tour of their plumbing museum, featuring historic moments, artifacts, and exhibits of plumbing history. Luigi first shows the reader a caveman underneath a small, raining cloud, dubbing it the world's first shower, though mentions it was a shame there was no soap yet.
Next, Luigi shows the reader several Natives lined up for a drink from "Young Faithful", a reference to the "Old Faithful" geyser. However, one Indian walks away untill ice water is created, as the water currently has a temperature of 212 degrees.
The final exhibit Luigi shows the reader is the one he claims to be the rarest in their entire museum - he then opens the door to unleash the "world's very first leak", with the strip ending here.