Super Nostalgic Entertainment System
From the Super Mario Wiki, the Mario encyclopedia
Jump to navigation
Jump to search
Super Nostalgic Entertainment System
Appears in
WarioWare: Smooth Moves
Type
9-Volt & 18-Volt
Command
Insert!
Info
"It's been a while since I booted up my SNES. Let's see if I remember how it goes... 1991: SNES"
Form(s)
"The Handlebar"
Music track
Super Mario Bros. 10 Coins
Super Nostalgic Entertainment System is one of 9-Volt & 18-Volt's microgames in WarioWare: Smooth Moves. The North American and PAL versions use a first-model SNES (even though the PAL SNES was based on the Japanese Super Famicom), while the Japanese version uses a Famicom and hence called Family Computer (the full version of the console's name). The microgame's name is a play on "Super Nintendo Entertainment System" as both can be abbreviated as "SNES".
Gameplay
[
edit
]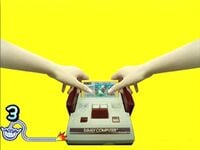 The player must insert a cartridge into the console, with the challenge stemming from the fact that the cartridge is moving around. Possible game cartridges include Super Mario World (using the single-line logo), Wario's Woods, Mario Paint, Pilotwings, Super Punch-Out!!, and Super Metroid.
Level 1: The cartridge moves left and right above the console.
Level 2: The cartridge is spinning in a circle above the console slot. It must be inserted when it is turned the proper way.
Level 3: The cartridge is nowhere to be found, but eventually quickly flies above the console from off-screen.
Names in other languages
[
edit
]
Language
Name
Meaning
Japanese
ファミリーコンピュータ
Famirī Konpyūta
Family Computer