Level B-6
From the Super Mario Wiki, the Mario encyclopedia
Jump to navigation
Jump to search
Level B-6 is the sixth course in the Bonus 1 set and the sixth Bonus Level overall in Mario vs. Donkey Kong: Tipping Stars. It is a Multi-Door course set in Runaway Warehouse and is unlocked by earning 24 trophies.
The level features one Mini Mario, one Mini Peach and one Mini Toad.
Overview
[
edit
]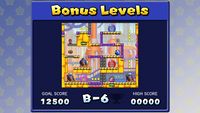 The level is an arrangement of Purple Conveyor Rivets placed to make connections between platforms. Cannon Kongs are also scattered near the bottom of the area; two of them are on the sides and aim upward. The Mini Mario starts on a girder platform near the top left corner and has to rescue the other toys from their capsules. A pair of Hammers is found under the Mini Mario, which can be used to destroy Rock blocks around the area. The Mini Peach is on the bottom floor, behind a wall of Rock and a pit of spikes with Rivets on the sides, while the Mini Toad stands on a floor higher up, surrounded by Purple Conveyor Rivets. Mini Mario's door is inside an alcove blocked by Rocks (where the Cannon Kong in the middle aims to shoot), Mini Peach's door is next to the left Cannon Kong, and Mini Toad's door is on the highest floor, on a wide detached platform.
The M Coin is located on a high platform, under Mini Toad's door. Purple Conveyors must lead the Minis into the coin, provided they reach this section of the level by shooting from either of the Cannon Kongs on the sides of the bottom floor.
High scores
[
edit
]
Nintendo 3DS
[
edit
]
Bronze trophy: 4500 points
Silver trophy: 7500 points
Gold trophy: 13500 points
Wii U version
[
edit
]
Bronze trophy: 3500 points
Silver trophy: 6500 points
Gold trophy: 12500 points
Statistics
[
edit
]
Nintendo 3DS version
[
edit
]
Wii U version
[
edit
]
Purple Conveyors: 15
Purple Conveyor Rivets: 14
Conveyor Switches: 2
Rocks: 15
Hammer pairs: 1
Coins: 14
Enemies: