Level 5-5 (Mario vs. Donkey Kong: Tipping Stars)
From the Super Mario Wiki, the Mario encyclopedia
Jump to navigation
Jump to search
Level 5-5 is the course of Dashing Desert in Mario vs. Donkey Kong: Tipping Stars. The feature of this level is a Capture Kong that wanders from side to side on a platform, capturing any Mini that it encounters inside the barrel on its back.
The level features a Mini Mario, a Mini Peach, a Mini Toad, and a Mini Pauline.
Overview
[
edit
]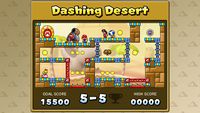 The stage mostly consists of Red Girder and Blue Lift Rivets, grouped between platforms at different levels. Mini Peach starts at the bottom left corner of the course, while the other three Minis start at the top, facing a Capture Kong nearby. The enemy protects the Goal Door further to the left. To bypass the Capture Kong and rescue any Minis taken by it, the toys have to acquire the Hammers in the center of the stage, then ascend to the top floor where the enemy is located to stun it.
The M Coin is found within the right part of the level, although the exact position differs greatly between the Nintendo 3DS and the Wii U versions. Nevertheless, both versions require the player to use Blue Lifts and, if necessary, Red Girders to reach the coin.
High scores
[
edit
]
Nintendo 3DS version
[
edit
]
Bronze trophy: 7000 points
Silver trophy: 10000 points
Gold trophy: 16000 points
Wii U version
[
edit
]
Bronze trophy: 6500 points
Silver trophy: 9500 points
Gold trophy: 15500 points
Statistics
[
edit
]
Nintendo 3DS version
[
edit
]
Wii U version
[
edit
]
Resource items:

Red Girders: 6
Blue Lifts: 9

Red Girder Rivets: 7
Blue Lift Rivets: 11
Hammer pairs: 1
Coins: 9
Large Coins: 3
Enemies: