Level E1-1
From the Super Mario Wiki, the Mario encyclopedia
Jump to navigation
Jump to search
Level E1-1 is the first course of Orbiting Observatory in Mario vs. Donkey Kong: Tipping Stars. It introduces Magnet Ground, which allow the Minis to walk on all of their open surfaces when enabled. Pink Blocks are also used to demonstrate their use with Magnet Ground; placing a wall of Pink Blocks ahead of the Minis as they walk on a magnetic surface forces them to change direction on the Magnet Ground. As non-magnetic surfaces, Pink Blocks can also be stepped on to escape a Magnet Ground.
The level features three Mini Marios.
Overview
[
edit
]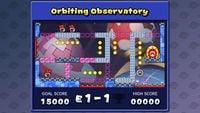 There are three Magnet Grounds of different sizes, placed in order from the shortest to the longest. There are also series of Pink Block outlines forming links between the Magnets. Two Mini Marios start on the shortest Magnet Ground, while the third starts at the bottom left side of the stage. Using Pink Blocks accordingly, the Minis should be guided from one platform to another to reach the Goal Door at the far right.
The M Coin is found at the base of the longest Magnet, on the right. To reach it, the Minis should simply walk along said Magnet and collect the coins on the way. The player should place a row of Pink Blocks after the M Coin to turn the toys back and keep them from touching the spikes ahead.
High scores
[
edit
]
The following high scores apply in both the Nintendo 3DS and the Wii U versions of the game.
Bronze trophy: 6000 points
Silver trophy: 9000 points
Gold trophy: 15000 points
Statistics
[
edit
]
Nintendo 3DS version
[
edit
]
Wii U version
[
edit
]
Pink Blocks: 9
Pink Block outlines: 32
Coins: 20