Level 1-8 (Mario vs. Donkey Kong: Tipping Stars)
From the Super Mario Wiki, the Mario encyclopedia
Jump to navigation
Jump to search
Level 1-8 is the eighth and last course in Rolling Hills in Mario vs. Donkey Kong: Tipping Stars. It marks the overall debut of Cursed Mini Mario, a Mini Mario turned into a harmful, zombified version of its own self.
Aside from the Cursed Mini Mario, the level features a single Mini Mario that must revert the other one to its normal state by attacking it with Hammers.
Overview
[
edit
]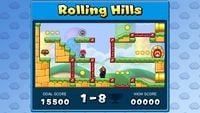 The level is made of several passages where navigation is assured by Red Girder Rivets. There are also two Split Pipes at the right side of the screen, positioned at the bottom and at the top. Initially, the Cursed Mini Mario crosses some spikes, goes in the bottom pipe and exits the other, then falls into a long gap and bumps into a Red Girder wall, repeating the process.
The normal Mini Mario has to be lured to the stairs behind its starting position, which help reach the Hammers that amend the Cursed Mini Mario. There are a few areas where the Cursed Mini Mario can be trapped in beforehand with Red Girder walls. After it is freed, both Mini Marios should head for the Goal Door by taking Red Girders.
The M Coin is floating on the platform just above the normal Mini Mario. To reach it, the player should lead the Mini Mario into the bottom pipe so that it exits from the other at the top, then use a Red Girder to cross the gap ahead to the M Coin.
High scores
[
edit
]
Nintendo 3DS version
[
edit
]
Bronze trophy: 6000 points
Silver trophy: 9000 points
Gold trophy: 15000 points
Wii U version
[
edit
]
Bronze trophy: 6500 points
Silver trophy: 9500 points
Gold trophy: 15500 points
Statistics
[
edit
]
Nintendo 3DS version
[
edit
]
Wii U version
[
edit
]
Red Girders: 12
Red Girder Rivets: 11
Coins: 9
Large Coins: 2