Level 4-8 (Mario vs. Donkey Kong: Tipping Stars)
From the Super Mario Wiki, the Mario encyclopedia
Jump to navigation
Jump to search
Level 4-8 is the eighth and last course of Crumbling Cavern in Mario vs. Donkey Kong: Tipping Stars.
The level features a Cursed Mini Mario, a normal Mini Mario and a Mini Toad.
Overview
[
edit
]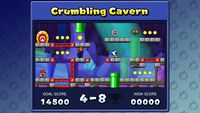 The level contains various platforms mixed with series of Movable Pipe outlines and Red Girder Rivets. The Mini Mario starts on the bottom floor at the far left, while the Mini Toad starts near the center of the stage. The Cursed Mini Mario is initiated between their positions; it enters a pipe on the bottom floor and exits from another on the ceiling, going back down to the bottom and repeating the process. To revert the Cursed Mini Mario, the other Minis have to grab the pair of Hammers at the top of the rightmost pipe, then chase the cursed toy and hit it with them. When all Minis are grouped together, they should head for the Goal Door at the top left to clear the course.
The M Coin is found immediately left from the rightmost Movable Pipe. To grab it, the Minis should enter another pipe from the left so that they head towards the coin when they exit to the other side.
High scores
[
edit
]
Nintendo 3DS version
[
edit
]
Bronze trophy: 5000 points
Silver trophy: 8000 points
Gold trophy: 14000 points
Wii U version
[
edit
]
Bronze trophy: 5500 points
Silver trophy: 8500 points
Gold trophy: 14500 points
Statistics
[
edit
]
Nintendo 3DS version
[
edit
]
Wii U version
[
edit
]
Red Girders: 11
Red Girder Rivets: 11
Movable Pipe outlines: 5
Hammer pairs: 1
Coins: 13
Large Coins: 1