Level 1-2 (Mario vs. Donkey Kong: Tipping Stars)
From the Super Mario Wiki, the Mario encyclopedia
Jump to navigation
Jump to search
Level 1-2 is the second course in Rolling Hills in Mario vs. Donkey Kong: Tipping Stars. It introduces Girder Pickups that must be collected in the level before they can be used.
The level features two Mini Marios.
Overview
[
edit
]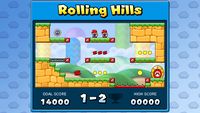 Both Mini Marios begin on a platform in the middle of the stage. Three Red Girders are found on a platform under them. A large piece of Red Girder that gives the Mini Mario five Red Girders when collected can be found on the ground to the left of the starting platform. An area with three coins is found on the right side of the stage, and can be reached by creating a bridge made of Red Girders. In order to reach the Goal Door, a bridge made of six Red Girders must be placed over a pit of spikes on the right side of the stage.
The M Coin is located at the same height as the starting point, on a platform on the left side of the stage. To collect it, the Mini Marios must collect Red Girders in order to make a bridge to it.
High scores
[
edit
]
Nintendo 3DS version
[
edit
]
Bronze trophy: 5500 points
Silver trophy: 8500 points
Gold trophy: 14500 points
Wii U version
[
edit
]
Bronze trophy: 5000 points
Silver trophy: 8000 points
Gold trophy: 14000 points
Statistics
[
edit
]
Nintendo 3DS version
[
edit
]
Wii U version
[
edit
]
Red Girder Rivets: 9
Girder Pickups: 3
Large Girder Pickups: 1
Coins: 6
Large Coins: 1