Level 2-7 (Mario vs. Donkey Kong: Tipping Stars)
From the Super Mario Wiki, the Mario encyclopedia
Jump to navigation
Jump to search
Level 2-7 is the seventh course in Jumpy Jungle in Mario vs. Donkey Kong: Tipping Stars.
The level features two Mini Marios, one of which carries a key.
Overview
[
edit
]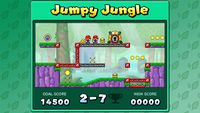 The course is divided into three floors marked by gray girder platforms and Red Girder Rivets. The Mini Marios can use Red Girders and Long Springs to move from one floor to another. Although the Minis directly face the locked Goal Door on the highest floor at their starting position, the Key Mini Mario cannot unlock it since it is put behind the other keyless Mini Mario. This forces the toys to traverse the course in a way that brings the Key Mini Mario to the door first to unlock it, followed by the other Mini Mario.
The M Coin is located left from the Goal Door, on the same level. The player needs to set a Red Girder platform that leads to it, so that the Mini Marios can collect the coin.
High scores
[
edit
]
Nintendo 3DS version
[
edit
]
Bronze trophy: 6000 points
Silver trophy: 9000 points
Gold trophy: 15000 points
Wii U version
[
edit
]
Bronze trophy: 5500 points
Silver trophy: 8500 points
Gold trophy: 14500 points
Statistics
[
edit
]
Nintendo 3DS version
[
edit
]
Resource items:
Red Girder Rivets: 10
Long Spring slots: 4
Coins: 3
Large Coins: 2
Wii U version
[
edit
]
Resource items:

Red Girders: 9
Long Springs: 2

Red Girder Rivets: 10
Long Spring slots: 4
Coins: 6
Large Coins: 1