Level 4-2 (Mario vs. Donkey Kong: Tipping Stars)
From the Super Mario Wiki, the Mario encyclopedia
Jump to navigation
Jump to search
Level 4-2 is the second course of Crumbling Cavern in Mario vs. Donkey Kong: Tipping Stars.
The level features two Mini Marios, a Mini Peach, and a Mini Toad.
Overview
[
edit
]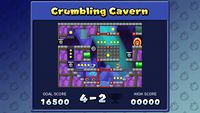 The layout of the course resembles a labyrinth stocked with many Red Girders, Cannons, and Movable Pipes. A large stack of Rock blocks is standing in the center of the level and can be penetrated using a Cannon on the right. The two Mini Marios start close together on the bottom floor, near a pit of spikes, while the other Minis start on two separate platforms above. The Goal Door is located on the top right
The Minis must first get into the Cannon on the right and shoot through the Rocks into a Movable Pipe on the left. They should exit out of another Movable Pipe in the top left and keep going to the left until they enter another Cannon, which they must use to blast to the Goal Door on the opposite side of the stage.
The M Coin stands in a narrow opening between the stack of Rocks and a wall on the left. To collect it, the Minis should simply fall from either ledge into the opening.
High scores
[
edit
]
The following high scores apply in both the Nintendo 3DS and the Wii U versions of the game.
Bronze trophy: 7500 points
Silver trophy: 10500 points
Gold trophy: 16500 points
Statistics
[
edit
]
Nintendo 3DS version
[
edit
]
Wii U version
[
edit
]
Red Girders: 8
Red Girder Rivets: 10
Movable Pipe outlines: 4
Cannons: 3
Rocks: 25
Coins: 16
Large Coins: 3