Level 2-6 (Mario vs. Donkey Kong: Tipping Stars)
From the Super Mario Wiki, the Mario encyclopedia
Jump to navigation
Jump to search
Level 2-6 is the sixth course in Jumpy Jungle in Mario vs. Donkey Kong: Tipping Stars. It is the first level in the game to include Cannons, which are used to launch the Minis on long distances.
The level features a Mini Mario and two Mini Peaches.
Overview
[
edit
]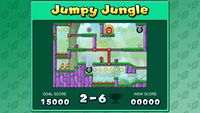 The course is a labyrinth with several Red Girder Rivets, High Springs and Cannons. The Goal Door lies on a platform at the top of the course, accessible only via a Cannon at the top right.
The M Coin stands on a platform located high in the course. To reach it, the Minis should first be shot upward out of the Cannon at the bottom, then bounced off a High Spring and helped with some Red Girders to avoid a pit of spikes. They soon encounter a wall and turn around, heading into the coin.
High scores
[
edit
]
The following high scores apply in both the Nintendo 3DS and the Wii U versions of the game.
Bronze trophy: 6000 points
Silver trophy: 9000 points
Gold trophy: 15000 points
Statistics
[
edit
]
Nintendo 3DS version
[
edit
]
Wii U version
[
edit
]
Resource items:

Red Girders: 6
High Springs: 2

Red Girder Rivets: 6
High Spring slots: 4
Cannons: 2
Coins: 14
Large Coins: 1