Level 2-3 (Mario vs. Donkey Kong: Tipping Stars)
From the Super Mario Wiki, the Mario encyclopedia
Jump to navigation
Jump to search
Level 2-3 is the third course in Jumpy Jungle in Mario vs. Donkey Kong: Tipping Stars.
The level features a Mini Mario and a Mini Peach.
Overview
[
edit
]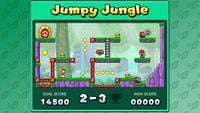 The course is an arrangement of platforms disposed on three levels, with Red Girders linking them. Long Springs are also scattered throughout, and a Ladder appears between two central platforms. Two Shy Guys patrol platforms at different levels on the right side of the screen. The Goal Door is located at the top-left corner of the stage.
The M Coin stands on a platform patrolled by a Shy Guy, located at the top-right corner of the course. It can only be reached by climbing the Ladder from the left (which involves grabbing the pair of Hammers next to the Ladder), then bouncing off a Long Spring. The Hammers help destroy the Shy Guy and safely collect the coin.
High scores
[
edit
]
The following high scores apply in both the Nintendo 3DS and the Wii U versions of the game.
Bronze trophy: 5500 points
Silver trophy: 8500 points
Gold trophy: 14500 points
Statistics
[
edit
]
Nintendo 3DS version
[
edit
]
Wii U version
[
edit
]
Resource items:

Red Girders: 8
Long Springs: 3

Red Girder Rivets: 9
Long Spring slots: 4
Ladders: 1
Coins: 7
Large Coins: 1
Enemies: