Level 4-6 (Mario vs. Donkey Kong: Tipping Stars)
From the Super Mario Wiki, the Mario encyclopedia
Jump to navigation
Jump to search
Level 4-6 is the sixth course of Crumbling Cavern in Mario vs. Donkey Kong: Tipping Stars.
The level features three Mini Marios.
Overview
[
edit
]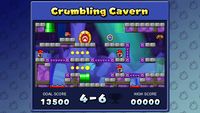 The course is an array of short platforms connected via Purple Conveyors. There are also several Movable Pipe outlines cornered in different positions. The Goal Door is located at the top of the level and is reachable via a Movable Pipe; however, a Shy Guy patrols the span of ground before the door. The Minis are required to grab the pair of Hammers on the top right and bring them to the enemy to destroy it.
The M Coin is left from the entrance of the middle pipe coming from the ceiling. The Minis can be led there with either this pipe or with Purple Conveyors.
High scores
[
edit
]
Nintendo 3DS version
[
edit
]
Bronze trophy: 5000 points
Silver trophy: 8000 points
Gold trophy: 14000 points
Wii U version
[
edit
]
Bronze trophy: 4500 points
Silver trophy: 7500 points
Gold trophy: 13500 points
Statistics
[
edit
]
Nintendo 3DS version
[
edit
]
Wii U version
[
edit
]
Purple Conveyors: 10
Purple Conveyor Rivets: 12
Movable Pipe outlines: 4
Conveyor Switches: 1
Hammer pairs: 1
Coins: 7
Large Coins: 1
Enemies: