Level 2-5 (Mario vs. Donkey Kong: Tipping Stars)
From the Super Mario Wiki, the Mario encyclopedia
Jump to navigation
Jump to search
Level 2-5 is the fifth course in Jumpy Jungle in Mario vs. Donkey Kong: Tipping Stars.
The level features a Mini Mario and a Mini Peach.
Overview
[
edit
]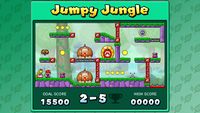 The Minis start at the bottom left, with a broad arrangement of Red Girder Rivets and two Circus Kongs lying ahead of them. Initially, the top Circus Kong prevents the Minis from going into the Goal Door, as it starts to juggle them once encountered. The Minis should therefore make use of a pair of Hammers located nearby to stun the Circus Kong, gaining passage to the exit.
The M Coin is found on the right side of the course. From the bottom of this area, the Minis should bounce off a series of two High Springs and pass a girder platform from beneath to collect the coin.
High scores
[
edit
]
The following high scores apply in both the Nintendo 3DS and the Wii U versions of the game.
Bronze trophy: 6500 points
Silver trophy: 9500 points
Gold trophy: 15500 points
Statistics
[
edit
]
Nintendo 3DS version
[
edit
]
Resource items:
Red Girder Rivets: 9
High Spring slots: 4
Coins: 6
Large Coins: 2
Enemies:
Wii U version
[
edit
]
Resource items:

Red Girders: 8
High Springs: 2

Red Girder Rivets: 10
High Spring slots: 4
Coins: 7
Large Coins: 2
Enemies: