Level 2-1 (Mario vs. Donkey Kong: Tipping Stars)
From the Super Mario Wiki, the Mario encyclopedia
Jump to navigation
Jump to search
Level 2-1 is the first course in Jumpy Jungle in Mario vs. Donkey Kong: Tipping Stars. It is the first level to contain Long Springs, which bounce the Minis on a wide arc, allowing them to reach remote platforms. In this regard, the level is analogous to Area 2-1 of Mario vs. Donkey Kong: Mini-Land Mayhem!.
The level features two Mini Marios. It was one of the levels included in the GDC Mario vs. Donkey Kong tech demo, where it was titled Level D-2.[1]
Overview
[
edit
]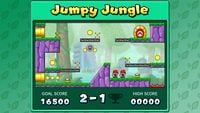 The level is composed of several girder platforms arranged so that the player needs to use the Long Springs scattered over the course. After jumping over a high wall that continues in a slope, the Mini Marios encounter a Split Pipe, which leads from the bottom of the stage to the top. Here, a gap has to be crossed via Springs in order to reach the Goal Door.
The M Coin is floating just under the topmost girder platform. To obtain it, the Mini Marios have to be led in the small alcove above the bottom pipe, then jump off a Long Spring located beside the alcove.
High scores
[
edit
]
The following high scores apply in both the Nintendo 3DS and the Wii U versions of the game.
Bronze trophy: 7500 points
Silver trophy: 10500 points
Gold trophy: 16500 points
Statistics
[
edit
]
Nintendo 3DS
[
edit
]
Wii U version
[
edit
]
Long Springs: 2
Long Spring slots: 6
Coins: 5
Large Coins: 3
References
[
edit
]