Level 6-1 (Mario vs. Donkey Kong: Tipping Stars)
From the Super Mario Wiki, the Mario encyclopedia
Jump to navigation
Jump to search
Level 6-1 is the first course of Twilight Valley in Mario vs. Donkey Kong: Tipping Stars. It introduces Pink Blocks, elements serving as platforms and walls that can be accumulated and placed into dedicated outlines in a level.
The level features three Mini Marios.
Overview
[
edit
]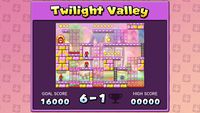 Throughout the course, there is a large number of Pink Block slots that are arranged in clusters between platforms. These patterns allow the player to arrange the available Pink Blocks into various shapes and lead the Minis conveniently. Two Mini Marios start in the bottom left corner, while the third starts on an upper platform, in an alcove. Using Pink Blocks and Ladders, the toys have to be brought to the Goal Door at the top left.
The M Coin is located right from the bottom Ladder. To bring the Minis into the coin (as they automatically start climbing the Ladder), they have to be oriented there with Pink Blocks.
High scores
[
edit
]
Nintendo 3DS version
[
edit
]
Bronze trophy: 6500 points
Silver trophy: 9500 points
Gold trophy: 15500 points
Wii U version
[
edit
]
Bronze trophy: 7000 points
Silver trophy: 10000 points
Gold trophy: 16000 points
Statistics
[
edit
]
Nintendo 3DS version
[
edit
]
Wii U version
[
edit
]
Pink Blocks: 12
Pink Block spaces: 100
Ladders: 2
Coins: 13
Large Coins: 1