Level 4-5 (Mario vs. Donkey Kong: Tipping Stars)
From the Super Mario Wiki, the Mario encyclopedia
Jump to navigation
Jump to search
Level 4-5 is the fifth course of Crumbling Cavern in Mario vs. Donkey Kong: Tipping Stars.
The level features a Mini Mario and a Mini Peach.
Overview
[
edit
]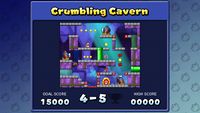 The course is an arrangement of tunnels with gaps, featuring a number of Movable Pipe outlines, as well as a few Red Girder Rivets scattered across it. Cannon Kongs that face different directions are likewise present at various levels. The two Minis start in different positions in the level and have to be brought into the Goal Door on the bottom floor. However, the door is protected by a Cannon Kong that will shoot the Minis straight upward if they approach it. To bypass the enemy, the Minis have to grab a pair of Hammers on the left side of the course and arrive at the Cannon Kong to stun it.
The M Coin is next to the Movable Pipe in the center of the course.
High scores
[
edit
]
The following high scores apply in both the Nintendo 3DS and the Wii U versions of the game.
Bronze trophy: 6000 points
Silver trophy: 9000 points
Gold trophy: 15000 points
Statistics
[
edit
]
Nintendo 3DS version
[
edit
]
Wii U version
[
edit
]
Red Girder Rivets: 7
Movable Pipe outlines: 4
Large Girder Pickups: 2
Hammer pairs: 1
Coins: 7
Large Coins: 2
Enemies: