Level 1-6 (Mario vs. Donkey Kong: Tipping Stars)
From the Super Mario Wiki, the Mario encyclopedia
Jump to navigation
Jump to search
Level 1-6 is the sixth course in Rolling Hills in Mario vs. Donkey Kong: Tipping Stars. It is the first level in the game to contain Ladders, which the Minis climb or descend regardless if there is more way ahead. It is also the first level to require more than the touchscreen space to navigate.
The level features a Mini Mario and a Mini Peach.
Overview
[
edit
]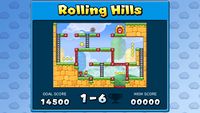 The level is composed of an array of platforms joined by numerous Red Girder Rivets and Ladders. The Minis start at the bottom of the stage, and would have to traverse a serpented path across the level in order to reach the Goal Door at the top.
The M Coin is located in the center of the top platform. As soon as the Minis finish climbing the Ladder on the left, instead of simply crossing the gap ahead of them, they should be led with a sloped Red Girder onto the lower platform. This platform contains a shorter Ladder which leads back to the top, and into the M Coin.
If the gap is horizontally crossed with a Red Girder, the Minis would grab onto the Ladder from its top and go lower, avoiding the M Coin.
High scores
[
edit
]
Nintendo 3DS version
[
edit
]
Bronze trophy: 5000 points
Silver trophy: 8000 points
Gold trophy: 14000 points
Wii U version
[
edit
]
Bronze trophy: 5500 points
Silver trophy: 8500 points
Gold trophy: 14500 points
Statistics
[
edit
]
The following data applies in both the Nintendo 3DS and the Wii U versions of the game.