Level 3-2 (Mario vs. Donkey Kong: Tipping Stars)
From the Super Mario Wiki, the Mario encyclopedia
Jump to navigation
Jump to search
Level 3-2 is the second course of Runaway Warehouse in Mario vs. Donkey Kong: Tipping Stars. It is the first course to feature Purple Conveyors, a customizable variety of conveyors (which were introduced in the previous level). Much the same as Red Girders, these can be drawn between two Purple Conveyor Rivets to form platforms that automatically move the Minis in the desired direction.
The level features a Mini Mario and two Mini Toads, the latter appearing for the first time in the game.
Overview
[
edit
]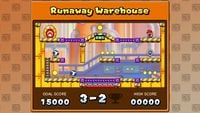 The Mini Mario and the pair of Mini Toads start in separate sections of the level, which is divided into different floors with several Purple Conveyors. A series of Purple Conveyors have to be used in order to connect platforms and help the Minis take on different paths. A single Ladder also appears near the Mini Toads' starting positions. There is a long gap with spikes in the middle of the bottom floor, avoidable by building a Purple Conveyor over it. A conveyor switch centers the topmost floor, where there is also the Goal Door.
The M Coin is located at the right of the middle floor. It is accessed simply via a Purple Conveyor drawn next to it, from left to right.
High scores
[
edit
]
The following high scores apply in both the Nintendo 3DS and the Wii U versions of the game.
Bronze trophy: 6000 points
Silver trophy: 9000 points
Gold trophy: 15000 points
Statistics
[
edit
]
Nintendo 3DS version
[
edit
]
Wii U version
[
edit
]
Purple Conveyors: 12
Purple Conveyor Rivets: 10
Ladders: 1
Conveyor switches: 1
Coins: 6
Large Coins: 2