Level 1-7 (Mario vs. Donkey Kong: Tipping Stars)
From the Super Mario Wiki, the Mario encyclopedia
Jump to navigation
Jump to search
Level 1-7 is the seventh course in Rolling Hills in Mario vs. Donkey Kong: Tipping Stars. It is the first course in the game where the Goal Door is locked.
The level features two Mini Marios, one of which carries a key that unlocks the door.
Overview
[
edit
]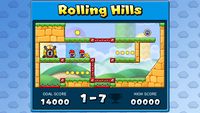 The level is composed of three straight pathways with a series of short centered gaps that connect them and allow navigation via Red Girders. The topmost pathway leads into a gap that extends to the bottom pathway and ends in a large slope.
The Goal Door is at the left of the middle pathway and the two Minis start right beside it, facing the door. However, the Key Mini Mario stands behind the other Mini Mario and conflicts with the locked door, turning back shortly after being started up. The Minis have to be rearranged so that the Key Mini Mario gets to the door first to unlock it.
The M Coin is on the edge of the topmost pathway. To reach it, the Minis should simply be led with a Red Girder towards it.
High scores
[
edit
]
The following high scores apply in both the Nintendo 3DS and the Wii U versions of the game.
Bronze trophy: 5000 points
Silver trophy: 8000 points
Gold trophy: 14000 points
Statistics
[
edit
]
Nintendo 3DS version
[
edit
]
Wii U version
[
edit
]
Red Girders: 9
Red Girder Rivets: 8
Coins: 9
Large Coins: 1