Level E1-6
From the Super Mario Wiki, the Mario encyclopedia
Jump to navigation
Jump to search
Level E1-6 is the sixth course of Orbiting Observatory in Mario vs. Donkey Kong: Tipping Stars.
The level features one Mini Mario, one Mini Toad, and one Mini DK.
Overview
[
edit
]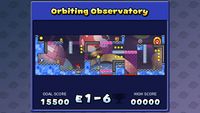 There are numerous Magnet Grounds of different shapes placed along the stage, surrounded by series of Pink Block outlines that support movement between them, much like in Level E1-1. Minis can also reach these Magnet Grounds with the help of Long Springs, which can be placed into slots around the course, mostly on the bottom floor. The Minis start in relatively distant positions and have to be navigated around the Magnet Grounds and Pink Blocks to the Goal Door, which stands on a Magnet Ground in the top right corner of the stage.
The M Coin is found on a small ledge left from the Goal Door. There is a vertical Magnet Ground leading up to it, which the toys can stick to by bouncing off a nearby Long Spring.
High scores
[
edit
]
Nintendo 3DS version
[
edit
]
Bronze trophy: 6000 points
Silver trophy: 9000 points
Gold trophy: 15000 points
Wii U version
[
edit
]
Bronze trophy: 6500 points
Silver trophy: 9500 points
Gold trophy: 15500 points
Statistics
[
edit
]
The following data applies in both the Nintendo 3DS and the Wii U versions of the game.
Resource items:
Long Spring slots: 5
Pink Block outlines: 58
Magnet Switches: 2
Coins: 14
Large Coins: 2