Level 3-1 (Mario vs. Donkey Kong: Tipping Stars)
From the Super Mario Wiki, the Mario encyclopedia
Jump to navigation
Jump to search
Level 3-1 is the first course of Runaway Warehouse in Mario vs. Donkey Kong: Tipping Stars. It introduces conveyors, which transport the Minis in their indicated direction. Conveyor switches are available on the walls for changing direction of all conveyors simultaneously.
The level features two Mini Marios.
Overview
[
edit
]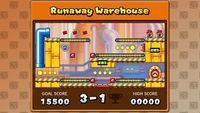 Several conveyors are placed at varying heights in the level, and both Mini Marios start on the upper-right corner of the stage. Throughout the level, the player has to repeatedly tap conveyor switches to adjust the direction the Minis are moved in. A long Pipe leads onto several Girder Pickups at the top of the stage, which are later necessary to build a bridge of Red Girders over to the Goal Door on the lowest floor.
The M Coin is located left from the middle conveyor, beyond a pair of Red Girder Rivets. To collect the coin, the player needs to draw a Red Girder platform between the conveyor and the coin. However, this is only possible after grabbing the three Girder Pickups.
High scores
[
edit
]
Nintendo 3DS version
[
edit
]
Bronze trophy: 6000 points
Silver trophy: 9000 points
Gold trophy: 15000 points
Wii U version
[
edit
]
Bronze trophy: 6500 points
Silver trophy: 9500 points
Gold trophy: 15500 points
Statistics
[
edit
]
Nintendo 3DS version
[
edit
]
Wii U version
[
edit
]
Conveyors: 5
Conveyor switches: 2
Red Girder Rivets: 4
Girder Pickups: 3
Coins: 10
Large Coins: 2