Level 2-2 (Mario vs. Donkey Kong: Tipping Stars)
From the Super Mario Wiki, the Mario encyclopedia
Jump to navigation
Jump to search
Level 2-2 is the second course in Jumpy Jungle in Mario vs. Donkey Kong: Tipping Stars. It introduces blue Color Switches, which can be pressed to enable or disable blocks of the same color.
The level features a Mini Mario and a Mini Peach.
Overview
[
edit
]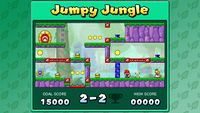 The course is composed of several Red Girder Rivets and Long Spring slots interposed between a number of winding tunnels. The Minis should first be led to a blue Color Switch located above them to disable a column of blocks ahead of them. However, in doing so, they enable another column of blocks that obstruct the Goal Door. Using Long Springs and Red Girders, the Minis should head for a second blue switch located at the top of the stage to disable the blocks in front of the door. A Long Spring can then bounce them to it.
The M Coin is located in the bottom-left portion of the course.
High scores
[
edit
]
Nintendo 3DS version
[
edit
]
Bronze trophy: 5500 points
Silver trophy: 8500 points
Gold trophy: 14500 points
Wii U version
[
edit
]
Bronze trophy: 6000 points
Silver trophy: 9000 points
Gold trophy: 15000 points
Statistics
[
edit
]
Nintendo 3DS version
[
edit
]
Wii U version
[
edit
]
Resource items:

Red Girders: 6
Long Springs: 3

Red Girder Rivets: 10
Long Spring slots: 4
Color Switches: 2 (blue)
Color Blocks: 6 (blue)
Coins: 6
Large Coins: 2