Level E1-7
From the Super Mario Wiki, the Mario encyclopedia
Jump to navigation
Jump to search
Level E1-7 is the seventh course of Orbiting Observatory in Mario vs. Donkey Kong: Tipping Stars.
The level features three Mini Marios, one of which carries a key that unlocks the locked Goal Door.
Overview
[
edit
]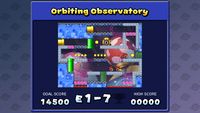 The course is composed of several floors that prominently feature Magnet Grounds. Series of Pink Block outlines form ties between platforms. There are also several Movable Pipe outlines present in different sides of the stage, which can be turned solid to allow movement from one area to another. The Minis start close together, near the bottom right corner of the stage. With the Key Mini Mario leading the group, they should head for the Goal Door near the top and unlock it to clear the level.
The M Coin is floating between a cluster of Pink Block outlines and a magnetic ceiling near the bottom left corner. Pipes and Magnet Grounds that lead to the coin can be used to collect it.
High scores
[
edit
]
Nintendo 3DS version
[
edit
]
Bronze trophy: 5000 points
Silver trophy: 8000 points
Gold trophy: 14000 points
Wii U version
[
edit
]
Bronze trophy: 5500 points
Silver trophy: 8500 points
Gold trophy: 14500 points
Statistics
[
edit
]
Nintendo 3DS version
[
edit
]
Wii U version
[
edit
]
Pink Blocks: 12
Movable Pipe outlines: 4
Pink Block outlines: 46
Split Pipe pairs: 1
Coins: 8
Large Coins: 2