Level 5-2 (Mario vs. Donkey Kong: Tipping Stars)
From the Super Mario Wiki, the Mario encyclopedia
Jump to navigation
Jump to search
Level 5-2 is the second course of Dashing Desert in Mario vs. Donkey Kong: Tipping Stars.
The level features a Mini Mario and two Mini Paulines, the latter appearing for the first time in the game.
Overview
[
edit
]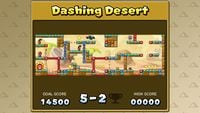 The course has a wide and ununiform layout, comprising many Red Girder Rivets and Blue Lift Rivets. There are also several Color Switches which can be pressed to activate or disable blocks of the same color. These blocks either serve as obstructing walls or bridges between platforms. The Goal Door is located on the bottom left, under the Mini Mario's and one Mini Pauline's starting positions.
The M Coin is found on a platform towards the right side of the level, at the top. It stays behind a wall of Red Color Blocks, which should be disabled with a Red Color Switch in order to gain access to the coin.
High scores
[
edit
]
The following high scores apply in both the Nintendo 3DS and the Wii U versions of the game.
Bronze trophy: 5500 points
Silver trophy: 8500 points
Gold trophy: 14500 points
Statistics
[
edit
]
Nintendo 3DS version
[
edit
]
Resource items:
Red Girder Rivets: 14
Blue Lift Rivets: 11
Color Switches: 2 (1 yellow, 1 red)
Color Blocks: 19 (8 yellow, 11 red)
Lift Pickups: 2
Large Lift Pickups: 1
Coins: 7
Large Coins: 2
Wii U version
[
edit
]
Resource items:

Red Girders: 12
Blue Lifts: 9

Red Girder Rivets: 14
Blue Lift Rivets: 11
Color Switches: 2 (1 yellow, 1 red)
Color Blocks: 18 (8 yellow, 10 red)
Lift Pickups: 2
Large Lift Pickups: 1
Coins: 7
Large Coins: 2