Level 5-3 (Mario vs. Donkey Kong: Tipping Stars)
From the Super Mario Wiki, the Mario encyclopedia
Jump to navigation
Jump to search
Level 5-3 is the third course of Dashing Desert in Mario vs. Donkey Kong: Tipping Stars. Pokeys are present for the first time in the game, going back and forth on the ground, harmful if touched.
The level features one Mini Mario and one Mini Pauline.
Overview
[
edit
]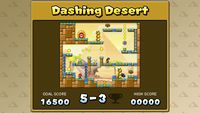 The Minis start in different locations. Using Blue Lifts and Long Springs, they have to climb a series of platforms and reach the Goal Door high up in the level. However, before doing so, they must collect a Large Lift Pickup at the bottom of the stage, guarded by a Pokey which has to be defeated with a pair of Hammers nearby. The Pickup grants five additional Blue Lift pieces that are necessary to connect two distant Blue Lift Rivets that lead to the topmost platform. Once there, the Minis can grab a pair of Hammers and destroy another Pokey that patrols the ground before the door.
The M Coin is floating just above a Long Spring on the top right section of the level, and is topped by a column of Coins. The M Coin can be collected by jumping off said Long Spring, or climbing the Ladder to the right and falling into the gap that follows.
High scores
[
edit
]
Nintendo 3DS version
[
edit
]
Bronze trophy: 7000 points
Silver trophy: 10000 points
Gold trophy: 16000 points
Wii U version
[
edit
]
Bronze trophy: 7500 points
Silver trophy: 10500 points
Gold trophy: 16500 points
Statistics
[
edit
]
The following data applies to both the Nintendo 3DS and the Wii U versions of the game.