Level 2-8 (Mario vs. Donkey Kong: Tipping Stars)
From the Super Mario Wiki, the Mario encyclopedia
Jump to navigation
Jump to search
Level 2-8 is the eighth and last course in Jumpy Jungle in Mario vs. Donkey Kong: Tipping Stars.
The level features two Mini Marios and one Mini Peach. One of the Mini Marios is cursed and needs to be reverted to its former state.
Overview
[
edit
]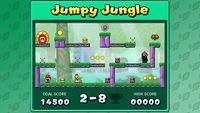 The course comprises three different pathways, with numerous High and Long Springs that help the Minis move between them. The Cursed Mini Mario is initially spotted on the right side of the stage, circling an area with the help of a High Spring. The other Minis start at the bottom left, and can be guided to the upper right by a series of Springs onto the Hammers that help destroy the Cursed Mini Mario. With all the Minis grouped, they should then head for the Goal Door at the top left corner of the course.
The M Coin is atop a small wall on the highest level, which can be jumped over by using a Long Spring at the left of the wall.
High scores
[
edit
]
Nintendo 3DS version
[
edit
]
Bronze trophy: 6500 points
Silver trophy: 9500 points
Gold trophy: 15500 points
Wii U version
[
edit
]
Bronze trophy: 5500 points
Silver trophy: 8500 points
Gold trophy: 14500 points
Statistics
[
edit
]
Nintendo 3DS version
[
edit
]
Wii U version
[
edit
]
Resource items:

Long Springs: 2
High Springs: 3

Long Spring slots: 3
High Spring slots: 5
Hammer pairs: 1
Coins: 6
Large Coins: 1