Level 5-1 (Mario vs. Donkey Kong: Tipping Stars)
From the Super Mario Wiki, the Mario encyclopedia
Jump to navigation
Jump to search
Level 5-1 is the first course of Dashing Desert in Mario vs. Donkey Kong: Tipping Stars. It introduces Blue Lifts, which can be built vertically between two platforms to allow movement from one to another.
The level features three Mini Marios.
Overview
[
edit
]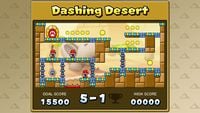 The Mini Marios start close together, in the bottom left quadrant of the course. Throughout the course, they have to be guided by a series of Blue Lifts between floors and reach the Goal Door, located at the top left.
The M Coin is located on a platform at the bottom left, between two pairs of Blue Lift Rivets, right under two Mini Marios. To collect it, the player should draw Blue Lifts to the platform and back, ensuring that the Minis do not fall into the pit of spikes nearby.
High scores
[
edit
]
The following high scores apply in both the Nintendo 3DS and the Wii U versions of the game.
Bronze trophy: 6500 points
Silver trophy: 9500 points
Gold trophy: 15500 points
Statistics
[
edit
]
Nintendo 3DS version
[
edit
]
Wii U version
[
edit
]
Blue Lifts: 12
Blue Lift Rivets: 15
Coins: 11
Large Coins: 2