Level 5-4 (Mario vs. Donkey Kong: Tipping Stars)
From the Super Mario Wiki, the Mario encyclopedia
Jump to navigation
Jump to search
Level 5-4 is the fourth course of Dashing Desert in Mario vs. Donkey Kong: Tipping Stars. It is also the fifth Multi-Door level in the game.
The level features a Mini Mario, a Mini Peach, a Mini Toad, and a Mini Pauline. With the exception of the Mini Mario, all other Minis are trapped in capsules and have to be rescued, then brought to the Goal Doors that display their faces.
Overview
[
edit
]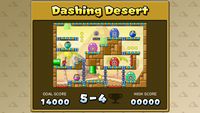 The Goal Doors are distributed in different places across the level's storeys. The Minis that are trapped in capsules appear at distant locations. Using the Mini Mario first, the player has to rescue all the Minis and bring them to their assigned exits, either with the Movable Pipes or Blue Lifts present in the level.
The M Coin is located above a girder left from Mini Peach's door, at the top of the stage. There is a Movable Pipe outline between the girder and the door, which the player can turn solid and use as an exit pipe to bring the Minis towards the coin. However, this only works if the entrance pipe is walked into from the right.
High scores
[
edit
]
Nintendo 3DS version
[
edit
]
Bronze trophy: 4500 points
Silver trophy: 7500 points
Gold trophy: 13500 points
Wii U version
[
edit
]
Bronze trophy: 5000 points
Silver trophy: 8000 points
Gold trophy: 14000 points
Statistics
[
edit
]
Nintendo 3DS version
[
edit
]
Wii U version
[
edit
]
Blue Lifts: 11
Blue Lift Rivets: 14
Movable Pipe outlines: 4
Coins: 6
Large Coins: 1