Level E1-2
From the Super Mario Wiki, the Mario encyclopedia
Jump to navigation
Jump to search
Level E1-2 is the second course of Orbiting Observatory in Mario vs. Donkey Kong: Tipping Stars. It introduces Magnet Switches, which can be tapped on to activate or deactivate Magnet Grounds.
The level features one Mini Mario and two Mini DKs, and is the first level in the game to feature the latter.
Overview
[
edit
]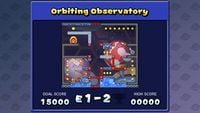 The walls on both sides of the stage consist of Magnet Grounds that can be used for climbing. Separate Magnet Grounds are also encountered. Sets of Red Girder Rivets allow the player to form connections between platforms and help the toys traverse gaps. All three Minis start at the bottom left and have to be guided further up to the Goal Door in order to clear the level.
The M Coin is found inside an alcove on the right Magnet Ground wall. To reach it, the Minis have to be guided with Red Girders towards the coin.
High scores
[
edit
]
Nintendo 3DS version
[
edit
]
Bronze trophy: 6500 points
Silver trophy: 9500 points
Gold trophy: 15500 points
Wii U version
[
edit
]
Bronze trophy: 6000 points
Silver trophy: 9000 points
Gold trophy: 15000 points
Statistics
[
edit
]
Nintendo 3DS version
[
edit
]
Wii U version
[
edit
]
Red Girders: 11
Red Girder Rivets: 13
Magnet Switches: 2
Coins: 26
Large Coins: 1