Level E2-5
From the Super Mario Wiki, the Mario encyclopedia
Jump to navigation
Jump to search
Level E2-5 is the thriteenth course of Orbiting Observatory in Mario vs. Donkey Kong: Tipping Stars.
The level features one Mini Mario and three Mini Paulines.
Overview
[
edit
]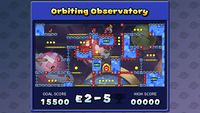 The course comprises conveyors, Blue Lift Rivets and Red Girder Rivets in various positions and heights. There is a Capture Kong at the top of the stage which initially grabs and captures a Mini Mario. The three Mini Paulines start on different platforms along the left side of the stage. Several narrow passages in the center of the course lead to the Goal Door, but the player is required to build a Red Girder under the door in order to enter it. The Minis should also use a nearby pair of Hammers to stun the Capture Kong and free any toys captured by it.
The M Coin is located on a short conveyor at the far left. To collect the coin, the Minis should fall onto it from the larger conveyor above.
High scores
[
edit
]
The following high scores apply in both the Nintendo 3DS and the Wii U versions of the game.
Bronze trophy: 6500 points
Silver trophy: 9500 points
Gold trophy: 15500 points
Statistics
[
edit
]