Level 1-5 (Mario vs. Donkey Kong: Tipping Stars)
From the Super Mario Wiki, the Mario encyclopedia
Jump to navigation
Jump to search
Level 1-5 is the fifth course in Rolling Hills in Mario vs. Donkey Kong: Tipping Stars. It introduces Circus Kongs, which aid the Minis in reaching higher platforms by tossing them upward.
The level features a Mini Mario and a Mini Peach.
Overview
[
edit
]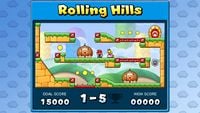 The level is divided into three layers, scattered with pairs of Red Girder Rivets that can be connected using Red Girders. These are most often used to escape two middle and bottom Circus Kongs, which, upon grabbing the Minis, start juggling them continuously until separated by a Red Girder. The Goal Door is located on the right of the topmost layer and is only reached via the left Circus Kong and two Red Girder bridges.
The M Coin is located in a small gap connecting the middle and bottom pathways at the right. To collect it, the player has to draw a Red Girder above the bottom Circus Kong, which leads the Minis into the gap.
High scores
[
edit
]
Nintendo 3DS version
[
edit
]
Bronze trophy: 6500 points
Silver trophy: 9500 points
Gold trophy: 15500 points
Wii U version
[
edit
]
Bronze trophy: 6000 points
Silver trophy: 9000 points
Gold trophy: 15000 points
Statistics
[
edit
]
Nintendo 3DS version
[
edit
]
Wii U version
[
edit
]
Red Girders: 8
Red Girder Rivets: 10
Coins: 5
Large Coins: 2