Wiggler Ahoy! Full Steam Ahead!
From the Super Mario Wiki, the Mario encyclopedia
Jump to navigation
Jump to search
"Beach access is pretty much shot thanks to that big bug. On the other hand, I've sure got a lot of customers."
Wiggler Ahoy! Full Steam Ahead! is the third episode of Gelato Beach in Super Mario Sunshine. The episode's objective is to defeat Wiggler.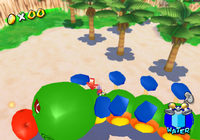 For this episode, the giant Wiggler that fell apart in the previous episode will be running around the beach, causing trouble for the locals. To defeat the Wiggler, the player has to spray a Dune Bud in Wiggler's path. If timed correctly, the Dune Bud will explode into a structure underneath the Wiggler, causing it to flip over. The player then needs to climb onto the Wiggler and Ground Pound the highlighted body segment, indicated by a red arrow, before Wiggler gets back up. Once the player Ground Pounds the Wiggler, it will get back up and resume running around the beach. The player then needs to repeat the process two more times to defeat the Wiggler, though the path it takes will change after attacking him a second time, and Wiggler moves slightly faster after every hit, as will the music's tempo. Once Wiggler is defeated, the Shine Sprite will appear on the beach's peninsula.
Names in other languages
[
edit
]
Language
Name
Meaning
Japanese
ばくそう!ボスハナチャン
Bakusō! Bosu Hanachan
Rampage! Boss Wiggler
French (NOE)
Wiggler ! En avant toute !
Wiggler! Forward Ahoy!
German
Wilder Wiggler-Widerstand
Wild Wiggler Resistance
Italian
Torcibruco express!
Wiggler express!
Spanish (NOE)
¡Floruga furiosa a la vista!
Furious Wiggler Ahoy!