Chain Chomplets Unchained
From the Super Mario Wiki, the Mario encyclopedia
Jump to navigation
Jump to search
Chain Chomplets Unchained is the first episode of Pianta Village in Super Mario Sunshine. The episode's objective is to cool down the flaming Chain Chomplets.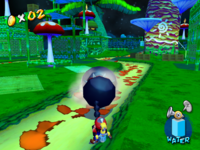 In this episode, three Chain Chomplets are running around the village. The Chain Chomplets have come down with a fever, according to their owner, and must be cooled off to return them to normal. As the Chain Chomplets move about the village, they leave a trail of burning goop behind them; they will also only move along the paths in the village, only leaving them to attack Mario.
When Mario sprays them, they will attempt to charge him, but spraying the Chomplets entirely will cool them down for a short period of time. During this time period, the Chomplets will try to flee. The player has to grab their tails and pull back, releasing them will launch them in the direction they're facing and they will be stunned for a small time. Once they recover, or after enough time has passed after spraying them, the Chomplets will return to being on fire. The player has to angle the Chomplets and launch them into the pool underneath the large tree in the center. Getting all three into the water will return them to normal and reward the player with a Shine Sprite.
Names in other languages
[
edit
]
Language
Name
Meaning
Japanese
なんとかして! 3びきのキャンキャン
Nantoka shite! San-biki no Kyankyan
Do Something! The 3 Chain Chomplets
French (NOE)
Les Chompis se déchaînent
The Chomplets Go Wild
German
Kettenhündchens-Kettenreaktion
Chain Chomplets' Chain-Reaction
Italian
Tre Categnetti scatenati
Three Crazy Chomplets
Spanish (NOE)
¡Tres Chomp Cadenitas la arman!
Three Chain Chomplets Loosen Out!
When all three Chain Chomplets have been dunked into the spring, FLUDD says "Remember, always be kind to your pets!" Despite this, the situation was not caused by a lack of kindness to them, but rather by them falling ill.