The 'Shroom
:
Issue XXX
From the Super Mario Wiki, the Mario encyclopedia
Jump to navigation
Jump to search
---

Special Issue
September 12th, 2009
About        

---
Hello everyone, and welcome to this Special Issue of The 'Shroom conmemorating the 30th Issue! (Long name, BTW) Instead of Director Notes, this month we will have this "Welcome" to say some things, and to thank all of those who made this issue possible.

Well, first, I am sure this has been the most difficult Issue to make, especially in trying to get the guests :/ That's why this month, I finished my sections barely on time :P

Well, now, on to thanking the people who made this possible: (There's no special order)
2257, for making the awesome background image we are having, Thanks.
Toto for making the Mario with tuxedo image on the Special Shroom Warning, thanks.
Time Q, for helping with coding problems, thanks.
NOT thanks to the guys at #spritersparadise (If I remember correctly) who kept telling me they were and underground soda company….
My staff teammates, Super Mario Bros., Ralphfan, Z3r0 Tw0, YellowYoshi127 and Stooby, for all their great work, thanks.
All of the writers, for doing greatly their job, working to give us something to relax and to get distracted, thanks.
To the Special Guests (Those who sent me their sections) for sharing with us their time. (Many of them were retired).
Wayoshi and HK, for creating The 'Shroom, without you, we wouldn't be here :) Thanks.
And specially thanks, to you, reader, who has been supporting us, because we work for you, without you, we wouldn't be anything, Thanks.

->And about special sections, well, guests are a bit tardy, please excuse us :/
And as if that weren't enough, the evil server gave me some Database Errors :/ I hate them
And now, without more, Let's get into the issue! I hope you enjoy it, thanks.
--
Hello Welcome to the Normal Special Entretainment Section this time I'll write about day in the life of Mario
Story
The title of the video says everything a day in the life of Mario is show as if he was on the real world it has many references to Super Mario Bros.(Wow a dejavu!) one of my favorite moments is when he is about to suffer a crime and jumps like if he died in a Super Mario Style also Luigi vriefly appears he and mario see they give a nice gesture eac other an luigi leaves also Peach is seen on the video mario tries to get her attention but fails.
Actors
I think the ones who portrayed Mario, Luigi and Peach did a great job his facial gestures make the video 40% more funny I really don't know who they are nor why they did the video but It doesn't matter the video is great
Music
They used music and sounds from Super Mario Bros. this was good I think that if they used music from more recent games the video would be less funny and it will lost its sense
Rating
Story: 8/10 Actors: 9/10 Music: 9/10 All: 8/10
Well see ya
Hi, 'Shroomers! You should know I'm Ralphfan. This is my new section, the Monthly Mulligan. Many of you are probably asking, "what the hell is that?" in golf, a mulligan is a do-over. In this section, I'm gonna review a game, then say what can be done to improve it.
This month's game:
Review
I had really high hopes for this game. I never played the original, but I played TTYD and loved it. The 3D concept was good, but it was more of a letdown than Fruit Stripe Gum. The extremely fun RPG-style battles were replaced with platformer-style fights. Boss battles weren't fun, and a lot of characters were immature. TTYD was a more mature game, and the places were so much better than Flipside, Flopside, and et cetera. Rogueport was fun because it had so much going on. In SPM, there's really nothing to do in Flipside and Flopside, and the Flip-Flop Folk are boring. The worst part was the romance thing with Timpani and Blumiere. Also, Pure Hearts? Is this a Disney animated princess movie? Come on! I can't think of many gamers who watch soap operas. I'm sure those that do loved it, but save the sappy crap for stuff like All My Children. Pixls were kinda dumb. Specifically Cudge's motto crap, Slim's stupid hillbilly redneck thing, and Thudley's girth point crap. Still, it was OK to play.
(This rating is different than the rating on my userpage.)
Gameplay: 6.5/10 Battle: 5/10 Graphics: 8/10 Storyline: 6/10
(Overall rating is average of individual ratings.)
Overall: 6.375
Mulligan
Here's where I say what can be fixed to improve the game.
3D
In TTYD, some of the enemies have an alternate version, such as the Hyper Goomba. They have a lime-green body and purple shoes. Not only are their attributes higher, they can also charge during a turn rather than attack. By charging, their attack goes up for a couple turns. Eventually, Mario and his partners find badges that give them the ability to charge for 1 FP. This could've been done with 3-D. It would've cost Mario and Co. a certain number of FP each turn. Also, attacks on enemies still in 2D would be harder to pull off.
Star Points
Why no SP? They were creative, and it gave some purpose for the s***ty trial Stew. Just a good gameplay tactic.
Other
The characters are just too immature. Make them somewhat intimidating, like TTYD. If a Squiglet beats the crap out of you, not only do you suck, you were beaten by a little cartoon drawing. If Bonetail or someone intimidating beats you, it sucks, but at least you got beat by something that wasn't invented by a three year-old girl.
Next month: Mario Super Sluggers!
Poll Corner
by YellowYoshi127 (talk) This week's poll: Click the link to vote;
Which SMG boss has the best music?
Bouldergeist/Kingpin
Baron Brr/Undergrunt gunners.
Bowser
Bowser Jr.
Bugaboom/King Kaliente/Topmaniac
Dino Piranhs/Fiery Dino Piranha/Tarantox
Kamella
Major Burrows
Megaleg
Find the Differences
by Super Luigi! Number one! (talk)
[1] - Real image [2] - Photoshop [3] - Answers!
Mistery Image
Well, as this is a special issue, we will have the double! Which means 10 images! Here we go:

Picross
Well, last month picrosses were successfully guessed by Paper (first) and Luigi 128 (second :P), Congratulations! I hope more people can solve them this month :)

If you think you have it, PM me the answers!
Bum, buh duh duh daaaaaaaaaaaaaaaaaaaaaa! This is Egg Yoshi with the super spectacular special Classic Review!!!!! Today, I will be reviewing Donkey Kong 64. In this game, King K. Rool builds a machine called the "blast-o-matic" to destroy DK isle. The machine then starts to malfuncture, so in the mean time, King K. Rool kidnaps a lot of the Kongs and steals DK's hoard of golden bananas. Donkey Kong must rescue the other Kongs and get his bananas to save his island (and his life). OK, now I rill review.
Story
Yikes! This is probably K. Rool's most threatening scheme yet. Instead of 2 Kongs getting kidnapped, or bananas getting stolen, If the machine worked, every Kong would have died.
Game play + Graphics
This game is Donkey Kong's first 3D appearance (except Mario Party). The graphics were nice and, well, nice. Saving was fairly easy and the controls weren't too hard to remember.
Characters, Places, and Enemies
There was a lot of the same Kongs except Dixie was replaced by Tiny Kong and there are new Kongs named Lanky Kong and Chunky Kong. Wrinkly is now dead and hangs around world doors, baring hints. Funky owns a Weapon shop, Candy owns a Music shop, and Cranky owns a science lab. As always, there is also Donkey Kong and Diddy Kong. I liked how all of the worlds were based off levels from Donkey Kong Country. For example, Angry Aztec is based off of the Aztec-like levels and Frantic Factory is based off of Krem Krok Industries. As for enemies, Kritter and Zinger remain as the 2 most common enemies. There are not to many new Kremlings.
Music
The music is really good. I think angry Aztec is a really good song
Scoring
Story=10/10
Gameplay=8/10
Graphics=8/10
Characters=9/10
Places=10/10
Enemies=5/10
Music=7/10
overall=8.14
It's not a bad score, but there has been better. Have a good time! Have a nice day! Sayonara! So long! Ciao! See you later, alligator! Ciao! Bon voyage! Hasta la vista! Be sure to write!
On this very special edition of The Shroom, we will be reviewing Klonoa for the Wii, a remake of the original PS1 game Klonoa: Door to Phantomile.
Most reviewers who buy remakes of games expect nothing on par or above the original; and why should they, when often remakes of older games simply dumb down the gameplay, or remove special features or core parts of the original? However, like Kirby Super Star Ultra, Klonoa is a remake that is more than perfect. To call it superior to the original would be an understatement.
The Klonoa series is a fairly obscure one -- it does have its fanbase, but it never broke into mainstream gaming or sold very well. It had great critical reception, sure, but it never did as well in America as Namco has wished for it to. And with that, Namco of America basically dropped the series off a cliff and deemed it unsuccessful. After four years of no new releases in America, they decided to bring back the very first game in the series -- Door to Phantomile.
The story is nothing too complex, as with its counterpart: suddenly, dreams can no longer be remembered once the dreamer wakes up. Klonoa and his childhood best friend Hewpoe (a new spelling of his original name "Huepow") set for the Moon Temple, and venture all across Phantomile to get there. However, Ghadius and Joker (aka "Joka" in previous installments) are doing everything in their power to stop the duo from reaching their destination. The story also shows many hearwarming moments, like Wind Waker which we reviewed in the past. The very ending of the game, in particular, is heart-renching.
The graphics are a quantum leap ahead of Door to Phantomile's; they appear crisp, clean and smooth. Most noticable are the beautiful water effects and the overall color palette of the game. Colors fit the characters and locations they adorn, and nothing seems out of place. The graphical style is even an improvement of the still-gorgeous-looking Lunatea's Veil, which used cel-shading.
It isn't just graphics that have been improved, though. The audio of the game is very close to the original and the remastering has been done excellently. New to the remake is the option to select either new English dubbing or the original Door to Phantomile language track (a fictitious language that has become a trademark of the Klonoa series). The English track is none too special, and many of the voices are annoying or unfitting for the character. That's the only area where the game makes a step wrong, though; the Phantomilian track is miles better.
The gameplay is very straightforward but can become complex at times, as well. Unlike most platformers, Klonoa can face the "front" (looking straight at the player) and also the "back" (back turned towards the player). This is crucial for solving some puzzles and obtaining certain items. Many of the later levels rely mainly on puzzles and can become quite difficult, though it is only natural that the difficulty would up the ante in time for the final stages. The bosses are quite challenging, some of which are even harder than the normal levels; namely Joker and the final boss.
Packed full of bonus features, there are new challenges and options waiting at the end of the game, such as the ability to change Klonoa's costume (featuring the original "collar" design, the PS2 "zipper" shirt, and a new beach outfit). And for those of you who are looking to put a lot of time into a challenging game, try completing Klonoa entirely -- by collecting all the Dream Stones and captured villagers!
Klonoa sets a standard and is easily one of the greatest remakes I have ever played. If you're looking for a fun and difficult game or just want another platformer to play, Klonoa is a solid choice that I recommend.
Overall Score: 9.5/10
Thanks for reading my review, and I hope to review Klonoa 2: Lunatea's Veil next month.
This is Egg Yoshi with the special Top Ten! Thank-you, Thank-you, Hold your applause. For the Special Issue, I've decided to do the Top Ten on Major Koopas! Um, I guess I should probably get started on the list.
11. Bowser (I added an 11th for the special occasion)
The leader of the Koopa Klan that always tries (unsuccessfully) to kidnap peach.
10. Roy Koopa
Bowser's 3rd youngest kid took over Skyland. He loves to bully others.
9. Jr. Troopa
This young little hatchling was fought 6 times in Paper Mario
8. Wendy O. Koopa
Bowser's 4th youngest kid (including Bowser jr.) took over Waterland and a spoiled brat
7. Iggy Koopa
Bowser's 5th youngest child took over Giantland. He is twins with Lemmy.
6. Kooper
Mario's 2nd partner in Paper Mario. He wants to be an archeologist when he grows up.
5. Larry Koopa
Bowser's 2nd youngest child took over Grassland and loves to spy.
4. Lemmy Koopa
Bowser's 2nd oldest kid took over Iceland and is twins with Iggy. He also loves to roll on his ball.
3. The Koopa Bros.
Then First Boss (excluding King Goomba) of Paper Mario. They are "Teenage Mutant Ninja Turtle" wannabe's and think they are really cool.
2. Ludwig Von Koopa
Bowser's Oldest Child who loves to invent. He took over Pipeland.
1. Morton Koopa Jr.
Bowser's 3rd youngest child took over Desertland. He loves to talk and doesn't know when to stop.
Well, that's it for this month. See you in 31 days!

The 'Shroom:Issue XXX/Monthly Report
Hello readers! I am Tucayo, and welcome to this Special Calendar of Events! If you wonder, what's so special about it? Well, my colleague Super Paper Mario Bros has prepared you a surprise! So keep reading to find out. But first, you have to read my part :)
Game Releases
User Birthdays
September
21- Fire Kirby (14)
30- Zeltrax (21)
October
8 - Nerdy Guy
11- Grapes
From The Birthday Thread
NOTE: If your birthday doesn't appear, please post it IN THE ABOVE LINK, DO NOT ADD IT HERE. Thanks
Wiki Events
Well, I don't exactly know what I should write here….. Perhaps just the next issue date.
Next issue comes out the 10th! Of October, of course :P
Well, now I leave you with my fellow, SPMB, for the surprise :O
Hi! This is S(P)MB, and instead of a regular Mario Calendar for this month (the regular for September will be shown in the next issue alongside the October calendar), a time line on the history of the 'Shroom will be presented! :)
23 July 2006 - Porplemontage (the creator and owner of the Super Mario Wiki) allows the creation of a Community Portal. The user who was originally was supposed to lead the project, Son of Suns, went on vacation, as well as the other user who would have been in charge (Wayoshi). The user who created the community portal ended up being Hk-47 (Sadaharu). This project lead to the development of The 'Shroom.
6 January 2007 - The first official issue is released. Wayoshi directed it, and correctly states that the project was so far a success. The famous Fake News section is started by now-blocked user WarioLoaf.
10 March 2007 - The third issue is released. The Fun Stuff section is started as the "fun Section" and is co-written by Plumber (Daniel Webster), Great Gonzo, and TheGreatBlockyBoo.
5 April 2007 - The fourth issue is released. Confused is the new Fake News director.
9 June 2007 - The sixth issue is released. Sadaharu (Hk-47), the Editor-in-cheif at the time, directed the issue.
31 August 2007 - The seventh issue is released. Plumber directed the issue. The Fake News finally becomes a team, led by Xzelion.
12 January 2008 - Eleventh issue is released. Plumber holds a Director election, which Blitzwing wins.
9 February 2008 - Twelfth issue is released. 3dejong becomes the director of the Fake News, and the first issue that Blitzwing directs.
8 March 2008 - Thirteenth issue is released. Stooben Rooben becomes director of the Fake News.
6 September 2008 - Blitzwing hires Garlic Man as the first sub-director.
12 January 2009 - The twenty-second issue is released, the director's election is held, which Stooben Rooben won.
8 February 2009 - Xpike becomes the director of the Fake News.
14 February 2009 - The twenty-third issue is released. Z3r0 Tw0 becomes the director of the Fun Stuff section. Also the first issue under Stooben Rooben's direction, and Tucayo is appointed to sub-director.
11 April 2009 - The twenty-fifth issue comes out. Tucayo and Stooben Rooben switch places for the first time.
22 April 2009 - Ralphfan is appointed as co-director of the Fake News alongside Xpike.
11 July 2009 - Stooben Rooben and Tucayo switch places again. The twenty-eighth issue is released.
13 August 2009 - Tucayo is the Director again, and the twenty-ninth issue is released. Xpike is fired, leaving Ralphfan as the director of the Fake News. The Music & Artwork team is created, with Super Mario Bros. being the director.
12 September 2009 - The Special Issue of The 'Shroom is released (Issue 30)!!! YellowYoshi127 is appointed as co-director of the Music & Artwork team by Super Mario Bros..
The Future - Only time can tell! :P
This last month brought the Games Con, bringing with it new information on Mario & Sonic at the Olympic Winter Games, so for the first section…
Bowser Jr.
and
Silver the Hedgehog
revealed to be playable characters.
Mario Circuit
has been confirmed to appear, as have
Radical Highway (Sonic Adventure 2), Seaside Hill (Sonic Heroes)
, and
Ocean Palace (Sonic Heroes)
.
To recap the confirmed events are:
Wii Events
Regular
Alpine Skiing
Ice Hockey
Speed Skating
Bobsledding
Snowboarding
Skeleton
Downhill Skiing
Ski Jumping
Figure Skating Singles
Snow Board Half pipe
Dream
Dream Ski Cross
Dream Snowball Fight
Dream Alpine
Dream Snowboard Cross
Nintendo DS Events
Regular
Alpine Skiing
Skeleton
Snowboard Cross
Bobsledding
Figure Skating
Blazing Bobsleigh
Ice Shuffleboarding
Dream
Extreme Snow boarding
Ski Cross Racing
Fever Hockey
It has officially been confirmed that it will be released in Europe on October 9th, 2009. It is to be released in North America on September 14th, 2009, and October 22nd, 2009, in Australia.
YS=Yoshario
SR=Stooben Rooben
YS: Would you like an interview for The 'Shroom's special issue?
SR: I'd be honored. Smiley
YS: Okay. How did you find out about the MarioWiki?
SR: I originally found the site back in late 2005, but I didn't join because I didn't know it was a site that I could actually contribute to. So, I joined in November of '07 after searching the site to see if the gold bar from PMTTYD actually served a purpose. (Don't buy it, it's just a waste of coins.)
YS: What do you consider your greatest achievement on the MarioWiki?
SR: Wow, that's a tough call. I guess I'd have to say when I completely rewrote the Super Mario Bros. Deluxe article, because it was the page I put the most effort into. ...Although, becoming a Bureaucrat is definitely something noteworthy
YS: What was your first edit, and how did you feel while making it?
SR: My first edit (back when I was Lemonface), was on the PMTTYD article. I was editing the table with all the bosses' stats, and I wound up screwing it up. I felt kinda dumb for messing it up, but Cobold came along and fixed it. At least, I think that's how it happened. I'm old, you see, so my memory is baaaaaad.
YS: Did you ever get a welcome, and if so, by whom?
SR: I got welcomed by Mr. Guy (Lario) when I joined as Lemonface. I thought he was the owner of the site, though. When I joined as Stooben Rooben, I was welcomed by Pokemon DP, one of my best friends.
YS: It has been a pleasure interviewing you, Stooben Rooben. Thanks. Smiley
SR:Whoa, that was it? You don't want to hear about how I was born in a log cabin? D: Ah well; thanks Smiley
Travel Guide
by Ralphfan (talk)
Location suggested by Luigifreak (talk)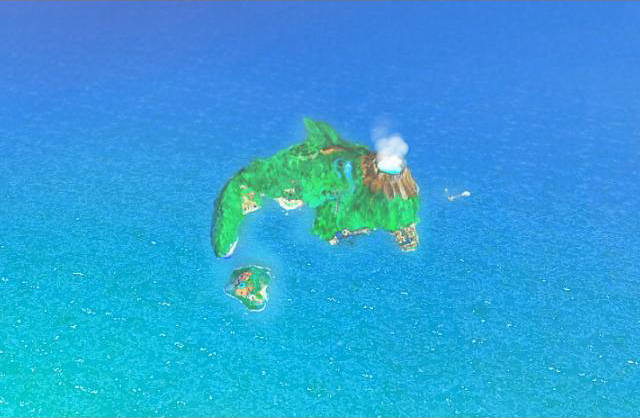 Come to lovely Isle Delfino! Bring lots of Gold Coins so you can race karts, fight Piranha Plants, punch innocent Piantas and Nokis, and clean up Goop, an abbreviated form of God's poop! So, come to God's crapper Isle Delfino today!
Fake Music
by Super Paper Mario Bros. (talk) (replacing Ben117)
So, you want to know about all of the latest Music around these parts? Well, you got it! Well, the number one hit was the song !!!!!! by Tucayo. It featured Tucayo screaming at the top of his lungs, although it has been known to cause explosions, which resulted in one casualty which made it impossible for one of our guest writers to submit his section. More news on the subject is located here.

Other songs that have scaled on the charts are Ralphfan's I Kissed A Goomba, And Liked It, which Ralphfan made after he saw Ralph Wiggum kissing a Goomba; and Stooben Rooben's Dr. Rooben, a song that summarizes major events that he experienced on the wiki.
Fake TV
The Star Cup will continue on Saturdays on 'Shroom Sportsnet, alongside college football and the NFL on Sundays!
WANTED
I only have his rough draft. I'm giving him until Thursday. I sent him reminders.
Injuries, Deaths, and Arrests
Waluigi got injured. He had been driving around, with Wario, in the Wario Car. They turned sharply and Waluigi fell of the back of the Car. The police came, and Wario had the Waluigi's ID, which is illegal. The police arrested Wario for reckless driving and Waluigi for being on the back of the car. The only time that's allowed is when there's a Double-Kart Tournament coming up. Mario was also arrested; he was speeding on the motorway at over 100mph. Luigi got him out on bail. Birdo hit a police car at over 110mph. She was taken to jail for 6 years. She'll need to pay 3,000 coins to fix the car, or she can just get a new one.
Fake Games
1. Yoshi's Over Under Havoc Addictive Verb Enhancing Animal Island Duel Screen or "YOUHAVEAIDS", for short, is probably going to be the only game with 11 words as a title. Taking place in Yoshi's Animal Island, we see the lovable dinosaurs making havoc for the animals that inhabit the island by trapping their children in eggs, throwing the eggs over lava pits and canyons to see how far they will go, (default high score just OVER 9000!!!) and climbing under the animals to... We aren't too sure, but it looks exciting.
There is also a feature which allows players to make up their own cursing sentences, which the Yoshis will then use on the parrots of the island to make them offend the other animals. Depending on how many verbs are in the sentence, the player gets 10 points per verb. This encourages English and reading, but in a bad way.
This game looks like an exciting one, but we have yet to see if there will be use of the microphone or touch screen. It will be a good way for the under-appreciated Yoshis to get their island well known.
2. Super Mario Galaxy 2, as we all enjoyed playing the original Super Mario Galaxy, this should be extra good. It features Mario doing what he did in the previous game, but he now has to redo this so he can stop Bowser and partake in the Star Festival, where he plans to turn all the Toads and maybe even everybody else if he's lucky into Fire Flowers. As Bowser invades this, Marip is p**sed off and tries to turn Bowser into a Fire Flower, but Kamek stops him, and sends the portly evil plumber into orbit. There he meets Fat Lady, and is granted the ability to turn people into Fire Flower by spinning. Mario becomes attracted to this strange woman, and decides to turn her into a Fire Flower after the credits.
A new feature is the ability to ride Yushie, by hatching him from an egg. Yoshi can trap people in eggs for all eternity, so this makes the game easier.
Luigi will still be unlockable at the end, but his story only changes that he wants to turn all the Toads into Luigis, and maybe everybody else if lucky. Luigi's gameplay is harder, as it takes more than 10 seconds to turn foes into Luigis, but after this, Luigi is granted an extra life.
The game looks almost like a epic improvement, meaning it will be one to look forward to.
Interview
by Mario7727 (talk) (Welcome aboard, sailor!)
Hello, 'Shroomers, this is Mario7727 with your Fake News Interview..Today we are going to interview the paper hero, Jorge Mario!
Mario, was it hard to collect the 7 crystal stars?
Mario: It was hard to collect them. I was going to seven different locations looking for seven crystal stars.
Well, isn't that a lot of things to do.
Mario: Wait a minute, you sound like you don't care.
Yeah, I do.
Mario: Then sound like it, jerk! And I never got the crystal stars until the end because I fought bosses at the end.
Was it hard to defeat the evil Shadow Queen?
Mario:It was very hard, and I was being careful not to do serious damage to the real Princess Peach.
Wow, isn't that a long day of fighting your enemies. How about your partners?
Mario:Oh my partners were great helpers during my adventure to save Princess Peach.
Well, that's it for this section. Thanks to Mario for that interview.
Mario:You're welcome.
Well, 'Shroomers stay tuned for the next edition of the fake news.
-Mario7727
Fake Sports
The Cup will continue on Saturdays!
Fake Weather
Here to help is is Ollie Williams, from Quahog's Channel 5.
Global Cooling is down!
The Weather is done for the month. If it's wrong well, so what?!
THU AUG 13:

FRI AUG 14:

SAT AUG 15:

SUN AUG 16:

MON AUG 17:

TUE AUG 18:

WED AUG 19:

THU AUG 20:

FRI AUG 21:

SAT AUG 22:

SUN AUG 23:

MON AUG 24:

TUE AUG 25:

WED AUG 26:

THU AUG 27:

FRI AUG 28:

SAT AUG 29:

Ollie: Sun and cloud gonna fight!
SUN AUG 30:

MON AUG 31:

TUE SEPT 1:

WED SEPT 2:

Ollie: Cloud gonna win! It gonna rain!
THU SEPT 3:

FRI SEPT 4:

SAT SEPT 5:

SUN SEPT 6:

MON SEPT 7:

Ollie: They gonna fight again!
TUE SEPT 8:

WED SEPT 9:

Ollie: Sun gonna win!
THU SEPT 10:

FRI SEPT 11:

SAT SEPT 12:

Poll
Make a poll! Thanks!
Fake Movies
As I said, 128 is late.
Cooking Guide
Invisible Bacon
Don't make it! It's invisible! Mess with your friends!
Just kidding!
This month's chef is: TAYCE T.!
Apple Pie
Tayce T.: Today, we're gonna make an all-American classic: Apple Pie!
You will need:
One fuji apple
One bag of Cake Mix
A whisk
A large pie tin
Pie crust mix
A food processor
DeInstructions:
Set the oven to 350°Fahrenheit.
Smite the fuji apple into little bloody pieces!
Put the smote apple in the bowl along with the crust and cake mix.
Pour the contents of the bowl into the pie tin.
Put the tin in the oven for 7 hours, 34 minutes, and 54.125967 seconds (no more, no less!)
Take it out and beat it eat it by "Weird Al" Yankovic!
Ads
by Toadbert101 (talk)
Fake Movies
by Luigi 128 (talk) (So long, man! You rock!)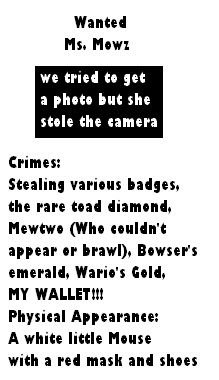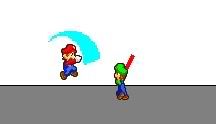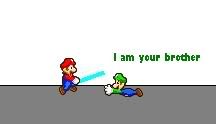 Produced by Luigi's Arts. In this movie, Mario has to face Darth L to get revenge for his dead brother. It will come some day...or maybe not.
User Brawl
Welcome, to the first ever..... USER BRAWL!!!!!!!!! Todays Brawlers will be:
Zero777 vs. FunkyK38 vs. Booman vs. Rosalina
In a three stock, five minute brawl, with smash ball on high, on the stage, Final Destination.
Here are the brawlers short bios:
Zero777: A mysterious man who people may fear of, with incredible powers and have a robotic right arm.
FunkyK38: Do you hear a vine bending? Look out in the distance, what is that silhuoete, is it DK? NO, it's....... FUNKYK38!!!!!!!!! With the strength of 4 men, he can dominate about anything in a single blow, and he can surf.
Booman: He's round, He's small, He floats, He has nasty pointy-sharp teeth, some consider him cute, but he is still BOOMAN!!!!!!!! This mean son of a boo will make you run fore your life... literally, you can smash through walls but he can go right through them!
Rosalina: She's the protector of the galaxy and the mother to a race of star beings, she is ROSALINA!!!!! One rule, Rosalina is always right, you mess with her galaxies, she is gonna give a punishment of a black hole-size proportion.
---
Here are there stats:
Fighters
Speed
Throwing Ability
Tether Recovery
and/or Tether Grab
Final Smash
Offense
Defense
Projectile
Overall
Zero777
7
7
Both
7
7
7
7
7
FunkyK38
5
8
Tether Recovery
7
8
4
-
6
Booman
4
6
X
7
5
5
6
6
Rosalina
5
7
X
8
8
7
5
8
---
The Brawl:
Here comes the brawlers, here comes Rosalina, here comes FunkyK38 swinging on a vine, here comes Booman appearing all of a sudden with boos behind him, and last but not least here comes Zero777 coming down then out of a beam of light in his normal form saying his famouse line, "I am Zero!". 3...... 2...... 1..... GO!!, and there off Rosalina uses Star Bomber (side special) on Funky, but Funky rolls out of the way and uses Jump Slam (down special) on Rosalina successfully, but Rosalina quickly got back to her feet and uses her grab and throw Funky off stage and try to use her edge guarding tactics, but Funky gets back on stage. Zero uses his strong smash attack on Funky and Rosalina and they both are sent flying, Rosalina went a little farther. Zero jumps into the air and uses Light Ray (standard special) and it hits everybody twice, he then completly charge up his Shadow Gun (standard special). Booman, being ignored charges up Booman Boo Blast (side special) and release it fully charged, it hits Funky and he is send flying, he almost hits the boundary line but he uses his air-jump then he uses Vine Swing (up special) to get back on stage, Funky gets up, but the wrong way, Zero was at the edge charging his down smash attack and Funky now lost a life. The smash ball appeared, everybody run after it, Zero uses his Shadow Gun and it hits Booman, and sucks in Rosalina and Funky, all of them are launched in diferent directions, but since Funky has low damage he did an air-jump and do a powerful aerial attack, hitting the smash ball, but not breaking it, it flies towards Rosalina and she uses a powerful aerial attack but it still didn't break, when she lands she didn't expect Booman to use Booman Boo Blast on her and she is sent flying upwards and losing a life. The smash ball is flying fast towards Funky but it turn direction, Booman jumps in the air and use Boo Invisibility (down special) to attack it but someone claimed it, Zero uses his Light Ray, and one hit is all the smash ball needed to break. (3 minutes left) Now Zero is getting fatigue, he switches to sword mode, while that is happening Funky runs up to him and uses a fully charges Double Punch on him which sends him flying, but the smash ball didn't break, he uses Iron Rose (up special) to get back on stage. Booman uses Booman Slash (standard special) on Funky, Funky gets damaged but gets away, Booman is now charging Booman Boo Blast and release it on Rosalina, but Rosalina uses Luma (standard special) and the luma is Luma, the strongest one, Booman is lauched but he uses Boo Lift (up special) but the move ran out and he plumets to his death. (2 minutes left) Still having the smash ball, Zero jumps backwards and release the final smash, and Crucifixion is chosen, and it hits Rosalina, she is getting multiple damages and she is launched, sort of far, but she uses Launch Star (up special) and make it make to the stage, but when she got back on Funky uses Head Hit (standard special) and send her to her second death. Afterwards, Zero uses Light Ray several times on Funky then he uses Arm Reach Blast (side special) and ran up to him and use his crouch attack and it sends him flying then he jumps up with him quickly and uses his backwards aerial attack which connects and sends him flying to his death. (1 minute left) Zero charge up his Shadow Gun and launches it point blank at Rosalina, but Rosalina uses Force Field (down special), it reflects and hits Zero, Zero now lost his first life, when he returns he is fatigue and he switches to duo form. Another smash ball appears and Booman uses a fully charged Booman Boo Blast on the smash ball but it didn't break, Rosalina uses an aerial attack but it didn't break, it flies towards Booman and he uses an aerial attack and it breaks, he uses his final smash Ice Cream!, a rain of large ice cream balls fall from the sky, and Zero is dodgeing as much as he can like everyone else, but Funky and Rosalina are KO'd. Zero and Booman are still standing, but the all of a sudden, .....5 .....4 .....3 ....2 ....1 .....Time! Sudden Death.... GO!! Zero rolls backwards and charge and release Shadow Gun but Booman uses Boo Lift and avoid the big damage, he got a little damage, but nothing seriouse, Zero switches to sword form and Booman start charging Booman Boo Blast, about half-way charging, Zero runs toward Booman to end it, but Booman releases the attack on the last minute, but Zero uses The Bible (down special) and reflect the attack and it hits Booman KOing him, .....GAME!
---
Victory:
The winner is..... (short remix of World End by FLOw playing in the background)...... Zero777!
Zero does a few quick sword slashes turns his back at the camera and say with a normal voice "Zero signing out."
---
Results:
1st place: Zero777
2nd place: Booman
3rd place: FunkyK38 and Rosalina
---
That's all for this issue of..... USER BRAWL!!! See you next time!
Fake Poll
Which is your favorite wiki ad??????
Vote here
Character Battle
br SMB

Here is the intro, which is a regular image.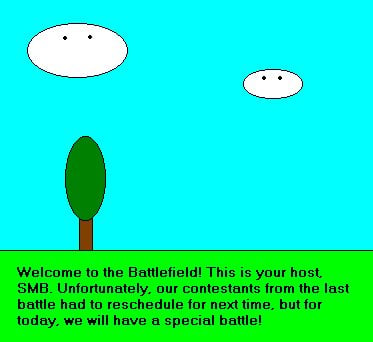 And here is a link to the rest of it.

M-I-C (See you later!) K-E-Y (Why? Because we like you!) M-O-U-S-E!
This month, I'm being brutally forced going to look at:
Yoshi's Island DS

Now, I've never played this game, so pardon me if I'm a bit confused:

1. Graphics for Baby Wario and Baby Bowser can be found. In addition, two additional title screens can be found. They don't move around, and they use the old "Yoshi's Island 2" logo.
2. An early screenshot show's Big Guy the Stilted without the patches, which suggests he wasn't going the be robotic.

3. The game scrapped the planned Wi-Fi capabilities early on. Usage of a ROM suggests there may have been a level editor of sorts, however, it is filled with useless graphical data.
4. A screenshot shows Baby Peach riding a Black Yoshi through a flower-filled area. Baby Peach's voice was also planned to sound a bit more adult-like.
Ha, there's a lot this game took out. Here's how I see 'em:
1. I had to do a bit of research on this one, and I've concluded that they were cut because both Baby Wario and Baby Bowser are only playable for a limited time in the game. Because of this, they can't have their coins scattered across every world. As for the title screens, both were probably just scrapped designs of the island, as they bear the old logo. Otherwise, they aren't really of major importance.

2. Yep, I can see that happening. However, there probably wouldn't be a difference in the battle, but a difference in the character design. It is very possible that the sprite is unfinished, and the screenshot it just to test that the boss actually works. This is backed up because the giant Stilt Guy has a single patch over his right foot. But as I said, I can see that a giant, living version of a Stilt Guy is just as reasonable as a robitic version of it in the Mario universe.
3. Wi-Fi capabilities, eh? Perhaps one feature of this could have been a battle system where two players duke it out in levels similar to Bandit houses in the original Yoshi's Island. Or just an egg throwing mayhem where you try to burst the opposition's baby bubble first... Nah, that'd be against the style of the game. But if a level editor was planned, then I guess you were intended to create a level, complete with puzzles and enemies, and send it for others to try out. Kind of like Stage Builder from SSBB, you know?
4. Nothing really special about these two. Perhaps there was a different order the Yoshis traveled in. Or maybe the level just wasn't seen in game. There's even the slight possibility that it was an customized stage using the level editor. Well, probably not. Baby Peach's voice is probably very annoying (I know it was in Mario & Luigi: Partners in Time), so I guess it was more adult-like to lessen the annoying qualities of it. Why it was changed, well, I don't know, maybe because she's a baby?
Well, happy 4th anniversary, Mario Wiki! I was told to use a game that faired well in the Mario Wiki Awards, so, here it is! This is also my 1 year anniversary for writing for The 'Shroom, I believe, and look at how far I've come! Ha well, I hoped you enjoy this section, and I really would appreciate feedback for this one in particular, since YI:DS is not a subject I'm educated about. So thanks for reading, and come back next month!
Feedback
Welcome to another special comparison of mine! This comparison is based on the awards about best koopaling. Both koopalings are second-in-command of the Koopa Troop, they are favorites of Bowser but what's so different about them? Find out in this comparison!
Physical Appearance
Bowser Jr.
Bowser Jr. wears a bandanna with a fist on it, has a hair on his head, a shell and arm waists.
Ludwig von Koopa
Ludwig has huge blue hair on his head, arm waists and a shell.
Personality
Bowser Jr.
Bowser Jr. is an energetic troublemaker who wants to be like his dad. He loves scribbling, stealing, and he is a spoiled child.
Ludwig von Koopa
Ludwig is a cruel child who loves music. He also likes composing music, horror and even inventing.
First Appearance
Bowser Jr.
Bowser Jr. made his first appearance in Super Mario Sunshine for the Nintendo GameCube. He disguised himself as Shadow Mario with the Magic Paintbrush to frame Mario, just to give himself time to kidnap Princess Peach. Later, he reveals his true identity to Mario and runs off to Corona Mountain where he and Bowser battled the plumber. After that, Bowser Jr. and his father started plotting their next plan to kidnap Peach.
Ludwig von Koopa
Ludwig made his first appearance in Super Mario Bros. 3 for the NES. He took over Pipe Land and turned the king into a Piranha Plant or a Yoshi. Later, Mario battles Ludwig and defeats him, ending his reign.
Powers
Bowser Jr.
Bowser Jr. can throw shells and slide around in his own. He can also transform into Shadow Mario with the Magic Paintbrush.
Ludwig von Koopa
Ludwig can blow fire and slide around inside his shell. In addition, he can teleport, make earthquakes and he can shoot lightning out of his arms.
Wrapup
We are done this special comparison between two brothers! I have had a really good time with this comparison and I hope you did too! So who is the best koopaling? Click "Show" for the answer!
WINNER
<showhide>__HIDER__<hide>

The 'Shroom:Issue XXX/Fangamers Report
Directors' Notes
Hello everybody! This is Super Mario Bros., or should I say, Super Paper Mario Bros.! As you can see, this is the Special Issue, so we have a couple of guests writing for The 'Shroom in general. We have a few guest artists for the Music & Artwork Team as well, so I hope you really enjoy our work, as well as the work of all of the other users writing for The 'Shroom. A couple of notes: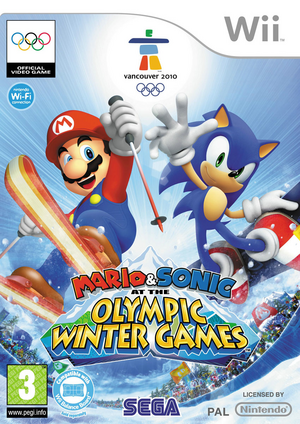 I chose this because it is one of the best Wii box-arts and very eyecatching.
Character Artwork of the Month (YellowYoshi127)

With all the new Mario & Sonic at the Winter Olympic Games artwork out, I decided to use one of them. But, so many to choose from! In the end I chose the DK one because I liked the detail to fur and the quality.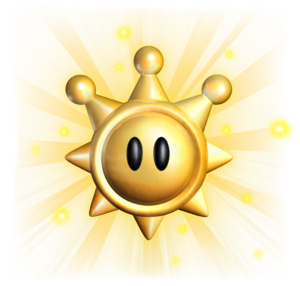 This is one of the Shine Sprites from Super Mario Sunshine.
[4] Everybody must love the Toad Brigade and their music. The Toad Brigade are supposed to help you by saying pointless info like 'there are no coins in the water' just in case you are too stupid to notice. Their music is very jolly and quite nice to hear.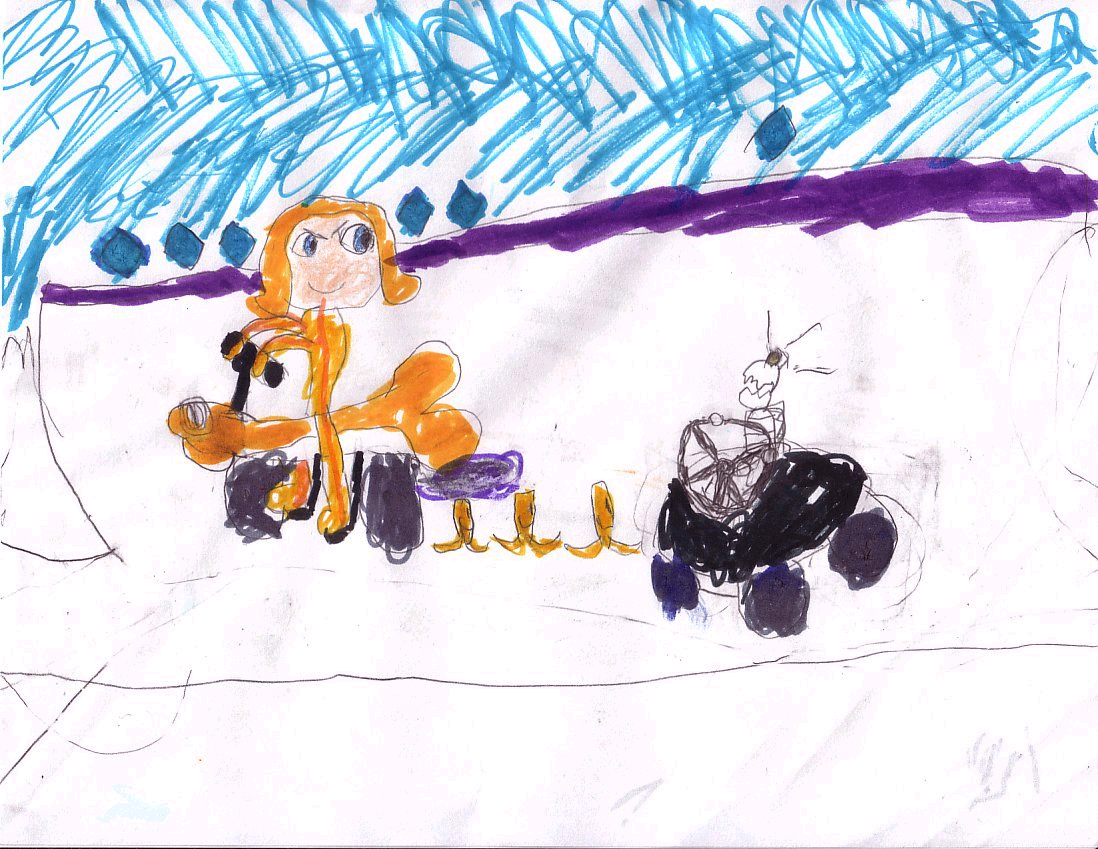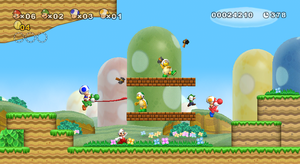 This is one of the best scenes from New Super Mario Bros. Wii, as it shows lots of the new things in it like Yoshis, 4 players and Toads.
Soundtrack of the Month (P. Trainer)
[5] I chose The Ultimate Show for the first Soundtrack of the Month. From ''Super Paper Mario'', it is the music from the final mandatory boss, Super Dimentio. I chose it because it's small, quiet intro branching off into an awesome combination of Dimentio's, Mr. L's, and Brobot's themes.
Sprite of the Month (Fire Kirby)


This is a sprite of Yoshi and Mario in Super Mario World while completing a level.
SMB: This is my little sister, Zeldagirl's, work. This will be her last contribution to the Super Mario Wiki, as she is officially retiring. Here are some special sketches for this issue: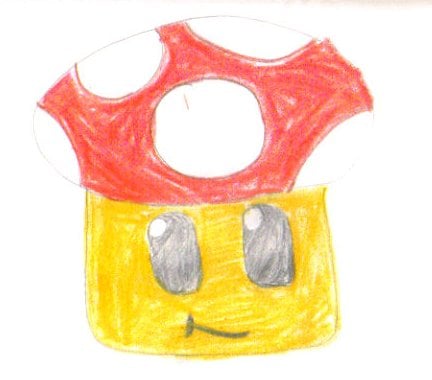 This drawing is of a Mushroom.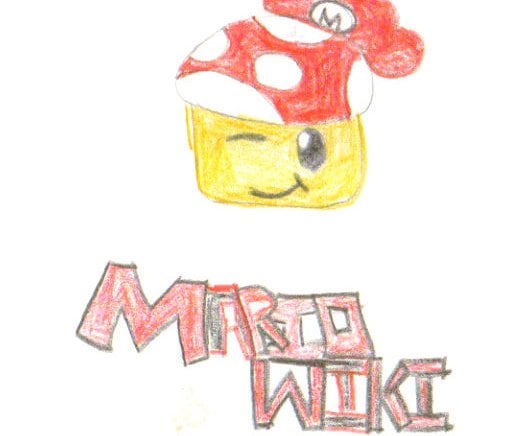 This drawing is of a Mushroom wearing Mario's cap with the workds "Super Mario Wiki" below it.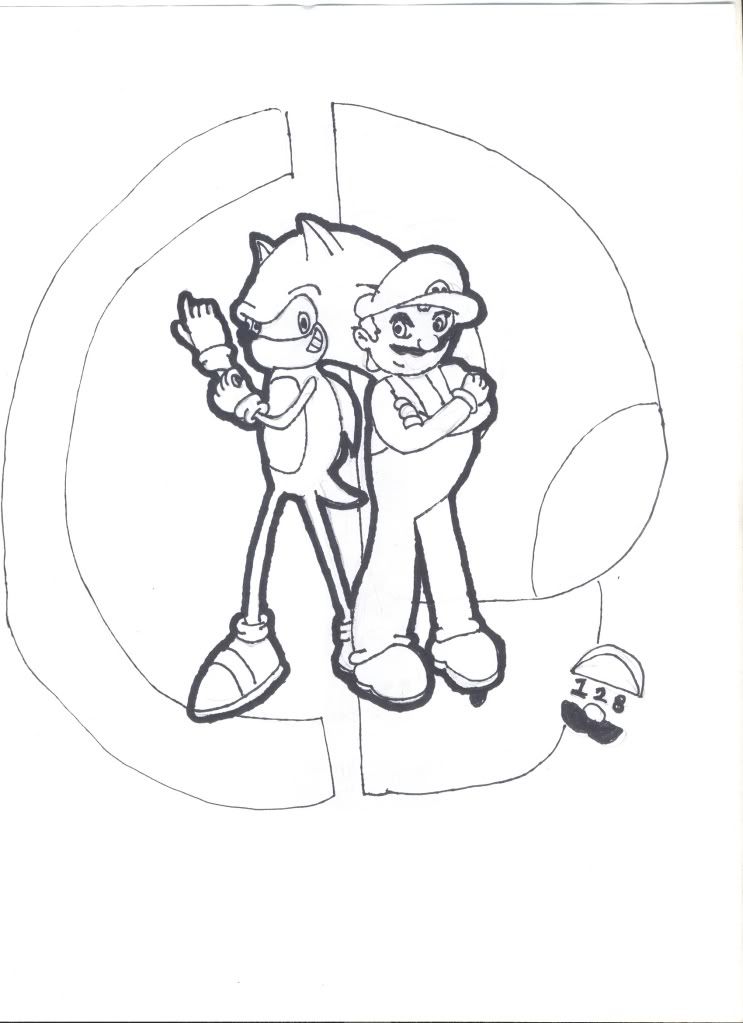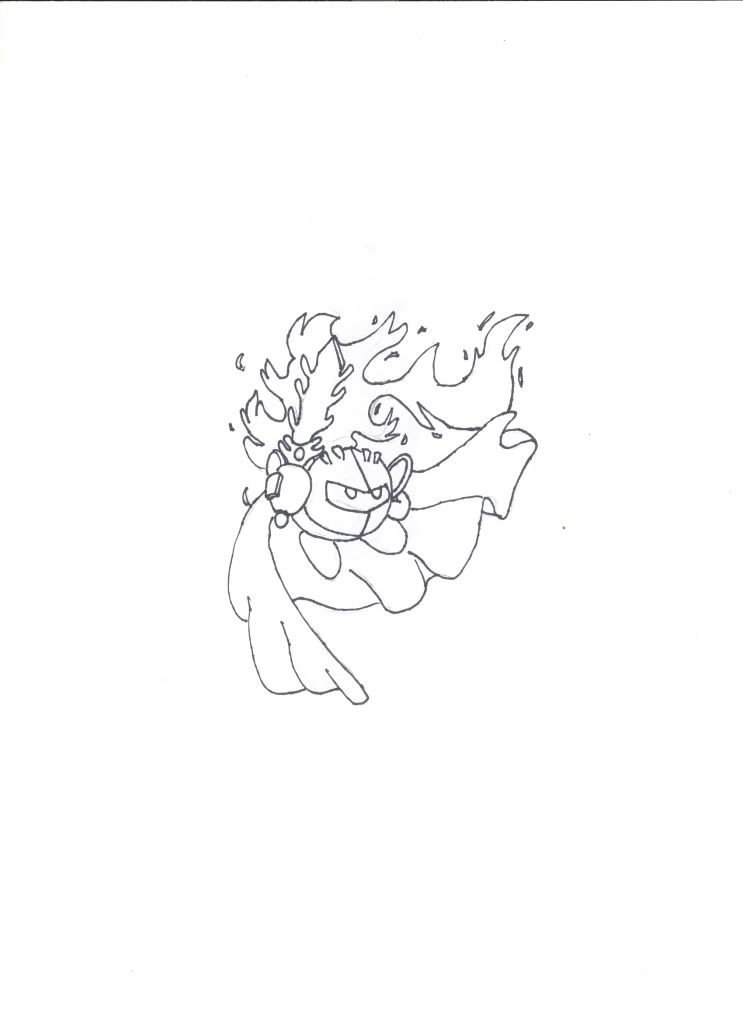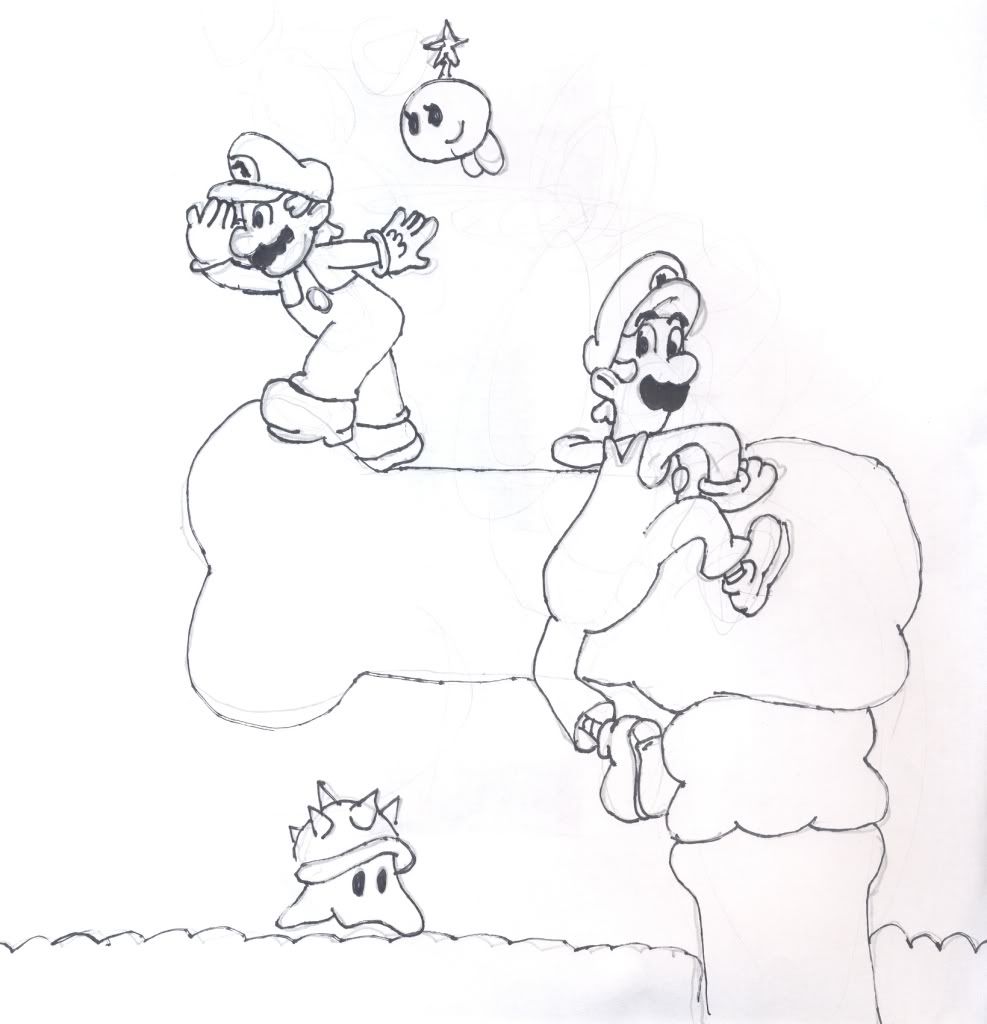 Well, here is Luigifreak for a very special issue! Yes that's right, it is that time. THE SHROOM'S SPECIAL ISSUE BONANZA!!!! As you may know, the third Mario Awards have recently been celebrated. That is why I am writing this section based on the second place winner for the award "best Mario platformer." That's right, I am reviewing….. SUPER MARIO WORLD! This game came in second only to New Super Mario Bros., which I just reviewed (and got whaled on for.) Also, I must give credit to Tucayo for kind of suggesting this game. Now, Mario World is probably my favorite platformer. Why, you ask? READ THE REVIEW!
Story
Wow, a pretty simple plot again. Bowser kidnaps Yoshi's buddies. You set out to defeat the Koopalings and kick the bully's tail. What kind of annoys me about this is that the story seems to kind of be worked around the gameplay. The Yoshi part seemed to be thrown in there only because you can ride on him. Well, I am reviewing a Mario platformer, so……
Gameplay
Ahh…. Gameplay is the thing that makes this game great. Okay, I've been through this too many times. This is a platformer. In a platformer you jump on and over enemies while avoiding hazards like spikes. You can gain powerups and do things like fly or shoot fireballs. You must navigate obstacles like moving platforms and falling blocks. That concludes this lecture on "platformers." Anyway, here are the new additions to Mario World. First, you gain a new move or two. First of all, you gain a twirling jump. This allows you to break bricks below you as super Mario. When you jump on enemies like that, you will bounce off randomly and have little control over Mario. You will use this move a lot. There are really no other new moves that you can use all the time. So, here are some other new moves. On Yoshi, I don't think you can flutter jump, but you can still swallow enemies! But they just disappear, so no eggs, no nothing. Yoshi can also swallow fruit. These yummy floras will make Yoshi…. dispense certain items. These can give you anything from mushrooms to 1-ups. You also have two new moves from powerups. When you have the fire flower, when Mario does the spin jump he will fling his fireballs in both directions. When you have the cape (which is pretty much the same as the raccoon tail from SMB3) you can inflate your cape like a parachute and slowly float down. Whew! Pretty much the only notable thing to talk about now is the map. You have a lot of circles that signal levels. But wait, some of those are red! That means that inside the level will be a key and keyhole. Now, what happens when you put a key and a keyhole together? You get a new level. Yes, now the seemingly easy and short game has over 90 levels. Let the fun begin. And yes, I know, this is an incredibly long and detailed gameplay section, but if nothing else, READ THIS SENTENCE: This game does everything right that should be done in a platformer. There.
Graphics and Music
The graphics are great for an SNES game. They are pretty smooth and all, my only gripe is the over world Mario sprite. But really, the graphics are so good, that I believe it is one of the main reasons that SMW is the game most commonly hacked. As for the music, it is great. All of the songs are very catchy, although several of them are just remixes of each other. One of my favorites is the athletic theme. Check it out, you'll be humming it for days.
Diversity of Levels and Enemies
On the levels: You get so many of them, and that's a bonus there. Then add the fact that each level is completely different because of obstacles, enemies, and the placement of them all, and you have great levels. Now add the fact that you're searching for all the levels in a puzzling but really fun minigame type thing, and you have an amazing level design. For the enemies: Wow. From the first level on, you see such new and entertaining enemies. They really have you thinking of the best way to beat them. Plus, the enemies are so well places, so every enemy feels so new.
Difficulty
Does it really matter? If you want to know, this game is very fair. It provides a challenge, but is never too frustrating. Well, then you have the special world……
Replayability
Well, you always have to unlock all the levels. Then you have the secret levels and star world to do. And then you must play through it at least 3 times to experience the full beauty of it. Enough said.
Review of the Review
Story: 9/10
Gameplay: 10/10
Graphics: 10/10
Music: 10/10
Enemies and Levels: 10/10
Difficulty: 9/10
Replayability: 10/10
Total: 9.7 rounded up to 10.
One quick note, from now on, I will always round my score, and I will no longer put grades. Anyway, I hope I don't sound too fan boyish, but can anyone really deny how good this game is? Really, if you don't have this game, GET IT! Enjoy nature's most perfect platformer. Well, I hope you enjoyed this special review!
Directors' Notes
Hello everybody! This is Super Mario Bros., or should I say, Super Paper Mario Bros.! As you can see, this is the Special Issue, so we have a couple of guests writing for The 'Shroom in general. We have a few guest artists for the Music & Artwork Team as well, so I hope you really enjoy our work, as well as the work of all of the other users writing for The 'Shroom. A couple of notes: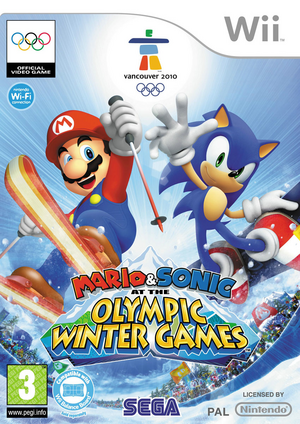 I chose this because it is one of the best Wii box-arts and very eyecatching.
Character Artwork of the Month (YellowYoshi127)

With all the new Mario & Sonic at the Winter Olympic Games artwork out, I decided to use one of them. But, so many to choose from! In the end I chose the DK one because I liked the detail to fur and the quality.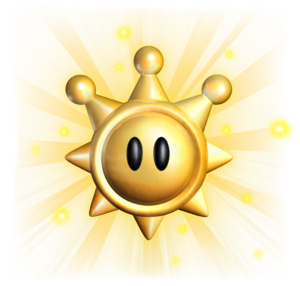 This is one of the Shine Sprites from Super Mario Sunshine.
[6] Everybody must love the Toad Brigade and their music. The Toad Brigade are supposed to help you by saying pointless info like 'there are no coins in the water' just in case you are too stupid to notice. Their music is very jolly and quite nice to hear.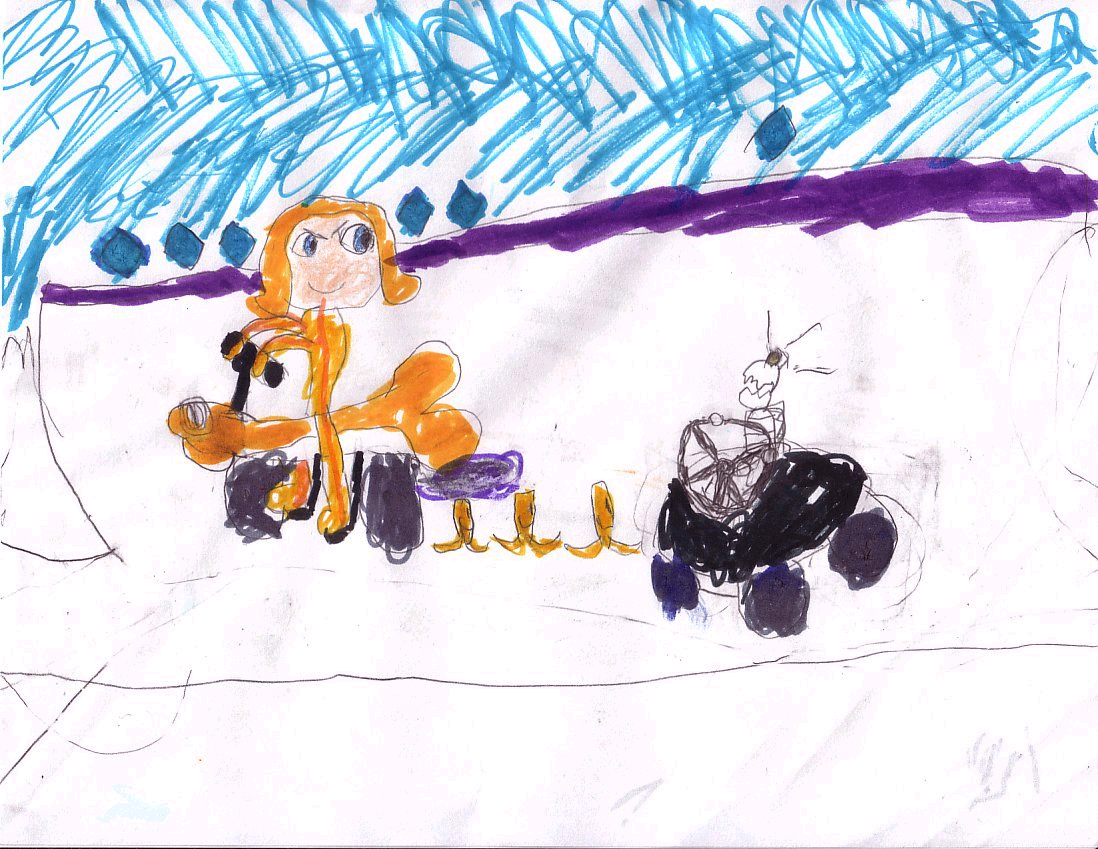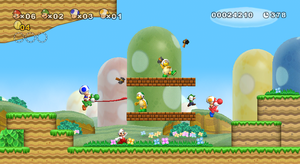 This is one of the best scenes from New Super Mario Bros. Wii, as it shows lots of the new things in it like Yoshis, 4 players and Toads.
Soundtrack of the Month (P. Trainer)
[7] I chose The Ultimate Show for the first Soundtrack of the Month. From ''Super Paper Mario'', it is the music from the final mandatory boss, Super Dimentio. I chose it because it's small, quiet intro branching off into an awesome combination of Dimentio's, Mr. L's, and Brobot's themes.
Sprite of the Month (Fire Kirby)


This is a sprite of Yoshi and Mario in Super Mario World while completing a level.
SMB: This is my little sister, Zeldagirl's, work. This will be her last contribution to the Super Mario Wiki, as she is officially retiring. Here are some special sketches for this issue: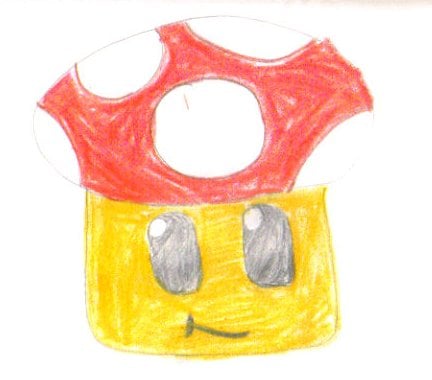 This drawing is of a Mushroom.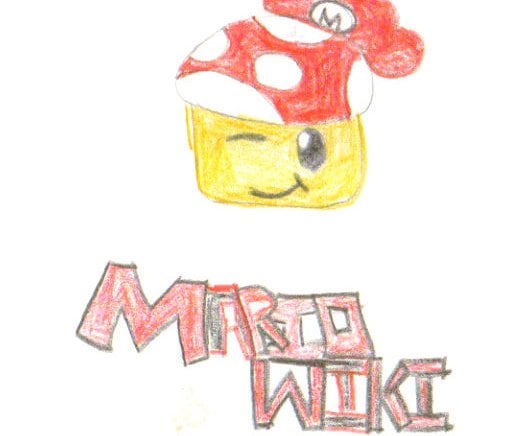 This drawing is of a Mushroom wearing Mario's cap with the workds "Super Mario Wiki" below it.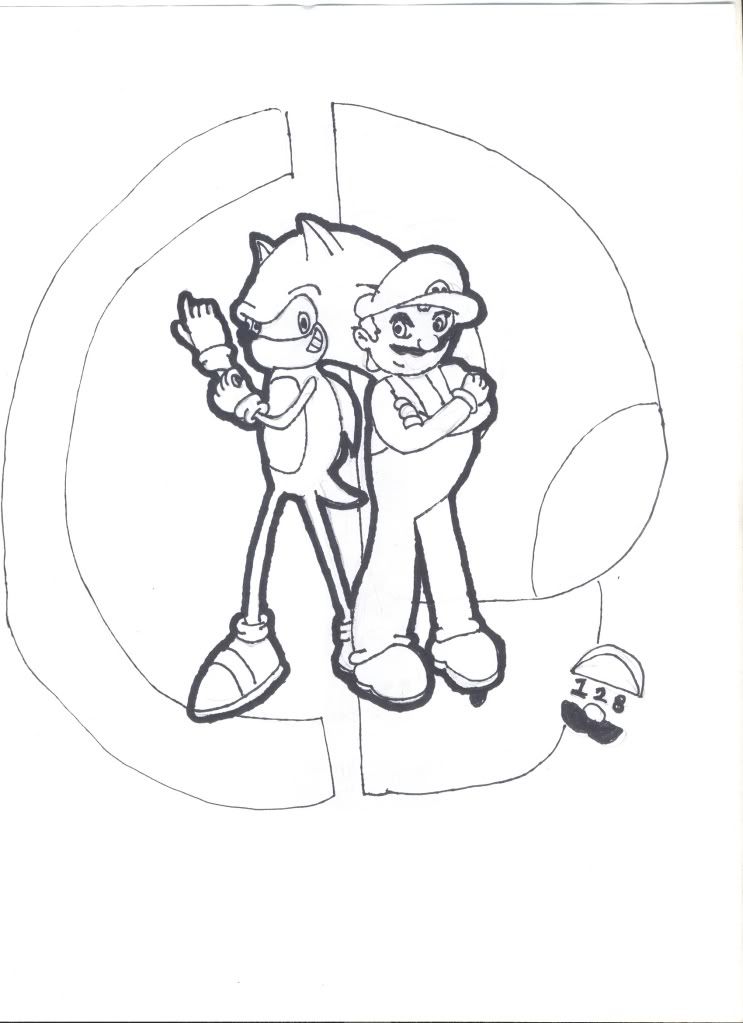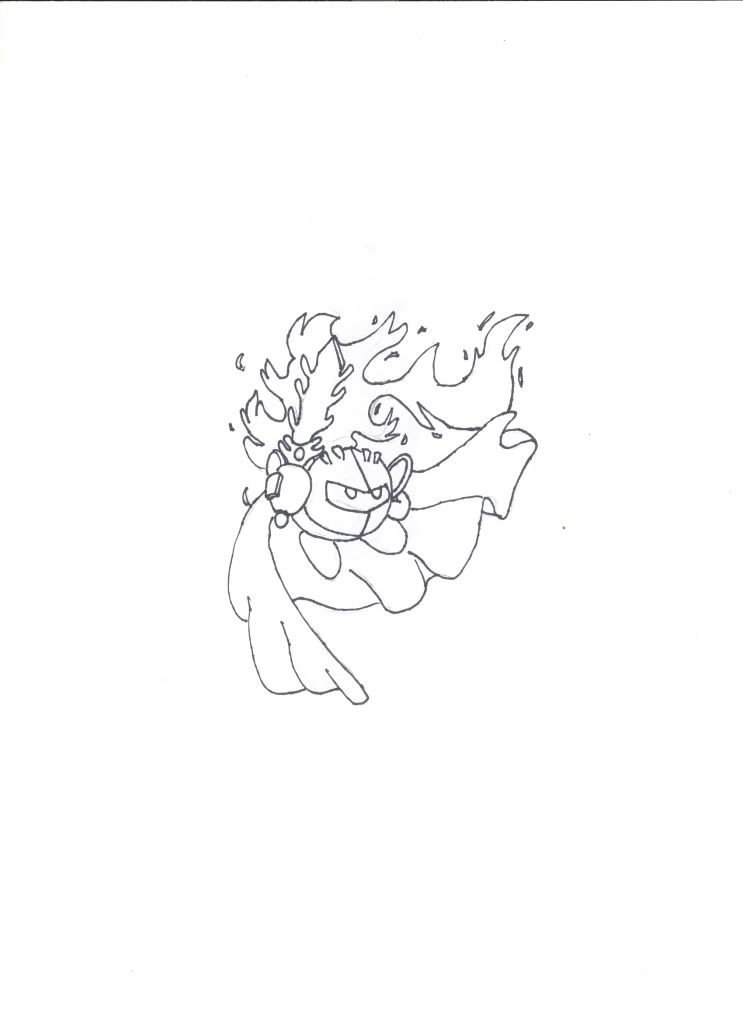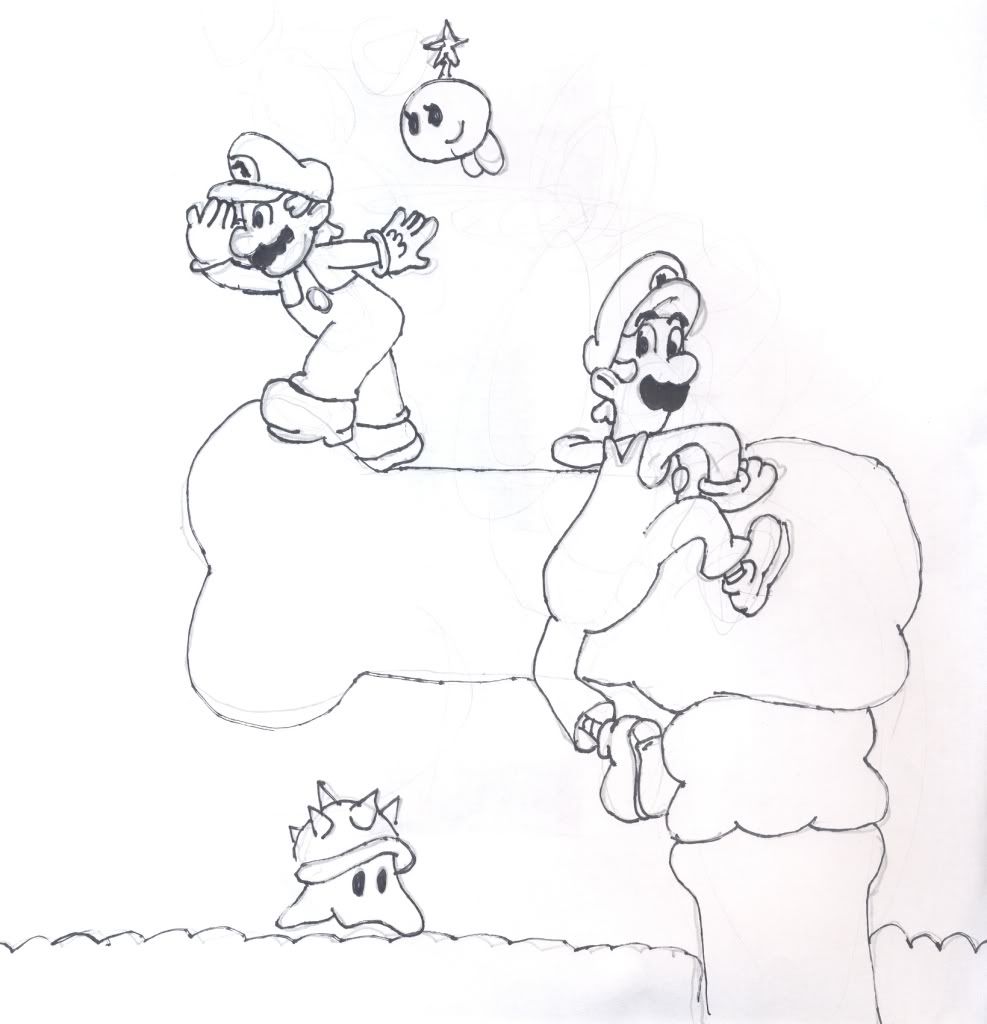 Super Mario Galaxy (Wii)
So, you want to learn how to beat Cosmic Mario really easily in a race? Well, the only way to do that is to cheat! ...Or, get a head start...which is what I'm gonna tell you how to do.
When the timer starts counting down before the race, you should be on your toes. When the timer starts, hold forward; right as the timer hits 2, hold Z; then when the race starts, press A. You'll change to a yellowish color for a bit, and during that time, you'll be WAAAAAAY ahead of Cosmic Mario.
Special Sections
Hey. McCloud here. I'm going to teach you a few things in Super Smash Bros. Brawl for the 30th Shroom Issue.
Cruel Brawl. The most insanely impossible challenge mode EVER on a Super Smash Bros. game. Each alloy is insanely tough, strong, and jumpy. And yet, I've killed 12 alloys with Jigglypuff. Yes. Jigglypuff. This strategy can also be done with Kirby as well, but takes more skill. First, pick a character like Jigglypuff or Kirby (Jigglypuff is recommended). Then start up Cruel Brawl. Run to the left side OR right side of the Battlefield stage and jump off. Then jump back onto the ledge and KEEP HOLDING THE LEDGE. You will start to notice that the alloys will not attack you and begin jumping up and down. Jump OUTWARD and procede to puff-jump under the stage. The alloys will try to follow you, but will jump off and get KOed. Reach the other side and repeat the process. Sometimes, the alloys CAN glitch and attack you. So keep trying and you will have a ton of KOs in Cruel Brawl with Jigglypuff or Kirby.
Online is pretty tough. So you'll win once or twice within 5 matches. But here are some tactics that will hopefully bring that 2:5 ratio into a 4:5.
1 on 1: You can easily dodge the attacks with a roll and counter them from behind. It is not wise to just sit there and wait for the other player to attack. Stay on their rear. Pick your time to strike wisely. If the other player is close to you, take a chance and punch at them OR even do a non-charged smash attack. Charging your smash can be affective, but CAN give the enemy a chance to roll behind you and give a weak smash attack. And for defense players, KEEP YOUR SHIELD UP. I have seen too many players get KOed out of a game because they never used their shield on those very lucky charged smash attacks.
2 on 2: Two words: DOUBLE TEAM. Gang up on one. And as the other tries to get him out of the beatings, you'll have a guy covering your back the whole time.
Thanks for reading The Shroom and this small tactics guide. Adios. ^.^