User:YellowYoshi127
From the Super Mario Wiki, the Mario encyclopedia
Jump to navigation
Jump to search
YellowYoshi127's Userbox Tower
| | |
| --- | --- |
| 45px | This user is great friends with Timmy Tim. |
| | |
| --- | --- |
| | This user is friends with PT PRANA!. |
| | |
| --- | --- |
| 50px | This user is part of the Music and Artwork team. |
| | |
| --- | --- |
| 50px | This user writes the Character Artwork and Character Music bits of the Music and Art team |
| | |
| --- | --- |
| vg-5 | This user is a professional gamer. |
| | |
| --- | --- |
| fan-2 | This user loves the videogame spore. |
| | |
| --- | --- |
| fan-2 | This user loves the videogame super mario galaxy. |
| | |
| --- | --- |
| fan-3 | This user's favorite videogame character is Yoshi ( Especially Yellow ones). |
| | |
| --- | --- |
| MK | This user's favorite Mario Kart track is mushroom gorge. |
| | |
| --- | --- |
| 40px | After all, who gets scared by a lump of blue plasicine?. |
| | |
| --- | --- |
| | This User has a colorful personality. |
| | |
| --- | --- |
| | This user loves Yoshi's daring quality. |
| | |
| --- | --- |
| | This user goes surfing (quite often) even though he is 50 miles from the coast! |
| | |
| --- | --- |
| 120px | This user thinks The Bouldergiest rules. |
| | |
| --- | --- |
| | This user got bitten by a rabid Goomba. GRRRRRR! |
| | |
| --- | --- |
| 50px | This user sails every Saturday and is his favourite sport. |
| | |
| --- | --- |
| espanol | This userbox is in spanish when youre not looking at it. |
| | |
| --- | --- |
| 100% | This user is a math genius |
| | |
| --- | --- |
| 45pxHere | This user's favorite color Yoshi is yellow Yoshi.Duh. |
| | |
| --- | --- |
| 65px | This user poked a boo in the Eye |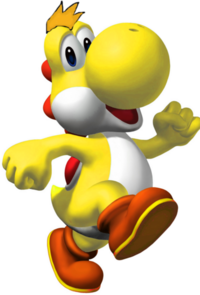 "Yoshi!"
"Yoshi hungry, Yoshi Eat YOU!"

—

The Dalek Emporer toasts the universe

,

Youtube
"Please can I play on Super Mario Paperwork??? "

—

My little bro
<font:Big> Who's on? →
Who's online: Bobster, TheDarkStar, Waluigi Time, Yoshi the SSM, Somethingone, Drone 16Bit, Iluvpenguins8, Flothemariofan, MICKEYSTAMATIOU, Keyblade Master, Sticklyman, Nintendo101, RHG1951, Fawful the final boss, Tails777, TheRaoul1992, Spongyoshi, BeryAb, Bowser64, Quizmelon, Pikachu210, LucianoTheWindowsFan, PrinceLudwigVonKoopa, Koopa con Carne, Scrooge200
→ They all should comment on my talk page!
Here's my sig 35pxYellowYoshi12735px
Me
I joined on the 9 June '09 and i am christian. I am a big mario fan and play a lot of mario games. Yoshi is my trademark guy for lots of games and my favourite guy. My favourite colour is yellow.I love maths and Art. My first consolewas a Game boy advance sp but i was so young i was only intersted in Poke'mon. Now i'm only intersted in mario games. Mario rules. So does Yoshi. Actually Yoshi's cooler.My Utube username is Emporerpenguin2.
Click below to level up my license! Go on, you could get free points for yours!!
href="http://www.mubos-md.com/licensemaker/levelup.php?41818""
To be my friend, copy this userbox. Then tell me on my discussion page so i can use yours. Go on. You know you want to. |-
|
Just click view source at the top of the page. Also, feel free to steal my userbox's.
My top 10 favourite Characters
Yoshi & Yellow Yoshi
Dry Bones
Boo
Hammer Bro
Lemmy Koopa & Larry Koopa
Luigi
Koopa Troopa
Toad
Mario
Bowser
Yellow Yoshi's Diet
Favourites
Lasanga
Pizza
Burgers
Pasta
Spaghetti Bowl-of-naise (Bolonaisse)
Strawberrys
Fraisiers (A pudding that a bakery in france makes consisting of yoghurty cream and strawberrys on a biscuity bottom.) MMMMMM
Yellow Shy Guys
Dislikes
Fish
Shellfish
The hard cheese on Macaroni cheese
Black Shy Guys
Gallery
Yellowyoshi.jpg

Yellow Yoshi. Simply The best character and Yellow Dinosaur thing

Marioparty1artwork.jpg

"Yooooowww. Why did I get Mario to install that spiky toilet seat?