The 'Shroom:Issue LIV
From the Super Mario Wiki, the Mario encyclopedia
Jump to navigation
Jump to search
---

Issue 192
September 17, 2011
About

---

Hello everybody, welcome to Special Issue LIV! I have quite a lot to cover this month (some good, some bad), so buckle your seatbelts and come on the ride.
Unfortunately, I must start by announcing that Twentytwofiftyseven (talk) has resigned from his position as Sub-director. When I was running for Director back in December 2010, I chose Twentytwofiftyseven because I felt he was the best person for the job. Prior to being Sub-director, he served as Editor-in-Chief for a year, and was also a dedicated Super Mario Wiki staff member. He has always demonstrated great personality traits and outstanding leadership skills, so I did not even have to second guess choosing him to be Sub-director. Choosing a Sub-director, you must realize, is a very big statement to the community and a big decision: the Sub-director is the individual that will take the Director's place in case anything happens to the Director during the term. Needless to say, the Sub-director is an individual that both the community and the Director have to invest a lot of trust in to: Twentytwofiftyseven has that trust, and with that trust, an immense amount of respect from me and the community. And I know for a fact that I was not mistaken for selecting him as Sub-director. For the eight months that he has served in the position, he has never let The 'Shroom down and has consistently done his best. And for that, he deserves a big "thank you" from the community and the readers of The 'Shroom. Starting with me: thank you Twentytwofiftyseven, for everything you have done! Without you, The 'Shroom would not have been as good as it has throughout the past eight months.
And an update about the individual that will succede Twentytwofiftyseven will come next month, although by that time, they will have already taken the position and will have fulfilled the duties needing to be fulfilled for next month's issue. So rest assured that everything will go smoothly and that The 'Shroom will still move forward and be just as successful as it has been.
The 'Shroom Spotlight did get more sign ups when I made an announcement about it last month, but it needs more people involved and more attention overall. So please, if you feel the urge to contribute to a 'Shroom project that needs help, go contact Xzelion (talk) and ask him more about signing up and how to get involved!
This month's issue is the Special Issue. To explain why: two months ago, the Super Mario Wiki celebrated its sixth anniversary with perhaps the most anticipated event in the community held annually since 2007: the Super Mario Wiki Awards. The 'Shroom, in September 2009, celebrated the fourth anniversary by holding a Special Issue centered around the Awards and the anniversary. There was no Special Issue celebrating the Awards in 2010, but the idea was revived this year: so here we have it. In this issue, we have interviews with several individuals that did well in events held on Awards Day, a special compilation of commentaries from the Awards Committee members, and the second Feedback Survey.
The Feedback Survey is back: and we need you to go and fill it out! Compared to the last survey, this one should be significantly less time-consuming as the size of the new survey has been cut down considerably. The Core Staff is hoping that this will help to increase the amount of people that respond (the amount of responses we had last time was pitiful). So please, take some time to fill out the form in order to voice your opinion on what should be done to improve The 'Shroom!
The Awards Committee was able to speak out about the entire process that goes into the Awards Ceremonies held annually in their own Special Section this month. What they felt throughout the meetings, the ceremonies, the games and the tournament: all of it is on record. So, in order to gain insight on everything, please go check out the section and what the members of the Committee said.
There are also interviews with those who did well in several events throughout the Awards Ceremonies. In addition to the first two that are up on the Front Page as of the posting of these notes, there will be several more that will be posted up throughout the next few days. So keep an eye out for those, and be sure to read each one.
Last month, there was a chat party announced that would have taken place one hour prior to the release of this issue. I would like to apologize for this not taking place: there were several unforeseen problems that popped up in the planning, so the Core Staff ended up deciding to cancel the event. We cannot host an event if it will end up being extremely problematic in the end, so it was something we had to do.
Anyway, thank you for reading! Be sure to come back on October 15th, 2011, and (speaking on behalf of everybody on the Core Staff) we hope you enjoyed this Special Issue!
Section of the Month
The Section of the Month award for Issue LIII goes to Should Have Been by MrConcreteDonkey!
The Should Have Been section is consistently of a high quality, already having won a Section of the Month ward in May 2011. The section is always a combination of humor, facts, images, and a good structure: it is perfectly able to draw in the reader's attention.
The section itself is both an opinion article and a factual article: the writer must write about a game, covering what they feel should have been in it as well as the beta elements that were removed. Needless to say, the section can be both informative, entertaining, and thought-invoking.
MrConcreteDonkey writes, and has written, an exemplory section that should be a good model for all sections. When it come to The 'Shroom, great input means great output. And MrConcreteDonkey puts in a lot of effort, and a great section is what comes out of this effort.
Good job, MrConcreteDonkey, your effort and hard work is highly appreciated!
How do I become a member of the Fake News team?
Write an application to this forum account. Use a descriptive subject so I know what your intention is.
This is the application form you need to use:
1.) Which position would you like to apply for?

2.) The staff reserves the right to remove writers from their position if they engage in activities that reflect badly on The 'Shroom. These activities include extensive misbehavior on the Super Mario Wiki and/or its forums. 
Do you agree to not engage in such activities for the entire duration of your employment?

3.) Please write a full-length demo of your section.  That way, we can have a bit of your work to decide if you can be on the team. 

Please put some effort into your example section. The better your example is, the likelier it is to get a fast response.
I want to write for the Fake News, but I'm not good at keeping schedules. Can I contribute anyway?
Yes, you can. You can write sections as a freelance writer and send them in. If the staff likes them, and they fit in thematically with our newspaper, they will be published in the next issue.
This feature is called the News Flush. You can send these sections to either this forum account, or send an email to [mwshroom@gmail.com]. Please make sure to use a descriptive subject line.
If you send in a section per email, please don't forget to include a name so we can credit you properly (you can use a pseudonym or choose to remain anonymous altogether). Also, don't attach any files directly to your email.
Thank you.

Written by Waluigi Gamefreak75 (talk)
Yesterday, Waluigi decided to start his own business, so he built a taco stand right inside his neighhborhood. Run solely by Waluigi himself, the little stall sold more than 1000 tacos on his first day. Here were some of the customers' reactions to the food served:
"WAHAHA! These tacos are DEΓICIOUS!"
"WAHAHA! These are EXCEΓΓENT! And the owner is dashingly handsome."
"WAHA...Ahem, I mean, these delicacies are absolutely tasty!"
If you happen to be anywhere in Waluigi's neighborhood, I suggest you stop at Waluigi's Taco Stand, because nobody scams better than me, Walu...I mean, just stop and grab a bite.

The Mushroom Shinkicking Championships took place this month in Mushroomshire, with Bowser emerging as the champion. His claws enabled him to shred through the shins of his competitors, thus forcing them to fall on the ground.
You may be wondering what exactly is so funny about shinkicking. Well, it's an actual sport. In shinkicking, contestants basically stuff straw into the bottom of their pant legs (some competitors wear tube socks to make this easier) and the two players try to kick each other in the shins until one of them falls over.
After his defeat in the championship match, Wario said, "Bowser really kicked the shin out of me today."
Nobody laughed.

Written by:

MrConcreteDonkey (talk)
A new craze has been taking the Mushroom World by storm, thanks to one tall man and his tacos. Waluigi's Taco Stand started out as just a small stand, but now it's the second biggest taco-based restaurant in Waluigi's neighborhood. This documentary offers a behind-the-scenes look at a day working at Waluigi's Taco Stand, in Waluigi's Taco Stand: Behind the Tequila.
The cameraman is let into the kitchen, where the 30 staff and Waluigi are working to create lovely food. Tacos, burritos, more tacos, socks. The variety is almost endless! The man himself does a lot of work behind the behind the scenes, too. Managing a fairly large restaurant isn't exactly easy. His large, comfortable chair sometimes goes into a slightly uncomfortable position, his TV remote gets lost. It's a hard-not-not life for the poor friend of an enemy of a plumber. His hobbies including eating the many moneys he makes, which he can only get to do at a bunch-per-minute basis. But that is a good reward for his hard work.
Suddenly, halfway through the documentary, disaster strikes! A stray, rebellious taco rolls under the cupboard! One of the employees tries to lure it out by wearing an attractive female taco suit, and that almost works. But the taco catches sight of a very ugly female burrito, and has to hide. So do most of the employees. But the brave Waluigi comes in to sort it out, and eats the taco and burrito. And the cupboard. According to the workers, similar dramas like these occur every day, and you couldn't make it up. Well, I could. In fact, I am now. But enough about me. The extent of the dramas mean that Waluigi has eaten quite a lot of the things in the kitchen. I shouldn't cover all of the program, so why don't you watch it yourself? It's on MushTV at 8:00pm on the 20th September. 2013.
Thanks for reading, and don't forget to tune in. Or do forget. Or almost do but not exactly quite just slightly forget. Or just read the next section:

Written by:

Gamefreak75 (talk)
Today I have my friend Waluigi on stage. Why, you ask? We are promoting his first of "soon to be many" gourmet restaurants chains.
WAHAHAHA!
So to start things off, Waluigi's Taco Stand is located on the outskirts of his neighborhood.
Buy tacos!
Waluigi is also great with customers, or so he says!
I'm also better looking than that Luigi guy!"
The best part is that their vegetables: the lettuce and tomatoes, are hand-picked straight from the farm, or so Waluigi says. This means they have no preservatives and are as fresh as they get.
Of course, you can get different vegetables on it! I prefer the eggplant-onion taco myself, but people always give me weird stares when I eat it! They're don't know that the great Waluigi will one day be the best taco seller! WAHAHAHAHA!"
Uhh, I guess that's it. Next time you're in Petalburg, why not stop by Waluigi's Taco Stand for some delicious...tacos...

Written by:

Chivi-Chivik (talk)
Hi everybody! Here's your hostess, Chivi-chivik! And this is Cooking Guide, where we teach you how to cook excellent dishes!! So, let's go! ---
This time I have gone to visit Saffron because I was tired of chefs being angry all day.
Me: *entering* Hello! Saffron: *happy* Welcome! Thanks for coming! Me: Not at all. Saffron: I'm ready to cook anything! Me: Okay! I want you to cook... a Fruity Syrup!! Saffron: A very tasty Fruity Syrup! I love it! Well... We'll need a Peachy Peach and a Honey Jar! Me: Here! *gives the ingredients to Saffron* Saffron: First, get a stewpot and put all the content of the Honey Jar in! Me: *writing* Yay! Saffron: After this, warm the honey up for 5 minutes. Take the stewpot out from the stove. Me: *writing* OK... Saffron: Then, put the Peachy Peach in a blender and make juice with it. When you have it, put the honey and the juice in a mixer. Me: *writing* Yes... Saffron: When you see you have a nice mix, empty all this in a jar, and put it in the fridge for 30 minutes. And you'll have finished! Me: *happy* I want to taste it! *tastes* Incredibly delicious!! Saffron: *blushing* Thanks, it was easy to make... Me: *crying in a ridiculous way* You are so kind to me!! Saffron: I like to be kind with the people! Me: *still crying* Thanks for cooking this for our newspaper!! Saffron: I will be always glad to cook dishes for you! ---
Summary: Fruity Syrup
You'll need: a Peachy Peach and a Honey Jar
1. Warm the Honey in a stewpot for 5 minutes on the stove and then take it out. 2. Make juice form the Peachy Peach and mix the result with the honey in a mixer. 3. Put the mix in a jar and let it cool in the fridge for 30 minutes.
Thanks for being here reading, and, until next Cooking Guide!!

Written by:

MST3K (talk) (usually)
"Winter wrap-up, Winter wrap-up…" Gah, confound these ponies and their catchy musical numbers. They drive me to drink. Yeah, welcome loyal readers to an unfortunately short edition of Ask '3K written by yours truly. Let's go to the inquiry, shall we?
From New Super Yoshi: Why did you choose the name MST3K? Because it's the best show to ever grace television. I was originally going to go with "Honey Bunches of Death", also a reference to the show, but I thought that it was way too long.
From WakerLuma: What Mario RPG is your favorite? I like 'em all. Probably the original Paper Mario on the N64. It's just enough of a shake-up to the standard Mario formula without delving into "Mario prevents the apocalypse" scenario, which, in my humble opinion is a tad dark for the series.
*insert clever outro here*
Director Notes
by Gamefreak75 (talk)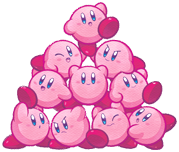 Mystery Images
Guess that Character
Welcome back 'Shroomers! I'm here again writing, so I hope you enjoy! This time, there will be 2!
She is a girl.
She is a daughter of somebody.
Her name contains 6 Vowels and 6 Consanants
She is a sister.
She is evil.
This is an enemy.
It appeared in the first Mario game.
It has many sub-species.
This enemy can usually be killed in 1 hit.
This enemy's name is 6 letters.
Guess that Game
One: 1. This game was released for the DS and Wii in 2009. 2. This game is a crossover game. 3. This is the only game in the Mario series that features Bowser Jr. as a playable character without Diddy Kong. 4. This game features sports. 5. This game takes place in a real world place.
Two: 1. This is a game for the Nintendo GameCube. 2. In this game, Dixie Kong is a playable character. 3. This game was released in 2004. 4. This is a "T" rated game.
Hiding Koopa
By General bob-omb (talk)

Get ready for Mario Kart 7!(clever name). Theres no playable koopa. (but there is a Lakitu...?) Anyway, try to find the koopa that never was.
Word Search
by Gamefreak75 (talk)
You will never be as great a cheater as Waluigi!
Director's Notes (Fawfulfury65)
Welcome back to the 'Shroom's one and only Music & Artwork sub-section! I hope you enjoy this month's sections!
I haven't hired anyone this month, but there are a few spaces open to write: Photoshopped Image of the Month and Character Artwork of the Month. PyroGuy6 (talk) was writing for the Character Artwork of the Month, but he has recently resigned from that position. If you would like to write for one of these sections (which are explained here), tell me and I'll show you the application and give you more information.
I am currently accepting pictures for the Music & Art's Sketch of the Month. If you have any drawings related to Mario that you think should appear here, send them to me and they'll appear on the next issue of the 'Shroom!
Screenshot of the Month (Fawfulfury65)
Hey everyone, and welcome back to another fun and exciting issue of the 'Shroom's very own, Screenshot of the Month! The image I chose for this month is much more basic than the last one, but it's still a great picture. It's a neat screenshot from Super Mario Bros., one of the most popular, well-known, and best-selling games of all time. The game is such a classic that it was chosen to be one of the 3DS Ambassador games, which is why I chose a screenshot from it this month!
To be more specific about the image itself, this is a neat-looking, high-quality picture from level 4 - 2 of one of Mario's earliest adventures. The player's score is displayed at the top left-hand corner of the screen under Mario's name. Next to that, there is the number of coins the player has collected, what level they are on, and how much time is left to complete the level. As you can see, the picture takes place in an underground level, where Mario is standing on some brick blocks next to a pipe. A few more of these blocks and pipes are also around him. The small enemy you can see on the ground near our hero is a Buzzy Beetle, who can cause quite a lot of harm. What a classic!
That's all for this month! Come back again to see next month's Screenshot of the Month!
Soundtrack of the Month (Mariomario64)
Hi again, MarioWiki, and welcome to September's Soundtrack of the Month! This month, I chose a song from Super Smash Bros. Brawl. The soundtrack name is "Luigi Circuit" and is a remix of one of Mario Kart 64's themes. I hope you like it.
Sprite of the Month (FunkyK38)
This month's Sprite of the Month I think you all may agree with me on:

It's a Sad Raven from Super Princess Peach. Like the raven, I am equally sad that I have to go back to school instead of doing things like playing Mario and Pokemon in my spare time, which I seem to have NONE of.
Sketches Related to Mario (Fawfulfury65)
Sorry, everyone, but I didn't get any artwork this month. However, if you have any drawings related to Mario that you think should appear here, send them to me (with a description on them, if you want) and I'll put them in the next issue of the 'Shroom!
Box-art of the Month (Baby Mario Bloops)
"Paper Mario: The Thousand-Year Door": considered one of the the best games of both the Paper Mario series as well as out of all Mario RPG games. At first glance, you probably see just Mario, Peach, Yoshi Kid, Koops, Goombella, Sir Grodus, Hooktail, and Cortez - along with the title and the labels. Well, take a closer look now.
Behind the characters, there is the map of the entire region that Mario explores in the game. If you look carefully, notice how Glitz Pit and X-Naut Fortress are clearly seen, with Creepy Steeple, Keelhaul Key, and The Great Tree partly seen. In the game, you don't unlock those as soon as you get the map, but throughout the game. Basically, this is spoilers for the game before you even play it!
Now, you can see the confetti falling down across the box-art. Strange? Well, based on the fact that it is Paper Mario, I would guess that it would be there to both celebrate the game as well as a reference to the game dealing with a lot of paper properties and appearances. Now, I may be wrong, but this entire thing is opinions, right?
Well, other than that, there really isn't much to see. It is a well-put together box-art to say the least, as well as much spoilers without be known to the players until they play the game. That is perhaps one of the most clever ways to have spoilers without knowing it until later. Anyways, Baby Mario Bloops now signing off, and see you all next month!!!!
Random Image of the Month (Ralphfan)
This picture shows the Cheep-Cheep Blimp, a vehicle found in Paper Mario: The Thousand-Year Door, which happens to be my favorite game of all-time. The blimp transports Mario between Rogueport, the main hub of the game, and Glitzville, a floating city in which Chapter 3 takes place. In Glitzville, Mario must become a professional fighter and ascend to the top rank in the Glitz Pit, a championship fighting ring. After completing Chapter 3, Mario can still use the blimp to access Glitzville to continue fighting in the Glitz Pit or to complete side quests.
Hey guys! Welcome to a special issue of the Pipe Plaza!
Not a lot of sections this month, both ralphfan and RAP couldn't send in their sections so we're going to have a shorter issue. But that doesn't mean it'll be lest content!
Remember, we still have some spots open to sign up for and if you haven't read my Pipe Plaza page yet, then be sure to do that!
But now I'll leave you to read on!
Hello, 'Shroomers, and welcome to the official Anniversary Issue! This is Paper Yoshi, the new writer for Mario Calendar, and I'm here to show you the Mario games released in September.
September 1st
September 3rd, 2004 (EU): WarioWare, Inc.: Mega Party Game$! (GCN)
September 9th, 1983 (JP): Mario Bros. (NES)
September 10th, 2001 (JP): Mario Family (GBC)
September 11th, 2006 (NA): Mario Hoops 3-on-3 (NDS)
September 13th (JP)
September 14th
September 15th, 2005 (AU):
September 17th, 2004 (EU): Mario Golf: Advance Tour (GBA)
September 20th
September 22nd, 2008 (NA): Wario Land: Shake It! (Wii)
September 25th
September 26th, 2008 (EU): Wario Land: The Shake Dimension (Wii)
September 27th, 1997 (JP): Game & Watch Gallery 2 (GBC)
September 28th, 1990 (EU):
September 29th
September 30th, 2008 (JP): Mario Golf (N64-VC)
September 1993 (NA): Yoshi's Safari (SNES)
September 1994 (NA): Mario's Early Years! Fun with Numbers (SNES)
And that's all for this pretty long list! If you have any suggestions for the section's layout, feel free to PM me in the Mario Wiki Forums.
Hello once again, readers, and welcome to this month's Upcoming Games!
First of all, I'd like to thank everyone who voted for this section in the Mario Awards. Although others have written it before, I truly believe most of the users and guests considered the latest issues, which were written by me, before voting. I really appreciate feedback, especially positive one, and it compels me to keep writing this section for as long as I can.
I'd also like to thank the Core Staff for awarding me the Section of the Month prize. I always try to do my best when writing for The 'Shroom (within my limit, be it lack of news or lack of time), and I'm glad my effort has been recognized.
However, this past month hasn't actually helped me with the news. That'll make the September Issue of UG (hey, look, I made an abbreviation for it!) short compared to previous issues.
The Day Early Adopters Were Rewarded for Their Loyalty
Those who paid the full US$250 for a brand new Nintendo 3DS finally got their well-deserved reward, after waiting for some 20 days: free games! On September 1st, Nintendo released 10 NES titles for eligible 3DS owners registered in the Ambassador Program. Five of those games are from the Mario series: Super Mario Bros., Donkey Kong Jr., Wrecking Crew, NES Open Tournament Golf and Yoshi.
Nintendo is set to release said titles for the general public on October 1st. This update will bring improvements for Ambassador-downloaded games as well, such as two-player support.
Updated Release Dates
NES games (paid versions): October 1st, 2011
GBA games (Ambassador versions): 2011
---
And that's all for September! I hope to be back here in October with more news! See you then!
"Stay tuned to Upcoming Games for news on the games you'll be playing soon!"
Hey guys! MG1 here filling in for the Tip of the Month this month! So have a tip!
Having fun with your friends is a great thing, it's always a good idea to help the community and have fun while doing it. But constantly posting on your friends' talk pages can be distracting to other editors. Remember that there are alternative ways to talk to them, like the chatroom and the forum!
Now I hope you like the special issue!
Welcome back to another issue of Review Corner! This time around, I'm reviewing the reboot of the revolutionary Donkey Kong Country series, Donkey Kong Country Returns! DKCR was pioneered by Retro Studios, who is also working on Mario Kart 7. So let's take a look!
Gameplay
This was my first DKCountry game. Donkey Kong moves a lot differently than Mario. He has more of a lumber than the Mario, moving like the monkey he is. By shaking the Wii Remote, DK can pound the ground, and if you move while shaking, he will break into a roll that can make longer jumps and kill enemies. With the addition of Diddy Kong, Donkey Kong can extend his roll and use Diddy's jet pack to extend his jump.
The game plays really well, and one thing I was impressed with was the difficulty. This isn't an easy game; you will die. Over, and over, and over again. But unlike other games that make you want to throw your controller at the wall (and break them), DKCR makes you want to try again. It's something I've never seen before, and I always wanted to give the level just one more shot. And for those who aren't so good, Nintendo has a Super Guide in this game, too.
Last, there's co-op. A buddy can join in and play as Diddy Kong, in a manner similar to New Super Mario Bros. Wii. Donkey Kong can get his abilities if Diddy jumps on him. However, whereas NSMBW benefited from chaotic/cooperative action, DKCR doesn't. It makes the game hard to complete for more skilled players and just gets in the way.
Plot
The plot, like most spin-offs of the Mario series (and the Mario series in general), isn't that elaborate. Some tikis are awakened, and the start stealing all of the bananas on the island (for a reason revealed later) - including Donkey Kong's stash. He goes on an adventure to retrieve them.
Graphics
This is one amazing game in the graphics department. Jungles are lush and vivid. Stages blend background and foreground together for added space. And what's more, if you look closely enough, you'll see references to popular Nintendo series, including the arcade game that started it all. Then there are the beautiful sunset stages, which uses silhouettes to make fascinating levels.
Replay Value
There's a lot of replay in this. After finishing the game, you can replay the levels for K-O-N-G letters and Puzzle Pieces. After you getting every KONG letter in a world, a very difficult Monkey Temple opens up. Defeat all of these, and you can visit the super-hard Golden Temple, which, when beaten, unlocks Mirror Mode. Mirror Mode is even harder - not only is the world mirrored, but you can die with one hit, and Diddy Kong is nowhere to be found. Puzzle Pieces, when collected in each level, unlock extra concept art, which is very interesting to look at. You can also do Time Trials to compete for the perfect time.
Cons
This game is just short of perfection. Some stages are still really hard, and Mirror Mode is nearly impossible. A little more replay value could be appreciated, too.
Overall
Donkey Kong Country Returns is flat-out one of the best games I've ever played. Retro Studios did an amazing job on this, and I can't wait to see what they do with Mario Kart 7. I give this a 9.5. If you don't already have, then I command you - I mean, request that you buy it instantly. This game is a classic.
Hello guys! You're probably wondering why I'm so happy (well, you might not notice, but I am). It's because next month there's two important things happening. First of all there's Halloween, and second of all, and a lot of you don't know yet, is my birthday!
So today, this will be the birthday edition of the Entertainment section, even though it's not my birthday this month, but it's so I can fit in room for the Halloween edition. This month it will be about me, and thankfully, there is a Mario flash movie made by me, one of them having me in it. So I'm going to give you a behind-the-scenes tour of SK Bloopers made by me! (And by the way, it's rated T.)
SK Bloopers
There are a few short skits in this movie, including a spoof of the "IT'S OVER 9000!" meme and a Benny Hill styled chase, while everything is still related to the Mario series. But like I said, this will be a behind-the-scenes tour of it, so let's get going!
Scene 1 was going to have multiple 'takes', one involving a spike coming out the top of a block that kills a Goomba who is unfortunate enough to jump on top of it, and then a second longer spike comes out the bottom and kills, uhmm..., me...
In scene 2 the way that the Koopa Troopa was cut off because... I stomped on him is because when I downloaded the sound for his voice, the end of it was chopped off, so I decided to make a little change to my original plan.
Scene 3 never had anything different about while it was in production, though I did have plans to make more scenes between this one and the final one, but I ran out of time to make it.
In scene 4, Princess Peach was never going to cuss. Also, Bowser was going to cuss twice, but I forgot to put it in, so I decided to leave it like that.
Yes, normally a behind-the scenes tour is a little longer than this, but it's just a flash movie, there isn't really a lot of beta things to tell you all. Well, anyway, I hoped you enjoyed this month's edition of the Entertainment Section!
Should Have Beans Been
, where I write about stuff I think should have been in a game.
Here are the PMs I got this month:
shockwave527 sent in:
"You should do Yoshi's Story, Super Paper Mario, or Mario 3! Please!"
Hello, shockwave. Sorry, but I don't have Yoshi's Story or Super Paper Mario. I have Super Mario Bros. 3, though, so that's possible.
The next PM was from Master Koopakid (who is known as Wayward Vagabond on the forum). He asked...
"Hello my classy friend,
Would you mind if you did SMB2 for the Should have been section on the forum? I actually don't have the game, but I've played the remake. It has tons of beta content that would be cool to report. Can you please do it?
Thanks,
the Unclassy Koopakid"
Hey, Master Koopakid. I definitely can cover that game. So, after a few moments of considering, I'm going to be covering Super Mario Bros. 2. Don't worry if you made a suggestion last month, I may get round to it next month or so.
What should have been in this game?
Yume Kôjô: Doki Doki Panic
, but why does that matter? It doesn't stop both from being good, albeit the same, games. And without the edit that was
Super Mario Bros. 2
, we wouldn't have
Shy Guys
,
Bob-ombs
or
Snifits
becoming regular enemies.
But the game isn't exactly perfect. First, there's three levels per world, and seven worlds. That's a bit of a strange way to do things, but okay. Eight worlds and four levels could have worked better, but I guess the levels are bigger, so that's fine. After a level, if you collected any Coins, you had to go through that slots minigame until you ran out of Coins. I feel that part should have been skippable, or Coins should have had some other use. Also, there are way too few 1-Ups in this game. By winning said Slot minigame, which is quite hard, you can get extra lives. That's the only way I can remember, and it's too hard. Why does that Potion thing contain a door? Shouldn't it contain acid, or something? I mean, the only instance of a door being in something like that is...well...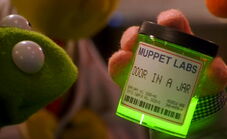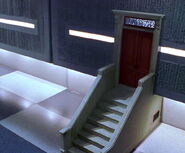 The game got kinda lazy with the
bosses
starting at even
the third world
, where you are, yet again,
Bombs
. Yes, the fight with
Mouser
in World 3 was a little different than the fight in
World 1
, but not enough. At least
Super Mario Advance
changed the World 3 boss to...to...oh god...Ro-Ro-
ROBIRDO
. GOD, THAT THING REALLY CREEPS ME OUT.
And then, in Doki Doki Panic, Mouser was fought again in World 5. And the ironic part: he was removed for the Super Mario Bros. 2 version and replaced with Clawgrip because that time, he was conceived as too hard. And remember, Japan's Super Mario Bros. 2 was not released overseas, because that was too hard.
Oh yeah, and that fifth Mouser was albino.
But the point I'm making is that the game should have had more different bosses. Yes, it's still better than Super Mario Bros., but I'm sure they could have done it in Super Mario Bros. 2. I find the game gets too hard too early, and should have been a bit easier. Especially the part with the Whales. Also, the game's ending credits were developed very poorly. They should have spent more time on that, in order to make fewer mistakes.
Otherwise, there's not much else to say. Since this is an NES game, I can't really say "PUT KING BILL IN THIS GAME GUISE!" It would have been nice to see some Super Mario Bros. enemies, yet this game wasn't originally developed to be a Mario game. Still, since the designers changed the sprites of the four playable characters in Doki Doki Panic, I guess changing a couple of enemy sprites wouldn't be a hard feat, or even adding some. I think Goombas could have worked well in Subspace, considering that place had the original Super Mario Bros. theme and a Mushroom inside.
Beta elements
Super Mario Bros. 2
surprised me.
In 2005, a prototype copy of the game sold on eBay for $350. In this prototype, there were many differences:
Starting off, the title screen was primarily gold-ish-colored in this prototype. The story also took out a word, and added one. The character select screen had an ellipse after "Extra Life", as did Super Mario All-Stars. The player also had the chance to select a character after they lost a Life, which also is what happened in Super Mario All-Stars. At the start, the game gave the player 19 Extra Lives to start off with, instead of the standard 2. The game allowed unlimited continues in the prototype. Mario, Luigi and the princess all have visible sclera (the white of the eyes) in the final version, but do not in the prototype. There are a few sprite changes, with the Princess's face being quite different (and creepy-looking). The height at which objects are held is also different for everyone except big Luigi.
Many of the differences present were the same as
Doki Doki Panic
: for example, the Potion was replaced by a Magic Lamp (that makes too little sense even for
Muppets in Space
...), the Waterfalls fell at the same rapid speed, the
button couldn't be used to run, the Scowling
Vegetable
in
World 7
looked the same as
Doki Doki Panic
,
Phanto
in the room where
Birdo
is holding a
Key
.
Wart
, as in
Doki Doki Panic
, took just four hits from Vegetables to be defeated, and the Bonus Chance screen was virtually the same.
The game was not finished in this version. In the storybook intro to every world, some worlds' names were unfinished, and World 7 had no scenery. There were also a lot of unfinished animations. There was some beta music to this game: for example, the Underground music was a remix of Super Mario Bros.'s, very close to Super Mario Bros. 3's. The Starman theme used the scratchy percussion instead of the wood block. There were a few different sounds, too. In the ending, the words "THANK YOU" appeared when the player released the Subcons from the jar, and, as Wart was being carried away by the Subcons, a total of Prize Money appeared: the less deaths the player had, the more prize money they got. The very end did not show Mario sleeping, but, instead, just "THE END" in a much less swirly font.
Finally, there were a lot more glitches, including one with the ending and one with the character select, among others.
---
That's all, folks! Don't forget, if you want me to cover a certain game next month, or a certain beta element, or just want to talk about the section, PM Grand Wheelie on the MarioWiki Forum and I'll be sure to include your personal message in the next issue! Bye now, and, if you see Smasher, please tickle him while wearing a salmon suit.
Hello, Brawlers! Welcome to the September issue of Brawl Tactics! This month, I will be covering the stage New Pork City!
This is a HUGE stage. The only stage that I can think of that rivals this one in size is Temple. Given its size, it's very hard to get a KO here. You have to chase your opponents around everywhere, and once you get at them, you often have to knock them into the above-100% damage range to even have a chance to get them off the screen. Not even Final Smashes can help this, as some won't do much. This stage can render so many Final Smashes useless: Mario, Luigi, DK. Trust me, I've had my plans foiled on this stage many a time when I've tried to use a Final Smash. So many, that I just cut this stage out of Random Stage choice.
OKAY, that's enough about the negatives, here's what you CAN do here: With the large stage layout, multiplayer Brawls can be easy. If you keep a low profile, you can watch your friends kill each other, then swoop in to finish it off. The Ultimate Chimera makes things interesting, too. If you can force your opponent off the edge to where it's waiting, chances are you won't have long to wait before they get KO'ed. That thing is seriously scary. I won't get too close to it. You never know when it can attack.
The Large stage makes it easy to take cover from a Final Smash like Mario's or Ness and Lucas's. Find a place between two of the more solid walls, and they'll buffer the impact of the force from the Final Smash pretty well.
All, in all, Brawlers, this is a stage where anything can happen, so be careful! That's all for this month, everyone, Happy Brawling!
Hello Mario Karters, welcome once again to the Mario Kart: Wheel Tips Corner, Coincollector is here to tell you the tip of the month so get behind the wheel, fasten your seatbelts and start your engines.
It's time to take a trip in one of the courses of Mario Kart Wii, Grumble Volcano. Grumble Volcano is the last course of the Star Cup, and one of the most difficult levels to race. The most notable aspect of Grumble Volcano is its tricky layout, especially because it changes gradually as you progress and complete a lap. However that's not the only thing that makes this course challenging. Grumble volcano is surrounded by lava, and most parts of the course have unprotected edges. Therefore, it is easy to fall to the lava and lose several seconds if you don't drive with care and don't anticipate turns (specially when using speed-boost power-ups). The course also has other kind of nasty obstacles such as big fireballs thrown by volcanoes that leave fire on parts of the track and Fire Snakes that will make your kart spin out of control if you make contact with them. As if it wasn't enough, parts of the road to perform tricks and jumps have lava pits beneath, and sometimes lava geysers emerge from the lava to bowl you over.
The course starts in front of a volcano. As a taste of what's to come later on, once you accelerate from the starting line, a hill in the background will collapse and sink into the lava. Next you'll find the first jump to perform a trick and then land on a stretch that leads to the entrance of a cave beneath the volcano. Once inside, swerve to the right to find the second jump that leads you to a platform that moves left and right and after that, move onto a stretch of solid ground. The road goes through a tunnel and splits into two paths. The left side will send you uphill and the other will not. The paths don't differ much, as both follow in parallel and bend in a great S turn that leads to the left at the end where the paths join again and takes you outside of the tunnel. This section of the track finishes in a third jump where you land on a row of three platforms, two of them drifting left and right. The track divides once again in two paths. Just like in the tunnel, there is an upper path and a lower. The upper path has a Boost Pad, where you can perform a trick and return to the main way that is the lower path. There is another path that has the same purpose right after this, located in a curve that leads you to the left. Watch out for the falling rocks that leave trails of fire over there. Here, you'll find the fourth jump and once more the track splits in two in which both have perilous corners and Fire Snakes popping out from the pipes there. Avoid these obstacles and from falling to the lava when swerving. Both paths end with jumps that converge again. You'll have completed a lap once you have made a last jump before crossing the starting line. Easy, eh? things get even worse in the second lap...
Starting from the second lap, several parts of the track start to disintegrate and sink into the lava, making some stretches narrower, increasing the chance to fall in this situation. To know which parts of the track can dislodge, look at the cracks over the ground at the beginning of the race. The cracks that surround a piece of ground means that soon it will disappear.
Grumble Volcano is also notable for being a course with various glitches that may work as shortcuts to complete this course in no time. Fortunately for you my friends, as I'm a honest user, I'm not going to tell those kind of shortcuts. Well, I'll tell at least one because one of them is funny to perform. All you need to make this shortcut is a Mushroom (another item like a Star or a Bullet Bill may serve, but a Mushroom is better), then, go to the upper path of the right after crossing the pair of moving platforms. Once over there, go far right to be off the road and use the item and do a timed jump so you'll fall to the lava far away of the edge. If done correctly, you will be brought to a place near to the finish line. And that's all I can tell you.
See you next month with more tips here in The 'Shroom's Mario Kart: Wheel Tips Corner.
Hello everybody! It's been a while since I wrote one of these sections! Blame summer.
Aaaanywaaays, welcome to another issue of Fading into Obscurity! This issue, as it is an awards issue, I've decided to look at one of our winners from the Anniversary. This month we will be looking at the winner (or loser) of the Most Underwhelming Boss Fail Award, Cloud N. Candy!
Cloud N. Candy is a boss from the 1998 game Yoshi's Story where he fights against Yoshi in the level Cloud Cruising. The reason the boss won the award is because the method of defeating him actually restores your health. By licking Cloud N. Candy, Yoshi's health is restored, which really makes this guy an Underwhelming Boss. Maybe he'll return, or maybe we'll get lucky and this guy will have truly faded into obscurity.
*stretch*
Ah, relaxation is nice! Not a worry in my mind!
*muffled voices from outside, door bursts open*
SMB (with his angry face): MG1! Your sections haven't been turned in for over a month! What is going on!
MG1 (notices very sharp-looking hatchet on SMB's back): Yes, sir! *runs off to work*
---
And there's a little runthrough of how my Saturday went! Hey everybody, MG1 here for another long-overdue issue of Character Reviews!
This issue, we will be covering the next chapter in the TTYD set, chapter 4! However this chapter only has one character so I will try to make it a big section.
Doopliss
Yes, this month's character is the one-and-only, unique, totally-not-like-any-other-duplighost, Doopliss! Doopliss is, if you haven't figured out, a Duplighost and the only (necessary) boss in Chapter 4. In that chapter, Doopliss transforms all of the residents into pigs and tries to impersonate Mario. Eventually he fails and joins up with the Shadow Sirens to replace Vivian.
I really like what the developers did with Doopliss. His appearance as a chapter boss was a bit underwhelming as it was a drop from dragons and robots, but when he joined up with the sirens, he became more of comedic relief and I started to like him. I think Doopliss is a pretty funny character and I definitely think he was a good addition to the game. If only his first appearance as a solo character was as good.
Totals (already?)
Yes, totals! Doopliss, master of Dooplissity, receives a lovely 9/10 for making me laugh. Which is very hard to do.
...
lol
What did the Awards Committee go through during the planning of the Fifth Awards Ceremony? What did they feel, and what did they want? What do they think should go down next year? Well, read through all of the commentaries below and find out!
We will start with a break-down of the entire ceremonies with Ralphfan (the Awards Director), as well as his hopes and opinions for next year. Then the responses from each of the other members that chose to participate will be presented.
Who are the members of the Awards Committee? Here is a list (with some additional information) for reference:
Now that the dust has cleared, and it's been a month since the 2011 Anniversary and Mario Awards V, I think it's safe to say the event was a huge success. We broke just about every record that we could. Voter turnout increased across all the categories and the activity on both the chatroom and forums dramatically increased.
The ceremony itself was a blast. The threads were nearly twice as active as they had been in previous years, and all 60 presentations were finished on time. SMB hosted the Userpedia Awards, Tucky hosted the 'Shroom Awards, Gamefreak hosted the Fail Awards and I hosted the Mario Awards. My three counterparts did a great job staying in contact with me and posting all the scripts on time.
We also had three excellent events to go along with the awards: a guessing contest, a Mafia game and a Brawl tournament. Wayoshi started the guessing contest in 2008, but not enough interest was garnered to get contestants. He tried again in 2009 and I entered along with Stooben and Tucayo. I narrowly edged out Stooben to win by 10 points. In 2010, I won by a considerable margin over Tucky, Gamefreak and SMB. This year, we had an unprecedented 11 contestants and BMB edged out Gamefreak by just 2 points to win.
The Mafia game was a new addition to this year's festivities. Stooben brought Mafia to the forums in April 2010 and the game stuck. From one forum game to a whole child board of games, Mafia has become a fixture of the community. I hosted this game along with Stooben Rooben. This year's Awards Mafia game had 37 players as well as three mid-game replacements for a total of 40 players, a MarioWiki record. Though the Mafia were poised to win the game, a hidden faction, the Werewolves, got incredibly lucky and ended up taking some of the Mafia members to their side to eventually win the game.
The Brawl tournament was a new event, hosted by BMB. In 2009, Wayoshi hosted a Mario Kart Wii tournament, though there was no tournament in 2010. MST3K won the tournament. The event was very popular and it looks like there will be more game tournaments held next year.
Even with all the great events this year, there is still room for much more. A poll held shortly after the Awards by the Poll Committee showed that nearly 80% of the users hadn't even heard of the awards! Next year, the Awards Ceremony will hopefully shatter all the previous records we set.
Until then, you may be wondering how you can get involved. In February, the Awards committee will be formed. The members of the committee meet in the chatroom from late March to June from 8-10 PM Eastern time every Friday night to pick the awards and nominees that will be voted on. Being a committee member is a very serious matter and regular attendance and insightful contribution to the meeting topics is expected of all committee members. If you want to join but may be busy on most Fridays, don't worry. The meetings are also open to non-committee members who wish to drop in sporadically.
I'd like to take this opportunity to finish my section by once again thanking all the committee members, all the presenters, all the participants in the events and all the voters (except the ones that voted SPM) for such a great turnout this year. Hopefully next year's show will be even bigger and better!
Being on the Award Committee is quite eventful. You party every friday, and then at the end, you pull from a hat and decide what will be in the polls! No, in all seriousness, I felt like I helped the community out greatly. Each member WAS eventful, but in a good, business-like manner. There were many arguments, yes, but there were also many fun times I had. I think it is a great way to help out and make our wiki better every year. If I was an active user, I would say that they should definitely join us on the committee or just simply help out later on by doing some award presentations!
I liked being on the Awards Committee. It was a fun experience, most of the time at least. I think everything went smoothly, seeing as how we got a lot of progress and were even able to expand without having to do back-up scripts (except for one special case). In the future, I hope to see non-Mario awards, like NIWA Awards or something. I'm not exactly sure where I'm going with this, so yeah.
I say it was a good opportunity for me to participate with other users to discussing about what decent subjects on wiki should added to Award. In my opinion, everything about it went quite great.
I had a great time! I thought Ralphfan would be an unjust leader but he only made us pay 50 dollars to use the restroom! I thought the meeting room was a little crowded though, and several times I was tempted to throw some of the non-AC members out the window. The biggest issue I had was trying to get all the Super Mario enemies to agree to go up on stage for the ceremony. I didn't think we'd get that Whomp in but after a few Mini Mushrooms he barely squeezed in the door. The Boo was really hard to keep quiet. He wasn't supposed to know his result until I announced them but he was behind me while I was preparing my cue cards. Sneaky thing covered his face and turned invisible when I turned around! I do think he conducted himself pretty well around the Koopa Troopa and Shy Guy, but boy were they disappointed about not getting the top spot! Next year I think they should provide more donuts in the AC building's lobby, but other than that, it was great!
Being on the Awards Committee this year was a very fun experience. Even though it's a lot of work, it's a great way to get involved with the Wiki and the Forums and decide something nearly 200 people will vote on. I would suggest anyone to join it. It's a lot of fun, as long as you're free for chat meetings on Fridays. Most of the meetings were smooth, but some were a little out of hand. The first month was more insane until we used the chatroom's mute feature which made things a little less rambunctious. Plus, for some of you who thought that you didn't get to present the one you REALLY wanted to, by signing up, you get one reserve sign up! I plan to join this year again as well. Thank you for a great year AC!
Although I wanted to punch myself in the face during some of the meetings, being on the Awards Committee was a fun and enjoyable experience. The people I worked with were great, and I am pleased with the work we got done. Ralphfan also did a great job leading us. Overall, I loved being on the Committee, and will definitely want to join it again next year.
Hello everybody, SMB here.
What can I say? I believe this year's awards were great. Most people that did their presentations put in a lot of effort, we had a decent amount of voters this year, and we had wonderful side-events as well (the tournament, the games, the chat party...).
I did not have a lot of time to help out this year during the planning, but I am happy with what I did contribute: I participated in the efforts to expand the Userpedia Awards, the Fail Awards, and The 'Shroom Awards (out of which, only the push to expand Userpedia was unsuccessful), and also participated in several decisions with the list of Awards and nominations.
As like I did last year, I did four presentations this year (one from each ceremony), participated in the Awards Mafia game (winning the "Mafia MVP" and "Overall MVP" titles), and hosted the Userpedia Awards for the second year in a row. It was an extremely fun night, and almost everybody that attended was pleased.
What should we do next year? I feel we should cut out five Fail Awards and add five Userpedia Awards. This would help balance out the amount of Userpedia, Fail, and 'Shroom Awards Ceremonies and would be fair to everybody that likes the UP Awards. Besides that, I don't really think much else should chance, although I do hope that I can be more involved.
But yeah, thank you for reading. Hope to see everybody participatingin the Sixth Mario Awards next year!
As part of this year's Anniversary festivities,we held our third annual Guess the Results contest to go along with the Awards Ceremony on the forums. Here is a basic summary of the contest.
Contestants tried to guess the top three finishers in each of the 60 Award Categories. They were awarded five points for a correct first-place guess, three for a correct second-place guess and two for a correct third-place guess, as well as one point for any of their guesses finishing in the top three though not finishing in the predicted spot (example: a guess for first place coming in third). Contestants received five bonus points for an award they presented (since they weren't able to guess the results because they already knew the results for those awards) and five points for a trifecta, the almost-impossible event of picking the first, second and third-place finishers all in the correct order.

In 2009, I competed along with Stooben Rooben and Tucayo and narrowly edged out Stooby for the victory. 2010's contest had four competitors: Tucayo, SMB, Gamefreak and I. I won by a considerable margin. This year, an unprecedented 11 users competed. Nine of the 11 predicted the results for all 60 awards, one (DaisyGaga) predicted Mario and Fail, and one (Snowstalker) picked the first-place finishers for the Mario category only and did surprisingly well.

Smasher 101 took the early lead by winning the Userpedia and 'Shroom categories with Gamefreak75 and New Super Mario close behind. Gamefreak then won the Fail Awards and it was a tight race to the finish. Gamefreak also won the Mario category, but Baby Mario Bloops ended up as the surprise winner. He didn't place first in any of the four categories but he stayed consistent throughout the competition and edged out Gamefreak, 428 to 426. New Super Mario finished in third and Smasher finished fourth after a weak showing in the Mario category.
As one of the many prizes given out to the best performers in the Guessing contest, Mafia game and Brawl tournament, Baby Mario Bloops was given an interview!
Ralph: What strategy did you use to win the guessing contest?


BMB: I really just looked back at last year's. When I couldn't, I did my personal favorites. The best trifecta's I got were the ones I based my personal judgment on.
Ralph: I used a similar strategy last year. Tends to work quite well. What do you feel were the high points of this year's ceremony?
BMB: The high points for this year was probably the Mafia game. No doubt that it would draw a lot of attention. I mean hey, there were like 35+ people, way more than most things.
Ralph: The Mafia game was certainly a lot of fun. What do you think can be improved for next year?
BMB: I think that some more advertising and finding a way to get more people involved into the awards could really help us. I think that is what is holding us back right now from expanding are awards that we would love to really do.
Ralph: I agree that advertising can be improved. Despite the increases in attendance and participation, a poll organized by the Poll Committee following the awards showed that 80% of respondents hadn't heard about the awards. Do you have anything to say on the SSBB Tournament?
BMB: It wasn't like I was the host or anything...but in all seriousness, for the first tournament, I think it went well. The scheduling of each round was WAY off, and much of the information was slightly off, but other than that, it went good. I think it could be 10x better next year if it happens again.


Ralph: Though it was our first time holding a Brawl tournament, I think it went well. It's tough to coordinate getting all the people together at a time that's convenient for as many people as possible. I did like your idea of using a chatroom for the tournament. I think that we should definitely use that again if we hold game tournaments next year.
Thanks to BMB for participating in the interview and thanks to all the participants in this year's ceremonies!
Hi, Shroom readers! Wow, it feels good to do another interview. People seem to love it when I do interviews. Anyways, to sum things up and not blah, blah everything, I am interviewing the winner and runner up of the Brawl tournament that was hosted. Hosted by who you say? None other than the person that is doing this as well – me, Baby Mario Bloops!
Interview 1
Let's start out with our winner – also the MVP of the tournament, MST3K! Understand that I did it via PM over the forums, so it is going to see a little strange.
BMB – Alright, '3K, when you were battling, were you thinking of winning or just having fun?

'3K – Mostly having fun, but it was all about winning when I got to the final.

BMB – I hope that was your goal at the end. Since you did so spectacular, tell us what was your strategy you used that allowed you to conquer your opponents?

'3K – I'm one of those that uses the stage to gain an advantage. Other than that, Falco's a beast at combos and stuff.

BMB – Good thing I didn't face you – I would have lost. What was the hardest and weakest competitor you faced? Don't be afraid to tell me reasons to why.

'3K – The hardest was definitely one4all. That dude reacts to just about everything you throw at him. As for the weakest, I won't say; that would just hurt someone's feelings and I'm too nice to do that.

BMB – Well, true, as you were the only player to actually battle in every round rather than move on because they didn't show up. Also, thanks for the comment about one4all, I bet he would appreciate that.
BMB – …oh yeah, that's right, I didn't tell him that, darn me and adding things later on. Anyways, moving on. If you had to do it all over again, do you think you could've won for the second time?

'3K – Maybe.

BMB – I see, now to a personal question – if there was to be another tournament next year, would you enter it?

'3K – Oh yes, definitely.

BMB – Have to warn everyone about you then. What changes would you add to the tournament if there was to be another one?

'3K – NO ITEMS. Period.

BMB – Just to let you know, that was not my decision, it was the players.
Interview 2
Okay, now it is time to welcome the next person to be interviewed. Quick background, he got second place, barely losing in a close battle that I heard was pure epic. One4all, time to do the interview – we actually did it over chat, so this one is more fluid.
BMB – When you were battling through the tournament, what were your feelings?

one4all – I was shaky and my heart was pounding the whole time.

BMB – Anything else?

one4all – I knew it was gonna be fun though, I was pretty prepared. I had fought a lot of level 9 computers to get ready for this, and I didn't expect to reach the third round so easily.

BMB – What was your strategy did you used to get you all the way to the finals?

one4all – Well, I used Link because he has a projectile or 3 that will allow me to attack my opponent while they are distracted in either dodging the projectile, or being hit by it. And I looked for any open chance I could to attack them.

BMB – When you faced MST3K, what was the battle like? Where you surprised when you lost?

one4all – The battle was close, incredibly close. He attacks incredibly fast so I had a lot of trouble trying to land hits on him. And, I kind of expected to lose, because we were so closely matched. It was certainly a match for the record books.

BMB – If you could do the tournament all over – knowing what to expect – do you think you could've had a different outcome?

one4all – No, probably not.

BMB – Why?

one4all – If everything happened the same way (as in the matches, not what happens in them) I don't think there could be another outcome. I'd still use the same strategies, I'd still probably be as anxious as I was the first time. And I'd do it all over again, just to relive that last match.

BMB – If there was another tournament next year, would you partake in it as well?

one4all – Absolutely, I love this game.

BMB – What would you want to change to improve it for next year for another possible tournament?

one4all – I think we should probably have one set stage for everyone to brawl on (probably final destination). I would remove the items so that the outcomes of the matches are based on skill, not item luck. Each competitor should be able to pick from 3 characters to brawl with.

BMB – That's all the questions I have for you, thanks.

one4all – anytime, BMB. Thanks for this, I had a lot of fun.
---
Well, as you heard, the tournament was a lot of fun. Personally, I think that if it happens again, and I'm NOT the host, that they shouldn't partake in it as well. The scheduling got out of hand, but other than that, it went off without a hitch. Many people were excited and pumped for this, and they got more than what they expected. I'm glad that everyone that took part in this tournament had fun, thanks for doing it.
Hopefully another Brawl tournament will take place next year, and if so, I call it. – Baby Mario Bloops
Hello readers of The 'Shroom. The Core Staff has promised the 'Shroom readers the ability to make suggestions and give input on things going on in The 'Shroom in a survey that was dubbed the "Feedback Survey". This will be the second of three surveys that will be available to the userbase that will enable everybody to get their thoughts to the Core Staff in an organized fashion.
There are four categories in this survey:
General – General questions about The 'Shroom.
Issue LIV – Questions about the fifty fourth issue, which (at the time of the start of this survey) is the current issue.
Sections – Questions about all sections of the paper (including the Main sections and all sections in the Sub-teams).
Survey – Questions about the quality of the survey itself.
In any case, here is a link to the survey form:
https://docs.google.com/spreadsheet/viewform?formkey=dDFQX0NPa3h6WjlTdE9KSk1DS0UwMWc6MQ
This survey will close on October 15th, 2011 at whatever time Issue LV is released. Thank you for helping us!