Elevator button
From the Super Mario Wiki, the Mario encyclopedia
Jump to navigation
Jump to search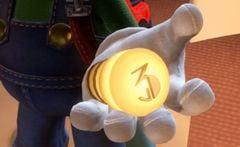 "Of all the... Someone has removed all the other

elevator buttons

!"
Elevator buttons are items in Luigi's Mansion 3. As the name suggests, they are the buttons for The Last Resort's elevator, enabling access to the different floors of the hotel.
After King Boo and Hellen Gravely spring their trap on Luigi and his friends, all of the buttons are taken out of the elevator's control panel apart from the button to B1, with the rest being distributed to powerful ghosts residing in The Last Resort. As Luigi progresses through the hotel, he must defeat the various boss ghosts to retrieve the elevator buttons and return them to the control panel, enabling him to reach the other floors and rescue his friends. In most cases, he receives the button immediately after defeating the bosses, but some require him to solve a puzzle or catch another ghost that steals the button before he can collect it (most notably Polterkitty).
When Luigi returns a button to the elevator, it vibrates out of his extended hand and screws itself into the control panel.
1 - Stolen by mice after defeating Chef Soulfflé
2 - Given to Luigi by Morty after defeating a Goob in a monster suit
3 - Held by the Blue Toad Ug is guarding in a painting
4 - Stolen by Polterkitty after placing it in the elevator