Marianne & Luigeena
From the Super Mario Wiki, the Mario encyclopedia
Jump to navigation
Jump to search
"Marianne & Luigeena" is the fourth live-action segment of The Super Mario Bros. Super Show!. Its corresponding animated episode is "Mario's Magic Carpet".
Plot synopsis
[
edit
]
In their apartment, Mario and Luigi are in the process of cleaning-up and talking about someone named Lyle Alzado who is coming to lunch when the phone rings. Answering the phone, which is covered in pizza, Mario begins to talk to someone named Marianne as Luigi begins to frantically tell him to hang-up the phone.
After some small talk, Mario tells Marianne and another person, named Luigeena, that Lyle Alzado is visiting. After Mario says this, Marianne and Luigeena hang-up. An agitated Luigi tells Mario that he shouldn't have told Marianne and Luigeena that Lyle Alzado is visiting, as the two are madly in love with him. Luigi then says that they'll have to keep Marianne and Luigeena away from Lyle Alzado.
With Lyle Alzado and their cousins, Marianne and Luigeena about to show-up, Mario and Luigi decide to go out and get more food. As the two leave, Lyle Alzado appears and, seeing that Mario and Luigi aren't in, decides to wait for them. Just as Lyle makes himself comfortable Marianne and Luigeena show-up and begin trying to flirt with Lyle. Lyle, becoming unnerved, begins trying to leave, he is pulled back by Marianne, who sends Luigeena off to find Mario and Luigi. Marianne continues to flirt with Lyle.
Eventually, Luigi reappears and manages to get Lyle away from Marianne and begins to try and explain what's going on to him. Marianne finally does leave to look for Luigeena, who hasn't come back yet, but before she goes, she reminds Lyle of his date with her, much to Lyle's horror.
Soon after Marianne leaves, Mario shows-up and, after hearing what happened between Lyle and Marianne and Luigeena, begins to try and apologize to him. As Mario starts his apology, Marianne and Luigeena appear, saying that they are leaving, they also say their date with Lyle is off as the two just spotted Mel Gibson and plan on trying to get him to date them.
Surprisingly, Lyle is disappointed he won't be going on a date with Marianne or Luigeena, though Mario and Luigi only think Lyle is kidding.
Characters
[
edit
]
Names in other languages
[
edit
]
Language
Name
Meaning
German
Marianne und Luidiana
Marianne and Luidiana
Hebrew
מריאן ולואיג'ינה
Mrn Vlvg'nh
Marianne and Luigeena
Italian
Marianne e Luigina
Marianne and Luigeena
Portuguese
As Primas
The Cousins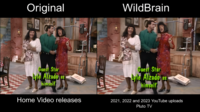 The 2021, 2022, and 2023 YouTube uploads and Pluto TV use different picture cropping for this segment and Mario's Magic Carpet.