Defuse or Lose
From the Super Mario Wiki, the Mario encyclopedia
Jump to navigation
Jump to search
Defuse or Lose is a 2-vs.-2 minigame in Mario Party 5 and Mario Party: The Top 100. The minigame features the only appearance of King Bob-omb in Mario Party 5. In the background are some big Bob-omb-shaped sculptures. Also surrounding the players is a big group of Bob-ombs.
Introduction
[
edit
]
The game first shows a Bob-omb on the verge of exploding. Once it does, the three fuses attached to King Bob-omb begin to burn. The screen then zooms out and shows the sparks traveling across one team's set of fuses before the screen splits.
Gameplay
[
edit
]
The objective of the minigame is to prevent the sparks on the fuses from reaching King Bob-omb. To do this, players on each team must ground-pound the three fuses, which follow a set trail. The fuses rekindle not too long after they are extinguished, so the players must ground-pound them again. A player can extinguish two sparks at once by ground-pounding them where the fuses intersect. If a team's spark reaches King Bob-omb, that team loses. If both teams' sparks reach King Bob-omb at the same time, the minigame ends in a draw.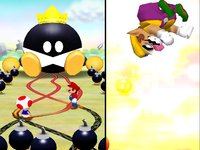 When one team loses, King Bob-omb explodes, making the team and Bob-ombs all fly away. In Mario Party 5, the remaining team then perform their victory animations as the Bob-ombs clear the area. If a draw occurs, both King Bob-ombs explode, sending both teams and their Bob-ombs flying. A rubble is created, smoking.
Controls
[
edit
]
Mario Party 5

[

edit

]
– Move
– Jump
→ – Ground Pound
Mario Party: The Top 100

[

edit

]
: Move
: Jump
in the air: Ground Pound
In-game text
[
edit
]
Mario Party 5

[

edit

]
Rules – "Slow the burning fuse by doing a Ground Pound directly on it. If a spark reaches King Bob-omb, you will lose."
Advice – "Look where the fuses cross each other to slow two sparks with a single Ground Pound."
Mario Party: The Top 100

[

edit

]
Description – "Extinguish the sparks on the fuse the only way you can–with a Ground Pound!"
On-screen – "Ground Pound to stop the spark!"
Gallery
[
edit
]
Names in other languages
[
edit
]
Language
Name
Meaning
Japanese
ボムへいどうかせん
Bomuhei Dōkasen
Bob-omb Fuse
Dutch
Springstof
Explosive. Pun on "spring" ("jump")
French
Les Mèches Panique
The Panic Fuses
German
Luntentreten
Fuse Trample
Italian
La miccia di Bob-omba
The Bob-omb fuse
Spanish
A toda mecha
Full Fuse, pun on a toda mecha (full throttle)