Chimp Chase
From the Super Mario Wiki, the Mario encyclopedia
Jump to navigation
Jump to search
Chimp Chase
Appears in
Mario Party 5
Type
4-Player mini-game
Time limit
30 seconds
Music track
Move Happily
Chimp Chase is a 4-Player minigame found in Mario Party 5.
Introduction
[
edit
]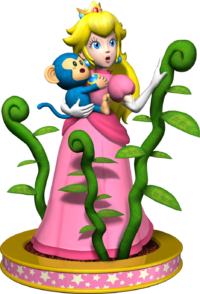 The camera shows some of the surrounding area in a jungle before panning to the arena itself where the players and Ukikis are.
Gameplay
[
edit
]
The players must chase and grab red, brown, blue, and gray Ukikis and give them to the adult Ukikis of the matching colors to earn points within the time limit. Each adult Ukiki is positioned in one of the screen's corners. At some point during the game, one golden Ukiki, worth three points, shows up. This Ukiki can be returned to any adult Ukiki, though it is considerably faster than its counterparts and does not stop moving until it is caught. If one of the adult Ukikis screams out, the Ukikis of the same color freeze, giving players a chance to get them. The player with the most points after 30 seconds wins.
The four players line up in the center of the area, with winners standing in front. Winners do their winning animations while losers do their losing animations.
Controls
[
edit
]
– Move
– Grab/Release
In-game text
[
edit
]
Rules – "Catch the little Ukikis and return them to the same-colored adult Ukiki. Whoever catches the most wins."
Advice 1 – "The golden Ukikis are worth 3 points each and can be returned to any adult Ukiki."
Advice 2 – "When an adult Ukiki gets angry, the little Ukikis of the same color stop moving. That's your chance to grab them!"
Names in other languages
[
edit
]
Language
Name
Meaning
Japanese
ウッキーパニック
Ukkī Panikku
Ukiki Panic
French
Panique des Singes
Panic of the Apes

(Pun on the French title of Planet of the Apes)

German
Banino-Jagd
Ukiki Chase
Italian
Ukiki smarriti
Lost Ukikis
Spanish
¡Dichosos monos!
Darn Monkeys!