ID UFO
From the Super Mario Wiki, the Mario encyclopedia
Jump to navigation
Jump to search
ID UFO
Appears in
Mario Party 5
Type
2-vs.-2 mini-game
Time limit
60 seconds
Music track
Move Happily
ID UFO is a 2-vs.-2 minigame from Mario Party 5.
Introduction
[
edit
]
A UFO startles the red team members, and it quickly flies off into space. While the red team turns to face the screen, the screen splits and shows both teams.
Gameplay
[
edit
]
There are two sets of UFO pairs, one for each team. Each team must ground-pound two of the nine UFO panels simultaneously within a time window to match the UFO pair outside. When a panel is triggered, color and sound effects indicate whenever a player has a correct match or not. Once a team correctly matches its UFO pair, the pair flies away and a new pair appears. The team that matches five UFO pairs before the other team wins the minigame. If time runs out before five UFO pairs are matched, the team that matched more pairs wins. However, if both teams matched the same number of pairs when time runs out, the minigame ends in a draw.
While all the UFOs' designs are unique, most share a few characteristics designed to confuse the player into guessing the wrong panel.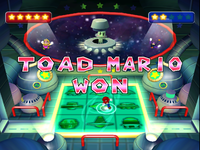 The winning teammates do their victory animations, while the other teammates fall through holes and float in space. If the minigame ends in a draw, both teams perform their losing animations as UFOs fly by the teams.
Controls
[
edit
]
– Move
– Jump
→ – Ground Pound
In-game text
[
edit
]
Rules – "Find the panels that match the two UFOs. You and your teammate must then do a Ground Pound on both panels at the same time."
Advice 1 – "To get a point, you have to do a Ground Pound on your panel at the same time your teammate does a Ground Pound on his or hers."
Advice 2 – "If you Ground Pound on the wrong panel, that panel will flash red."
See also
[
edit
]
Names in other languages
[
edit
]
Language
Name
Meaning
Japanese
えあわせUFO
Eawase UFO
Fit UFO Pictures Together
French
Mission Identification
Identification Mission
German
Area 53
Pun on Area 51
Italian
Coppie di UFO
UFO Pairs
Spanish
OVNI identificado
Identified UFO