Desert Dash
From the Super Mario Wiki, the Mario encyclopedia
Jump to navigation
Jump to search
Desert Dash is a 2-vs-2 minigame in Mario Party and Mario Party: The Top 100.
Introduction
[
edit
]
On the screen, the player sees the sun that is about to set. There are some trees and rocks at both sides of the lane on the grass. The camera moves backward, revealing the finish line with a signpost, as well as a Thwomp as an obstacle. The screen then splits in two and shows the two teams as the minigame begins.
Gameplay
[
edit
]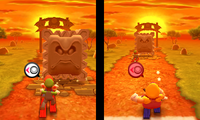 The members of the teams have log boards on their feet, and they have to work together to cross the finish line. To go forward, both players on a team have to use their feet at the same time to step on a certain side; the dialog showing which way both players have to go to move forward appears on each team. If one of the players on a team moves in the wrong direction with their foot, the team will collapse onto the ground and then have to stand up to resume. If this occurs, the team will lose some time and the other team may get ahead. Additionally in the minigame, there is a Thwomp in the air as an obstacle nearby, attempting to crush the teams as they pass by. After falling, the Thwomp slowly lifts up from the ground to fall again when it reaches its maximum height, and the process repeats. If one of the teams gets crushed by the Thwomp, the team will lose some time, like when the team falls over. The first team to cross the finish line wins the minigame.
Mario Party: The Top 100 mostly retains the minigame's basic gameplay, except that the boards are colored red and blue. The Thwomp has also been updated to match its current appearance. Additionally, when a team collapses, the notification to move the Circle Pad to the left or right turns red instead of a red X marking appearing over it.
Controls
[
edit
]
Mario Party

[

edit

]
– Step with right leg
– Step with left leg
Mario Party: The Top 100

[

edit

]
Slide Right: Move right leg
Slide Left: Move left leg
In-game text
[
edit
]
Mario Party

[

edit

]
Game Rules – "Break into teams for a ski race in the desert. Push in the same direction at the same time."
Game Rules (Mini-Game Island) – "Compete in teams of two in a desert ski race. Clear the game by winning the race."
Advice – "If the two of you don't push at the same time, you'll fall down."
Mario Party: The Top 100

[

edit

]
Description – "Work with your teammate and sync your moves to reach the goal!"
On-screen – "Move as a team to reach the goal first!"
Gallery
[
edit
]
See also
[
edit
]
Names in other languages
[
edit
]
Language
Name
Meaning
Japanese
ムカデGO!GO!
Mukade GO! GO!
Centipede GO! GO! (Same as Dungeon Dash)
Dutch
Zandlopers
Literally Sand Runners, but also a pun on zandlopers (hourglasses)
French
Ski de dunes
Dunes ski
German
Wüstensprint
Desert Dash
Italian
Sci nel deserto
Desert ski
Spanish
Esquí en el desierto
Desert Ski