User
:
ThePowerPlayer
From the Super Mario Wiki, the Mario encyclopedia
Jump to navigation
Jump to search

If you're wondering where I've been, when Super Mario Bros. Wonder was released, I swore off the Mario Wiki to avoid spoilers until I 100% completed it. Now that I have, I'm back and ready to get that article featured!
"Power Player - The device infringes Nintendo's intellectual property rights if it contains Nintendo's copyrighted games."

"Wario is generally portrayed as a power player."

—

Super Mario Wiki

, History of Wario

Hi! I like Super Mario.
I think the Mario vs. Donkey Kong series is full of underrated classics that deserve more love. I enjoy games throughout the Super Mario franchise in general, though.
My favorite Mario character by far is Wario. Aside from Wario, my other favorite character is Donkey Kong. It would be Funky Kong, who is unequivocally more bodacious and potentially even more powerful, but Donkey Kong's storied legacy since the very first game in the franchise, plus his incredible variety of appearances across more than 40 years, mean that I find Donkey Kong more interesting as a whole.
My sandbox:

Favorite Mario games
Some games I have yet to complete
Wario appreciation piece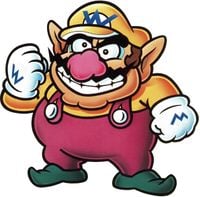 Wario is the ultimate chaotic neutral of the Mario universe. Unlike Mario, who has nearly no personality to speak of, Wario has a multitude of traits that others might call character flaws, which he recognizes and deliberately uses to his advantage. His lack of hygiene is a force to be reckoned with. Despite supposedly having a face revolting enough to scare even ghosts, one of his best friends is attracted to him; not to mention, he has his pick of the lot. He weighs over 300 pounds, but they might as well be 300 pounds of muscle, considering his consistent ability to duke it out with Bowser and Donkey Kong in terms of raw power. He can easily perform physical feats on a level that Mario could only dream of with a power-up. His childhood resentment has only driven him to make great advancements in kingdom-conquering, discover an extra-dimensional portal on his whim, save an entire world merely by accident, cross the bounds between fiction and reality, and claim what he rightfully deserves - time and time again. As a result, he's become overwhelmingly successful, with a flourishing game company and countless priceless treasures to his name. Clearly, Wario hasn't let Mario break his spirit, as his self-esteem knows no bounds, and when he's not having extravagant adventures, he has a hobby in art - he can be an excellent artist, when he wants to. Because he embraces his imperfections and becomes a better person not in spite of, but because of them, Wario is the shining example of what it means to be human. Oh, and he's also immortal and has made a deal with the devil.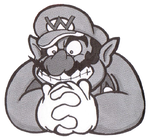 THE WARIO ARTICLE HAS BEEN FEATURED!!!


Wario celebrating his article being featured.
Wario history guide and ultra-obscure Wario media repository: Wario's Appearances, Rearranged In Order

Articles created
Donkey Kong (Game Boy)
Donkey Kong Jungle Beat
Mario + Rabbids Sparks of Hope
Mario is Missing!
Mario Paint
Mario Pinball Land
Mario Strikers: Battle League
Mario vs. Donkey Kong
Mario vs. Donkey Kong 2: March of the Minis
Mario vs. Donkey Kong: Minis March Again!
Mario vs. Donkey Kong: Mini-Land Mayhem!
Mario and Donkey Kong: Minis on the Move
Paper Mario: The Origami King
Paper Mario: The Thousand-Year Door
Pinball / VS. Pinball
Super Mario Bros. Wonder
The Super Mario Bros. Movie
The Super Mario Bros. Super Show!
Virtual Boy Wario Land
WarioWare, Inc.: Mega Microgame$!
WarioWare: D. I. Y.
Miscellaneous
Completed projects
Mario vs. Donkey Kong 2: March of the Minis
Added table of floors and their levels to main article
Added screenshots of all levels to their respective floor articles
Added level table for all levels on each floor
Cropped screenshots of all levels to display only the Touch Screen
Revised any and all existing articles of content from Mario vs. Donkey Kong 2: March of the Minis to match the standard set by the rest of the wiki
Using a sound-accurate emulator and the sound test feature, recorded unobstructed music samples from the game that weren't present anywhere on the Internet
Mario vs. Donkey Kong: Mini-Land Mayhem!
Uploaded all missing media from Mario vs. Donkey Kong: Mini-Land Mayhem!
Pinball / VS. Pinball
Provided Pinball and VS. Pinball with full coverage
Miscellaneous
Potential projects to work on