Three Little Pigheads
From the Super Mario Wiki, the Mario encyclopedia
Jump to navigation
Jump to search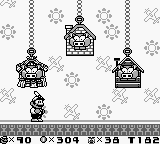 The Three Little Pigheads,[1] also known as the Three Little Pigs,[2] or simply the Pigs,[3] are a trio of pig siblings[4] who are the bosses of the Mario Zone in Super Mario Land 2: 6 Golden Coins. Each pig has a different "house" they reside in and have their own attack patterns. The first, Buro,[5] has a straw house and attacks by rolling back and forth along the screen. The second, Bucho,[5] has a wooden house and tries to pounce on Mario by jumping around the screen. The third, Bupon,[5] has a brick house and attacks by jumping, too, but leaps a bit higher every time. Each can be defeated by jumping on them three times or hitting them with six fireballs, and once one is defeated, the next one starts attacking. Each of the pigs' abodes are based on the classic fairy tale, The Three Little Pigs.
According to a Nintendo Power guide, the pigs were waiting their entire lives for a huffing and puffing wolf, and believe that Mario is after their home.[6]

They have also landed a starring role in the Mario vs. Wario comic, where Wario ordered them to attack Mario with other enemies from Super Mario Land 2: 6 Golden Coins. Here, Mario (who was oblivious that Wario's monsters were trying to harm him) mistook them for a bowling game and defeated them by knocking one of them (which he was using as a ball) into the other "pins".
Profiles
[
edit
]
ブーロ
種族 ビースト族
性格 くいしん坊
登場ゲーム ランド2
すばやい3匹の子ブタ
マリオゾーンのボスは3匹の子ブタ、ブーロ、ブーチョ、ブーポン兄弟だ。わらの家、木の家、レンガの家からそれぞれ様子をうかがっている。3匹ちいるので計9回も踏みつけなくては勝てないのだ。[7]
Buro
Tribe: Beast clan
Disposition: Glutton
Game appearances: Land 2
Three quick little pigs
The bosses of the Mario Zone are the three little pigs: the siblings Buro, Bucho, and Bupon. They look after each other from a straw house, a wooden house, and a brick house, respectively. There are 3 of them, so you cannot win without stomping on them a total of 9 times.
Gallery
[
edit
]
Names in other languages
[
edit
]
Language
Name
Meaning
Japanese
ブーロ/ブーチョ/ブーポン[4]
Būro/Būcho/Būpon
ブーロ・ブーチョ・ブーポン[8]
Būro Būcho Būpon
ブー兄弟[9][10]
Bū Kyōdai
3匹の子ブタ[11]
3-hiki no Kobuta
「ブーロ」(Būro, Buro), the first pig,[8] comes from「ブーブー」(būbū, onomatopoeia for a pig's oink) and possibly「ろ」(-ro, name ending)
「ブーチョ」(Būcho, Bucho), the second pig,[8] comes from「ブーブー」(būbū, onomatopoeia for a pig's oink) and probably「~ちょ」(-cho, Japanese endearing diminutive suffix); also called「ブーチェ」(Būche, Buche)[12] and same as Pigarithm
「ブーポン」(Būpon, Bupon), the third pig,[8] comes from「ブーブー」(būbū, onomatopoeia for a pig's oink) and likely「~ぽん」(-pon, Japanese suffix used for cutesy names)

Bu-Siblings, or effectively, "Oink-Brothers"

Three Little Pigs
German
Wilde Schweine
Wild Pigs
Italian
Tre porcellini[13]
Tre piccoli porcellini[14]
Buro, Bucho, Bupon[15]
Three pigs
Three little pigs
From the Japanese name
References
[
edit
]