The 'Shroom:Issue LV
From the Super Mario Wiki, the Mario encyclopedia
Jump to navigation
Jump to search
---

Issue 190
October 15th, 2011
About

---

Hello everybody, welcome to Issue LV! SMB here, and this month I have a few things to say.
I would first like to start by announcing that Edofenrir (talk) is the new Sub-Director, and MrConcreteDonkey (talk) is the new Fake News Director. Both individuals carried out their new responsibilities for this issue and did extremely well, and I am certain that they will continue to do so throughout the months to come. I am sure everybody will be as pleased as I am with their work.
The 'Shroom Spotlight needs your help: please go contact Xzelion (talk) today to find out more about the project! The project has been falling behind, and renewed interest will allow it to be able to move forward, so go ahead if you are interested, and please ask him what you can do to help out.
The Feedback Survey has concluded: we got ten responses (which is twice the amount of responses we got in the last survey). It is extremely important that the Core Staff gets feedback from the readers and writers so that we can know what to continue doing, what not to do, what to fix, and things of that sort. Because without our readers and writers, this paper be meaningless. I would like to thank everybody that participated, and the Core Staff will be reviewing the responses throughout the next month or so.
We have had several writers resign from their positions, so if you are interested, check out the sign up page to see if there is anything that you might be interested in writing about! We would love to have more people come aboard the writing staff.
That's about all I have to say for this issue. I would like to thank the Core Staff and the writers for producing yet another good issue, as well as the readers and everybody else that makes this project possible. Next month, I will bring you information about the festivities we will be having throughout December, the Director Election, and much more. So be sure that you check back on November 19th, 2011 to see what is going on!
Until next month,
Section of the Month
Hello readers of The 'Shroom! For the month of September 2011, there were several considerations for the Section of the Month award, but as we had to pick one to give the honor to... Mario Kart: Wheel Tips Corner by Coincollector, has won the title of Section of the Month of September 2011!
Having been featured in The 'Shroom since Issue XXXIX (June 2010), Coincollector has always delivered helpful tips, information, and excitement in his tips section. Most times, he has written about the Mario Kart series, although he also once introduced a temporary Super Mario Galaxy: Cosmic Tips Corner article instead, which had the same charisma and helpfulness as his regular section. Whether covering Mario Kart or Super Mario Galaxy, Coincollector's section has consistently been a fun read and a great section, and it especially was last month.
Two Honorable Mentions go to Should Have Been by MrConcreteDonkey, and collectively to News Flush by Gamefreak75, TV Tomorrow by MrConcreteDonkey, and Peddler's Place by Gamefreak75. Should Have Been, as always, was an awesome section and was as good as ever for the last issue. The three Fake News sections that received a collective Honorable Mention were hilarious and incredibly tied into each other, all of them covering a fictional shop named "Waluigi's Tacos."
Congratulations to Coincollector for winning the Section of the Month, and be sure to check in next time to see which section will have won the Section of the Month of October 2011!
Hello 'Shroom-readers! The Core Staff would like to thank the ten people that participated in the Feedback Survey. This is twice the amount of people that responded to our survey back in Spring, so this shows that there is a heightened interest in participating in the improvement of the newspaper. Perhaps the shorter length of the survey also made responding and giving input less of a hassle. In the end, though, having even just one person respond makes the survey a success: this time around, the survey was a success tenfold!
To those ten individuals that responded to the survey: your voices will be heard, and your opinions will be weighed out. The Core Staff will be evaluating the complete results of the Feedback Survey throughout the next month, and we will try to apply solutions to problems that we might have and take action.
And to everybody that missed the survey, or participated in this one and will want to continue giving feedback to the Core Staff, the next survey will start in the January 2012 issue, and will continue through the February 2012 issue. You might be thinking, "Why is there going to be a survey right at the end of the current Director's term?" This is being done because whoever takes the Director position for the next term might want to know the (what will be) current circumstances and the community's opinions on the state of the paper. It is valuable information, and can help trigger the first actions taken by that Director upon the completion and evaluation of that survey.
Editorial
Well, what can I say. A month ago, I never would have thought I'd be in this position, but here I am now, directing Fake News! Congratulations to Edofenrir for his promotion to sub-director of the 'Shroom (which is why I'm here as the Fake News director)! I'm excited and happy to be here, and I hope you guys are happy to see me. I can't promise I'll be as great as Edo was, but I'll certainly try my best!
Sad to say that PyroGuy6 (talk) resigned from the Fake Interview, and Ralphfan (talk) resigned from the Fake Sports. It's sad to see two good writers resign, but now there are a lot more places to sign up for! The instructions to sign up can be found on my talk page.
So, uh, yeah, otherwise, not too much will have changed around here. Apart from less Edo and more me-do...
Okay I should stop now. Enjoy the section. Edo's allowed me to use the character heads and headers, so credit to team him for them.

Written by:

MrConcreteDonkey (talk)
Wheel of Fortshroom
is a game show, where three contestants compete for money by solving word puzzles in different categories. There is also a large wheel, containing a lot of wedges with different amounts of Mushroom Coins displayed on. There are also prize wedges, which give the player a prize, and bankrupt wedges, which bankrupt the player
of all money they have ever earned in their life
. By spinning aforementioned wheel, each contestant can guess a letter in the puzzle, and the amount of Mushroom Coins displayed on the wedge the wheel stops on is multiplied by the amount of the letter the contestant guesses in the puzzle.
But wait! That's been done before, I'm sure. That's what you're thinking, right? What's that...no? Well, you're thinking about that phrase while reading this, so ha-HA.
But that is a dilemma, so how do we fix it? EXPLOSIONS! That's right, Wheel of Fortshroom includes 100% more explosions than any other show of a possibly similar name! Wedges explode, prizes explode, even the AUDIENCE explodes! Even the host is explosive - he's a Bob-omb. Sometimes, the wheel explodes, and the show has to shift its coverage to Expert Thumb-Twiddling...WITH EXPLOSIONS. The show has been described as:
"Painful, yet strangely addicting." ~Fire Flower Magazine
"It killed my TV!" ~Some hoodlum
"I can walk again!" ~Strange old lady
"WAAAAAAAA" ~Waluigi
What do I have to say? The show certainly has an <explosion-based pun here>. Literally. It <explosion-based pun here> the <wheel-based pun here> to the <really awful joke nobody gets>. And that's just not <cricket>. The show can be seen on CBShroom every Monday, Thursday and Saturday night, at 9:00pm. Thanks for reading, and *BOOM*.

Written by:

Chivi-chivik (talk)
Hi everybody! Here's your hostess, Chivi-chivik! And this is Cooking Guide, where we teach you how to cook excellent dishes!! So, let's go!
---
I went to Dyllis' restaurant again. I had to choose between her and Zess T....
Me: (reluctantly) Hi...
Saffron: Dyllis! She's here!!
Me: Saffron? What the...
Dyllis: I needed her to cook vhat vee are going to cook today...
Me: (crying of happiness) Good heavens! I feel better with Saffron staying here!
Dyllis: (annoyed) Yes, yes... Well, listen, vee are going to cook... the Fruity Frozen Deluxe!!
Me: What? I didn't have that in mind... Saffron: I wanted to notice you, but as you can see, I couldn't...
Me: What we need then?
Dyllis: A Fruity Syrup and a Snow Cone.
Me: We'll use the Fruity Syrup we made the other month?
Saffron: Yes.
Dyllis: She'll make the Snow Cone and I'll do the rest.
Me: I'll get ready for writing...
Saffron: You have to put the Ice Storm in the blender for get the ice for the snow cone.
Me: (writing) Okay...
Dyllis: You have to mix the Snow Cone and the half of the Fruity Syrup, and put it in the fridge's icebox. You must keep it for an hour, stirring from time to time.
Me: Yay...

--\After an hour.../--

Dyllis: Take the dish out from the icebox, share out the ice in different glasses and put the rest of the syrup on top.
Saffron:
This is the Deluxe!!
Me: (tasting) Incredibly delicious, as always!! Lots o' thanks!
Dyllis: Not at all.
Saffron: You're always welcome!
---
Summary:
Fruity Frozen Deluxe
You need: A Fruity Syrup (see last The 'Shroom issue), a Snow Cone (from an Ice Storm)
Make the Snow Cone from the Ice Storm
Mix the half of the syrup and the Snow Cone. Put it in the icebox
Wait an hour. Stir it occasionally.
Take the dish out and put it in some glasses. Put the syrup on the top.
Thanks for being here reading, and, until next Cooking Guide!!

Written by:

Gamefreak75 (talk)
Welcome back, my wonderful consumers and boy do I have a deal for you. There's nothing fishy about the following product…or is there?
Super Sushi is all the rage these days. Made from the aquatic lifeforms and other somewhat organic products that populate the Ocean World, this delicacy is sure to be a fan among those seafood lovers.
Upon ingestion, you will grow to gigantic proportions.
What's the matter, small fry, getting picked on by chumps bigger than you? Well give 'em a taste of their own medicine with Super Sushi.
Use your new height to wreck havoc to your enemies and city or use your vertical gain for beneficial purposes, it's your choice!
CAUTION: Side-effects may include:

Muscle cramps

Stomach pain

Dizziness

Indigestion

Warning:As a side note, please do not feed any pets or animals this product.
Failure to do so will result in DISASTROUS consequences and we here at The Shroom are not responsible to any damaged property.

Written by:

MST3K (talk) (usually)
MST3K received no questions this month.
Director Notes
by Gamefreak75 (talk)
Count Bonsula (talk) has resigned from the Find the Difference and Crossword sections of the Fun Stuff, so that position is up for grabs again!
Mario Fan 123 (talk) has also resigned from the Trivia section, so yeah, you can apply for that job too!
DKPetey99 (talk) has disappeared without a trace, so he is fired from his Guess that Game section.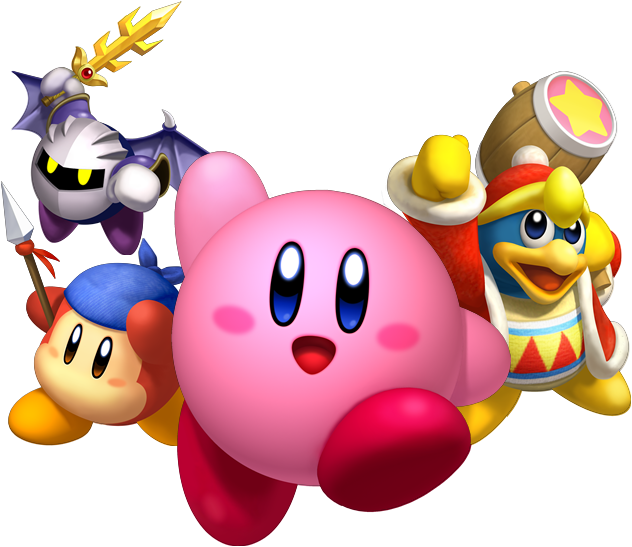 In news that are not so bleak, Marwikiedor (talk) is now writing the Quiz section. Hooray!
Mystery Images

Hello readers, this is your aging writer, Tucayo! Not much to say, except that this month's Mystery Images are themed. What's the theme, you say? Well, I won't tell you, but there is a theme. Oh, also, there is one non-Marioverse character. Brush your teeth.

Answer

Quiz

by Marwikedor (talk)

Name both badges as well as the required item to be found in spooky Forever Forest in "Paper Mario".
In the Horror Land board of "Mario Party 2", how many coins must be given to Big Boo for his remarkable service of stealing stars from the three other players and when is the only time his services may be used?
What are the four major regions of the Creepy Castle level in "Donkey Kong 64"?
In "Super Mario World", what is the first Ghost House level in which Mario faces the dino-ghost Eerie?
Who (or what) is the evil boss of the Horror Manor area of "Wario World"?
In "Super Mario Land 2: 6 Golden Coins", in which zone does Mario face creatures wearing hockey masks with a dagger stuck in them?
In the "Yoshi's Story" level Ghost Castle, what enemy or enemies does Yoshi have to get past as he balances the 7-stack of melons to the goal?
According to the controversy surrounding "Wario Ware: Touched!", what sinister phrase is Ashley heard saying if her record is spun fast enough?
"Super Mario Galaxy 2's" Haunty Halls Galaxy's star, Sneaking Down the Creepy Corridor, had a signpost appear early on in the level. A big, fat lie was written on it, possibly by Boos. What did the sign say?
Name the gluttonous ghost in "Luigi's Mansion".

Click to find answers!

FP Plus, HP Plus, Magical Seed
150 coins, nighttime
The Big Tree, the Crypt, the Dungeon, and the Tower
Donut Secret House
Brawl Doll
The Pumpkin Zone
Black Shy Guys dropping Anvils
"I have granted kids to Hell."
"The Boos won't hurt you as long as you don't look them in the eye. OK?! Tee hee hee!"
Mr. Luggs
Guess that Character
Hi again 'Shroomers! I wish everyone a Happy Halloween!
This enemy first appeared in Super Mario World.
This enemy has many other species.
This enemy's color is Black.
This enemy has appeared in 7 Mario games to date, and 1 currently confirmed game.
This enemy's name has 5 letters.
Well, if you still can't figure it out, look at the answer!
Hope everyone has a great Halloween! See you next issue!
Hiding Koopa
By General bob-omb (talk)
This koopa hid himself well.
Hint
Don't start off looking at the middle of the picture.
Word Search
This month's theme is Wario Land: Shake It!
Answers will be featured in next month's issue. ;)
Director's Notes (Fawfulfury65)
It's time for another month for the 'Shroom! I hope you enjoy all that we have to offer.
Again, no one was hired to write for the Music & Artwork this month. If you would like to write for it, please fill out the following application and send it to me (open jobs are listed here). Just remember that the demo you have to send must be as good and detailed as you can possible make it.
1.) Which position would you like to apply for?
2.) The staff reserves the right to remove writers from their position if they engage in activities that reflect badly on The 'Shroom. These activities include extensive misbehavior on the Super Mario Wiki and/or its forums. Do you agree to not engage in such activities for the entire duration of your employment?
3.) Please write a full-length demo of your section. That way, we can have a bit of your work to decide if you can be on the team.
I am currently accepting pictures for the Music & Art's Sketch of the Month. If you have any drawings related to Mario that you think should appear here, send them to me and they'll appear on the next issue of the 'Shroom!
Screenshot of the Month (Fawfulfury65)
I spent some time wondering what I would choose for this month's Screenshot of the Month. I knew it would be a dark and spooky picture for Halloween, but I wasn't sure which one. As I began writing this section, a family member kicked me off of the computer and I went to play Diddy Kong Racing. While I played the said game, I was inspired to choose a picture from Haunted Woods, one of the game's best courses.
It is a pretty eerie track, which takes place in a haunted, medieval village and in the woods. In one point of the race, you enter a creepy forest, and as you drive through it, several ghostly Wizpig faces appear and laugh in a strange way. This screenshot is taken at that point. You can see two of the faces at the front of the picture near Diddy Kong and Conker, as well as another in the distance. In the bottom-left corner of the image, a yellow magnet is displayed, which happens to be the item that the player is holding. The magnet can be used to pull you towards other racers during the game.
As shown in the picture, the player is on their first lap and in second place, right behind Conker. Their time so far in the race is displayed in the top-right corner of the screen. The player is also shown to be holding seven bananas. Bananas are scattered around many of the game's courses, and collecting them makes you drive slightly faster. You can see a few bananas ahead of Conker and Diddy Kong in the picture. There is also a red balloon in the distance, which, if hit, gives the one who hit it an item. The color of the balloon corresponds to the type of item you get from it. Therefore, if someone were to drive into that balloon, they would get a rocket to launch at an opponent.
That's all for this month! Come back again to see next month's Screenshot of the Month!
Sketches Related to Mario (Fawfulfury65)
This month, I have received two sketches related to Mario! If you have drawings you want to be shown on the 'Shroom, send them to me and I'll put them here, if you'd like. You are also free to give me a title and description along with your picture.
Our first drawing is by Rise Up Above It (talk):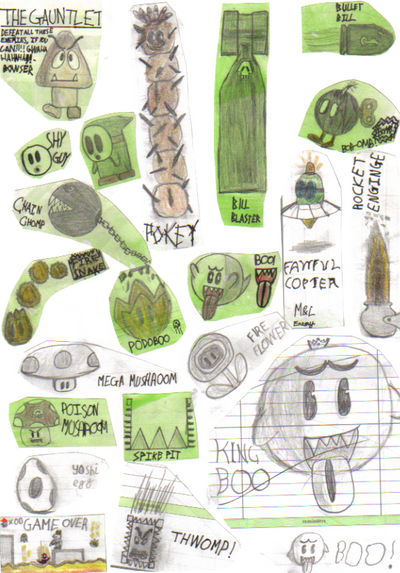 Next, we have a picture from Kingboo7 on DeviantArt, entitled "Welcome to Your Mansion." It is a picture to celebrate the release of Luigi's Mansion 2: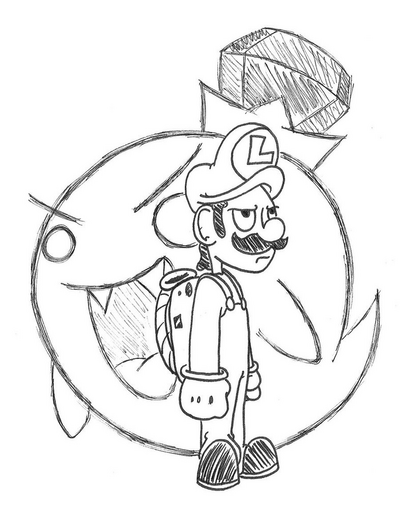 Come back next month to see more great drawings from the community!
Music Factoid (SimeaMorgana)
This month, I'm going to present you five orchestrated versions of different "Mario Classics"! From Super Mario Bros to Super Mario Galaxy and New Super Mario, I guess something will certainly fit your taste. But it is highly recommendable to listen to every bit of those excellently rendered Master rearrangements for orchestra. Enjoy!
[Tokyo City Philharmonic Orchestra, Super Mario world http://www.youtube.com/watch?v=9nWSALF2hBg]
This is undoubtedly a demonstration that Super Mario World music is just perfect for Jazz/ Big Band remixes. The brass, the smooth percussion accompanied by the string instruments are just perfect. An outstanding re-orchestration of the Super Mario World main theme by the Tokyo Philharmonic Orchestra!
[Famicom 20th anniversary arrange, Super Mario Bros. http://www.youtube.com/watch?v=1saeXVWBEAc ]
A more dramatic version of the Game's main themes; overworld, underworld, castle. Feel the tension and the greatness of this more Mario-unlike interpretation.
[Kanagawa Philharmonic Orchestra, New Super Mario Bros. http://www.youtube.com/watch?v=1saeXVWBEAc ]
One of my personal favourites! This rearrangement of the game's soundtrack is masterly rendered, first and foremost because of the vocals, in both the overworld's and the castle's themes. It puts a smile on your face, enjoy it deeply!
[Symphonic Legends, Retro Suite http://www.youtube.com/watch?v=1pRmTbGFbgs ]
The WDR orchestra in Cologne gives us this beautiful interpretation of old Mario soundtracks, written by Koji Kondo, starting out with a gorgeous violin cover of Dire, Dire Docks that makes you shed tears of nostalgia. Another soundtrack they play is a lively and energetic cover of the Super Mario Bros. 3 theme, a SMB underground/ castle theme variation , New Super Mario Bros' main theme and, of course, the Super Mario Bros. overworld theme.
[Symphonic Legends, Galaxy Suite http://www.youtube.com/watch?v=jk_jQB9Iius ]
Take a look inside the wonderful world of the 'Galaxy' soundtrack! It is not only an amazing orchestration, but you will relive the whole story just by listening to the music. Starting out with the Star festival and Bowser's appearance, we get an impression of the most well-known Galaxies in the game; Good Egg Galaxy, Battlerock Galaxy, Buoy Base Galaxy, Gusty Garden. Finally when we are facing Bowser, the villain's theme plays, sung by a choir! At the end, you will be stunned by an outstanding choir and orchestra version of Gusty Garden, in Latin! Veni, vidi, vici! Fitting words for our heroic plumbers who came, saw and conquered space.
That's all for this month, I hope you enjoyed my article. :)
Sprite of the Month (FunkyK38)
For this month, it's this picture of Bowser Jr. :

! This is from Mario Hoops 3-on-3, where Bowser Jr. is a starting player, while his father Bowser is an unlockable player. It'll be a little bit before Basketball season starts, but here is this image for fans of Mario Hoops 3-on-3!
Soundtrack of the Month (Mariomario64)
Hey guys (and girls), and welcome to October's Soundtrack of the Month! With Halloween coming up for many, I feel that it's more than necessary to use a "spooky" song. So here's the Luigi's Mansion theme from Super Smash Bros. Brawl, extended to play for 14 minutes. Happy Halloween, everyone!
Box-art of the Month (Baby Mario Bloops)
"Super Smash Bros. Brawl" is the latest installment for the Smash Bros. series, providing even more action-packed events taking place this time around. First glance is just regular old characters intermingling with new characters. However, it is much more.
Those characters on the cover - Link, Mario, Peach, Samus, Pokemon Trainer, Pikachu, Kirby, Fox, Pit, Meta Knight, and Wario - need a closer look. See the titles that lay out on every character; the fine stitching of both Link and Mario's clothing, the Master Sword handle in full detail, even the feathers and bat wings of Pit and Meta Knight respectively! Not only that, but with that blue background with the white coloring coming from the background like the sun, it makes the effect even better. Without that effect, the cover wouldn't have made that 3D effect that it does. It's pure amazing what Nintendo did to this simple design.
It's not that complicated like the others, so that is basically all their is. However, I think that did the balance perfectly. With that, I'm Baby Mario Bloops and I'll see you all next month!
Hey guys! Welcome to another issue of the Pipe Plaza! If you look at the sign-up page, you'll notice that the Pipe Plaza now has two less writers than it used to. The vacancies are for Ralphfan, resigning from Forum Update and myself, Marioguy1, resigning/being fired from Featured.
This means we now have two new spots open! So go on and sign up for them, read my Pipe Plaza page if you haven't already done so and continue with the issue!
Tip of the Month: When uploading images, try to upload them in the highest quality possible. Don't use .bmp images as the server will not let you upload them. Also try to make good use of the background space, if there is any, such as with character art. It's helpful to center your image then reduce the white space around it in a program like Paint or Photoshop. This will reduce the amount you have to upload, and the server space it takes up.
PipeProjects Seeking Contributors (Yoshiwaker (talk))
Since the time I wrote my last section, there have been 2 new PipeProjects started that are in need of contributors. Well, what am I waiting for? Here they are:
First up, we have the Super Mario Sunshine: Blue Coins PipeProject. People who join this should try to find out where all those Blue Coins are, then put them in the location article. Really good idea; it's a real pain to find all of them by yourself.
Next, there's the Wario Land 4 PipeProject. Since most of the articles related to WL4 are stubs (and there are some that don't exist), people who join this should try to create and unstubbify articles on levels and enemies from Wario Land 4.
Well, that's all for this time!
In memory of Steven Paul "Steve" Jobs (San Francisco, CA; February 24th, 1955 – Palo Alto, CA; October 5th, 2011)
October 1st, 2007 (NA): Super Mario Bros.: The Lost Levels (NES-VC)
October 4th
October 5th, 2001 (EU): Paper Mario (N64)
October 6th
October 7th, 2009 (JP): Mario vs. Donkey Kong: Minis March Again! (DSiWare)
October 9th
October 11th
October 12th, 2000 (EU): Mario Party 2 (N64)
October 13th, 2009 (NA): Mario & Sonic at the Olympic Winter Games (Wii & NDS)
October 15th
October 16th, 2009 (EU): Mario & Sonic at the Olympic Winter Games (Wii & NDS)
October 17th, 2003:
October 19th, 1996 (JP): Picross 2 (GB)
October 20th, 2005 (JP): Super Princess Peach (NDS)
October 21st
October 22nd, 2009 (AU): Mario & Luigi: Bowser's Inside Story (NDS)
October 23rd, 2007 (JP): Donkey Kong Country 2: Diddy's Kong Quest (SNES-VC)
October 24th
October 25th
October 26th
October 28th
October 30th, 2007 (JP): Yoshi's Story (N64-VC)
October 1985 (NA): Wrecking Crew (NES)
October 1988 (NA): Donkey Kong Classics (NES)
October 1990 (NA): Dr. Mario (NES)
October 1994 (NA): Mario's Early Years! Fun with Letters (SNES)
In memory of Steven Paul "Steve" Jobs (San Francisco, CA; February 24th, 1955 – Palo Alto, CA; October 5th, 2011)
Mario & Nintendo 3DS
September brought us more news regarding 3DS Mario games, including a brand new Mario Tennis installment for Nintendo's handheld console.
Mario Tennis (tentative title) screenshots reveal the game will most likely be based off of Mario Power Tennis for the GameCube. It has also been announced Mario Tennis will feature gyroscope support. As for previously unveiled games, Super Mario 3D Land and Mario Kart 7 have finally gotten exact release dates (shown below). Both games will support gyroscope controls and StreetPass, while only MK7 will support SpotPass. In SM3DL, some enemies are set to sport Tanooki tails, such as Goombas and even King Bowser.
Three new characters will race alongside the usual Mario crew in Mario Kart 7; they are Shy Guy – playable in MKDS only as a Download Play option –, Lakitu and Metal Mario. New items, such as the Tanooki Tail, and new retro courses, such as Kalimari Desert and Waluigi Pinball, have also been revealed. As for other courses, MK7 will be the first Mario Kart game with a 1-lap track: Wuhu Island, due to its considerable length. Tricks from Mario Kart Wii are set to return.
In the field of digital media, Nintendo released Super Mario Land 2: 6 Golden Coins for the 3DS Virtual Console in all regions but Japan on September 29th. Japanese 3DS owners will be able to control Mario on his quest for the castle's keys starting on October 12th.
Updated Release Dates
Super Mario 3D Land

Japan: November 3rd, 2011
North America: November 13th, 2011
Europe: November 18th, 2011
Australia: November 24th, 2011

Mario Kart 7

Japan: December 1st, 2011
Europe: December 2nd, 2011
North America: December 4th, 2011
Australia: December 2011

Mario & Sonic London 2012 Olympics

Wii version

North America: November 15th, 2011
Australia: November 17th, 2011
Europe: November 18th, 2011
Japan: December 8th, 2011

3DS version (All regions): February 2012

Super Mario Land 2: 6 Golden Coins (3DS Virtual Console)

North America, Europe and Australia: Released on September 29th, 2011
Japan: October 12th, 2011
NIWA News (RAP)
Good morning, afternoon, evening; whenever. Hello lurkers and users of the Super Mario Wiki, this is RAP reporting here and this is October 2011's NIWA News! I would like to apologize for the lack of NIWA news last month (September 2011) due to a lack of notable NIWA News. With school starting, development of most of the wikis out in the internet have considerably had its activity slowed down: and the wikis of NIWA are no exception. Expect only a couple of NIWA News pieces due to this. Here we go:
~
~
~
The Zelda Wiki just recently took a hit and had its servers knocked out, resulting in the website experiencing downtime. Apparently, it is due to an attempted server move that occured on August 25, 2011...but several rough rocks slowed the process down, and thus the website vanished with a loud poof. It lasted until September 21, 2011 - which is 28 days of downtime. Despite the roughness, they've installed new servers - generally more reliable, and faster; it's so that the wiki wouldn't knock down nearly as much. If you've been wanting to contribute more to the wiki, mainly due to the flood of new info from the Zelda series' upcoming Wii video game, The Legend of Zelda: Skyward Sword, go on and come in, the wiki is waiting!
---
And here are some smaller news tidbits:
Metroid Wiki hit 2 million views on their main page on October 7th! The wiki debuted on January 27, 2010 when it first started; it hit their first millionth view on January 12, 2011. The difference in time between the wiki's receiving 2 million views and receiving 1 million views, that's about 9 months! Congratulations!
Fire Emblem Wiki hit 600 articles on September 14. Congrats as well!
~
~
~
Another 2 months? ...60 days, or 1,440 hours, or 86,400 minutes, or 5,184,000 seconds... Whoa, Déjà vu. In another time MarioWikians, in another time.
Hi guys! It's SKmarioman. This month is October so it can only mean one thing...
HAPPY BIRTHDAY TO ME! HAPPY BIRTHDAY TO ME!
But I talked about that last month, so this month I'm going to talk about a Halloween-themed Mario flash game, Super Mario Bros. Star Scramble 2: Ghost Island by Kenney.
Super Mario Bros. Star Scramble 2: Ghost Island
First I'll go over the controls.
Left/Right Arrow Keys: Walk Left/Right.
SPACE/Z/Up Arrow Key: Jump.
Left Click: Select Level.
The game is a Halloween version of Super Mario Bros. Star Scramble 2, which is a sequel to Super Mario Bros. Star Scramble. This game is built on the same engine as Super Mario Bros. Star Scramble 2 with a few differences apart from level design and looks:
It is now possible to jump with the up arrow key. However, you still need to use the space bar to jump higher on Springboards.
The map screen was replaced with a screen with selections to levels, which are locked until the level before it is completed.
There are ten levels to complete, filled with Goombas, Koopa Troopas, Boos, Buzzy Beetles and Spike Tops. The aim of each level is to collect all of the Shine Sprites and enter the door. After completing all of the levels, the boss level is opened up: A fight against Big Boo.
There is no way to hurt Big Boo. Instead, in order to beat him, you have to run around the stage and hit all of the Skull Switches. After doing this, Big Boo then explodes. After beating the final boss, you get this message:
"Thanks to your heroic actions, Ghost Island is free from ghosts, for now..."
The credits then roll and then goes back to the title screen.
And that's about it for this month. See you next time and have a spooky Halloween!
Hello, everybody, and welcome to...
Wait, no. I've already done should have been enough times, so, prepare for...
A COMPLETELY DIFFERENT SECTION CONCERNING THE INCREASE OR DECREASE IN MASS IN A POTATO CELL AFTER SAID POTATO HAD BEEN LEFT IN A SUGAR SOLUTION OR SUCROSE WHATEVER YOU PREFER AT DIFFERENT CONCENTRATIONS LIKE 0.0 0.2 0.4 0.6 0.8 AND 1.0 WHAT DO YOU THINK GUYS
For today's experiment, you will need a potato, and some potatience.
The name needs some work, but this is going to be awesome!
Yeah, no. But I am going to vary my section a bit this month. This month, instead of covering what should have been, and the beta elements, in one game, this month, I'm going to cover the beta elements for a few more games.
I got a suggestion from WakerLuma, but that'll have to carry over to next month.
Beta elements
Luigi's Mansion, as I said before, I do not own. However, since I'm doing a fully beta elements-themed section this month, I can do some beta elements about this.
Anyway, at the start of its lifetime, Luigi's Mansion was meant to be a Tech Demo, then, when Nintendo decided to make it, they originally were going to for the dying Nintendo 64. Luigi's Poltergust 3000, or Poltergust 400, under the name it had at this time, had a meter, similar to the elemental meter. It was a pressure meter, and ranged from 1-10. If it reached 10, it would burst into flames, and Luigi would be knocked back, costing him some HP. Another meter, called the ghost meter, showed the player how many ghosts they had caught.
Foyer
, sees a
Blue Ghost
in the
Mirror
. This terrifies the plumber, who proceeds to slide down the handrail, avoid falling chandeliers and manages to find himself in the
Parlor
, in the safe hands of more...ghosts...until
Professor E. Gadd
saves him, with his long, brave hair, flowing in the wind! Okay, maybe not the last part. But still.
There was going to be a Portrait Ghost the Safari Room, who was a Hunter, and apparently wanted to add Luigi's head to his collection. Nintendo removed him, on the grounds that the dialogue might be too scary. Finally, there was apparently, according to Nintendo Power, going to be a time system, where, if Luigi didn't rescue Mario within 24 hours, the Mansion, and Mario inside it, would disappear. The game also was once meant to be in 3D, and then later, able to use the Gameboy Advance as a controller, but both of those were unreleased add-ons for the Nintendo Gamecube.
Super Mario World 2: Yoshi's Island is a great game, with great music and great gameplay. It also has some quite interesting Beta elements.
Yoshi originally was going to have a few more forms than he did in the final game: there was a Yoshi Mushroom, Yoshi Plane and Yoshi Tree. I can see how Yoshi Plane would have worked, but Yoshi Mushroom? Yoshi Tree? So maybe this is how everything in the series has eyes: trees, Mushrooms, hills. Of course, the answer was there all along! Dragon Coin sprites can be found in the game's coding, along with a Yoshi with a Santa Claus hat and a strangely coloured Bob-omb-like creature. There's also a Tweeter, plus a different sprite for a Shy Guy, both of which seem to be ripped from Super Mario All-Stars. A Grinder whom is bulky, grouchy, throwing a Barrel and wearing a tie appears too, seemingly resembling Donkey Kong. Finally, there's a fully functional, albeit unused, Biting Bullet Bill.
Super Mario Advance 4 is the remake of Super Mario Bros. 3 for the Gameboy Advance, but includes a lot of differences. And a lot more beta elements!
There are many Super Mario World sprites in the game's coding, in places that, in comparison to Super Mario World's original sprite sheet, are completely different. Also found in the game's coding are sprites for Spiny Cheep Cheeps, Dolphins, Fishbones, Yoshi's Fireballs (YUM), Flutters, Fuzzies and Boo sprites, which were unused in both Yoshi's Island and this game. Para-Goombas, Para-bombs and Porcu-Puffers, who are fully scripted, also appear. A strange, grey switch (and a larger version) with an 'e' on it appears, which is possibly something to do with the e-Reader.
The Gold Cheep Cheep and Green Parabeetle, which were both unused in the original, appear here too, with updated sprites. Finally, there was also an Arrow Lift in the coding.
Super Mario 64 DS
is another remake, of
Super Mario 64
, but this has a lot more content.
The working title of this game was Super Mario 64x4. Otherwise, there was a fully functional Red Koopa Troopa in this game. It normally acted very different from a normal Koopa Troopa in the game, charging at the player and pushing them back like a Bully. When the player knocked it out of its Shell, it would try and run back into it. When Yoshi eats it, he can breathe fire. The battle with Chief Chilly, although inaccessible when playing as Yoshi, has full dialogue for when the green dinosaur reaches him. There was also meant to be a purple Rabbit (WAAAA), and the Caps the characters could attain were originally found in boxes, before Power Flowers came about.
Also, the game started out as a demo, called Mario's Face.
For our final game, why not cover one that wasn't even released? Diddy Kong Pilot was going to be for the Gameboy Advance, and looked pretty similar to Diddy Kong Racing.
This game was going to use the tilt function of the GBA. A large group of Kongs and Kremlings, including a strange, hillbilly Kong, dubbed "Redneck Kong". The game would have featured unlockable, upgradable Power-Ups, interactive background scenery and up-to-three-person multiplayer. After Rare was sold to Microsoft, this game became reskinned, and released as Banjo Pilot.
---
Well, thanks for reading. Don't forget to send me a PM if you want to see something in this section! Bye!
Hello, Brawlers, welcome to Brawl Tactics!
I recently got together with some of my friends for a few rounds against each other, and I noticed some of the custom stages on my friend's game were very clever, so this episode will be about custom stages and some tricks you can pull to make the victory yours!
First off: the falling blocks. This particular stage was huge, and there were falling blocks everywhere. I think he had, maybe, three stable platforms- an ice block, a regular fall-through platform, and a ladder. So, while two of us took him on, we were concerned with not falling through, while he racked up a few points and watched us scramble around. Clever, huh? This I had not thought of before, but it sure made me think about it then. Everything that landed caused the blocks to fall, even the coveted Dragoon pieces I was working so hard to get. So, plan your attacks well!
The next stage was full of springs. I'm not used to fighting on springs, and playing with a flying character can be tricky here. My other friend was playing as Pit as I was playing with my regular, and we were really having a tough time. If you're catapulted off the springs, your jump will NOT be equal to your spring jump. If you need to get out of a spring jump, your jump can get you out of it. You will lose speed, however. Now, this stage had two walls made out of hard blocks that held everyone in, and we ended up tying and having to go into Sudden Death. Those walls made it nearly impossible to KO anyone! I was scrambling around, trying not to get hit, while getting bombed twice. Those walls held me in, but soon it was too much. In the end, our efforts were in vain- we were helpless to watch as Pit and Meta Knight were launched into oblivion... I had to congratulate my other friend- this was a truly ingenious stage design!
I hope this sparks your inspiration to create some crafty stages that you can use to your advantage against your opponents! Good luck, Brawlers, and see you next month!
Hello Mario Karters, to the Mario Kart: Wheel Tips Corner of The 'Shroom. Your friend Coincollector is here again to give you the monthly tip for this occasion.
Before submerging in our subject, I want to tell you about the news regarding one of the most-expected games for the handheld console Nintendo 3DS: Mario Kart 7. New information has been revealed, like new courses, new characters (some of them already introduced in past Mario Kart games and some that make their first appearance in Mario Kart 7), new weapons (I mean power-ups not seen before), and new gameplay elements. Remember that you can see all of this by clicking the link here to read the article of the game.
Now with our subject. This time I'll talk about Boo... err, I mean the Boo item. Basically, Boo gives you the ability to turn invisible for a while when using it. Sure, the effects of this item don't end here. Once you've used Boo and turned invisible, you're invulnerable against any item and you're able to steal items from your opponents. The functions of this power-up tend to vary in the few games it has appeared. In Super Mario Kart, the Boo is exclusive in Battle Mode. In Mario Kart 64 it was a bit more common to obtain in racing and battle modes alike. In Mario Kart: Super Circuit, the Boo gained the ability not just to turn you invisible and steal, but also to torment the racer that you've stolen from, slowing down their vehicle (a real nuisance when playing Grand Prix in 150cc class, as CPU racers used it frequently against you). In its last appearance, Mario Kart DS it is a rare item that helped the player, besides stealing for them, to run a bit faster and run over any type of rough terrain without losing any bit of speed. As I said the item is rare to obtain and depends on the type of kart you're driving. It tends to be more common if you're using karts with the highest item ratio. Well, I explained how to use this item in your advantage, but what happens if the item is used against you? It tends to be somehow unpredictable in the past games, except in Mario Kart DS. In this game you can see when somebody used a Boo by summoning the mischievous ghost in his or her front, or also in the course's map on the touch screen. If a Boo is going to steal your item, use it just as before as the ghost makes contact upon you and grabs the item. On a detailed view, when stealing, the Boo usually chooses the nearest racer that has a power-up.
For an experienced player, the Boo can be useful in some circumstances. Though it grants you invincibility and speed, which is cool, the boost is not quite notable and the items that may give you can be not that useful (for example, use a Boo in 6th place and you get a banana - how useful, huh?). This item works best in courses with lots of rough terrain that can serve as quick shortcuts off the road..
And so we finish another issue of the Mario Kart Wheel Tips Corner. See you around, Shy Guys!
Bonjour tout le monde! Marioguy1 ici pour une autre publication de Fading into Obscurity! Sorry about that, my French class is getting to my head! In case you didn't understand that, Marioguy1 here for another issue of Fading into Obscurity! This month, we'll be looking at a character who you would be surprised to see in this section, but I believe fits nonetheless. I'm talking about Dimentio!
Dimentio is the main antagonist of Super Paper Mario. While I've never played that game, I do know a bit about Dimentio. He begun as an agent for the apparent antagonist of the game, Count Bleck. He is fought three times as a minion of Count Bleck and then, after defeating Count Bleck, he becomes Super Dimentio and is fought like that; making it a total of four times.
Super Paper Mario came out in 2007. It has been four years since then. Since 2007, Dimentio has completely disappeared. No appearances in other games, no trophy in Brawl, no sticker in Brawl, nothing. It appears as if Dimentio has completely faded into obscurity.
Arr matey, welcome to another issue of Character Reviews. I be yer host, Marioguy1.
This month, we be havin' a big squadron o' characters, which be funny, on accoun' o' thar be only one. His name be Cortez an' he be th' only boss in chapter 5 o' TTYD. So let's begin!
Cortez
Cortez be th' scariest captain around, he has his own ship, fights wi' four different weapons an', I forgot t' mention, he's a skeleton. What I really love about Cortez be his design. Th' fact that he has four weapons, an' be a floatin' skeleton jus' amazes me. His design be definitely his best point.
Other points t' note about th' lad be his integration into th' story; what better boss fer a deserted isle, than a skeletal shipmate? He really fits th' part well, an' then gets an e'en bigger role in th' storyline helpin' Mario ou'. He's a great character in both them ways. However what I don't like about th' lad be his abruptness in appearin'. Thar really be nay hints t' th' lad's existence until he appears ou' o' nowhere. He could be havin' at least a legend o' a ship leadin' up t' 'is appearance. Either way, I think he's a great character.
Totals
Wow, we be havin' wee issues! Anyways, Cortez, th' skeletal seafarin' hearty, will receive 8/10 this time around on accoun' o' o' his amazin' design, yet nay so good placin'.
---
Credit: http://www.syddware.com/cgi-bin/pirate.pl