The 'Shroom
:
Issue 184/Pipe Plaza
From the Super Mario Wiki, the Mario encyclopedia
Jump to navigation
Jump to search

Director's Notes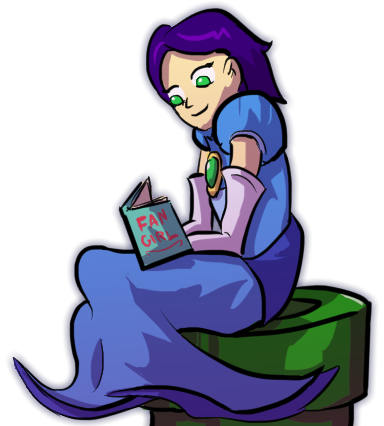 July!! How is it July?? Who knows! I don't!!
Anyways, getting to see Dreamcatcher in concert was AWESOME!!!! It was my first ever concert, and even though the venue was not great (it was only standing room, there was a ton of people there so it was super crowded, and the building did NOT have AC) I still had the absolute time of my life! Their live performances are just as incredible as people say. And their vocals.... Everything I dreamed of and more. I can die happy now.
Also, I move into my college dorm in a month, and WOW that's not that far away. There's a corner of my room that is slowly being taken over by all the stuff we've bought for my dorm. Send help.
There's a few sections missing this month but the ones we do have are all still great anyways! You too can come write a great section for Pipe Plaza (or anywhere else, for that matter)! Just pop on over to the sign up page!!
Have a good rest of the month~
Section of the Month
---
NIWA News
Written by: PanchamBro (talk)
Hey it's me PanchamBro. It's time for this month's NIWA News, a section regarding news with each of the 32 members of the Nintendo Independent Wiki Alliance. We'll be going through staff changes and related wiki news in June. Let'sa go!
Staff changes
Wiki news
It's the battle of the century decade year month uhhh...just a battle then. After several weeks of voting, the following logos here have been decided. Now it is up to discussion on whether or not Inkipedia uses its old logo that has been used since Inkipedia's inception in 2015, or either one of the new logos. If you are interested, please join the discussion on Inkipedia's logo change here when it opens tomorrow! Please assure that you follow the guidelines provided.
---
That's it for any related NIWA news that I could gather for this month's 'Shroom. See you next month!
Poll Committee Discussion
Written by: Waluigi Time (talk)

Hello 'Shroom readers, and welcome once again to the best analysis of the polls around! (Seriously, Zange puts that as this section's caption every issue. Are you going to argue with the Pipe Plaza Director on this? I didn't think so.) That's right, it's time for Poll Committee Discussion. It's me again, Waluigi Time, coming back for another round of this, so let's get into things.
The News
It's hard to believe, but it's already been a year, which means the Twelfth Poll Committee's term is coming to a close. By the time you're seeing this, it'll be decided who will be leading the Thirteenth Poll Committee over the next year, so congratulations to the winner! Be sure to keep your eyes peeled for applications opening up! Being on the Poll Committee is a fun experience and I highly recommend it to anyone who wants to get more involved in the community.
Archives
What are your first impressions of Mario Strikers: Battle League? (Electrical Bowser jr. (talk), June 12, 2022)
What are your first impressions of Mario Strikers: Battle League?
The game seems decent, but could be better. 37.11% (717 votes)
I do not have any first impressions of Mario Strikers: Battle League. 22.26% (430 votes)
The game seems like a very good entry. 19.67% (380 votes)
The game seems excellent, and is one of the best Mario sports games. 11.90% (230 votes)
The game seems poor and not worth playing. 6.06% (117 votes)
The game seems very bad, and is one of the worst Mario sports games. 3.00% (58 votes)
Total Votes: 1,932
What type of Mario games would you like Nintendo to focus on developing new entries for the most? (Electrical Bowser jr. (talk), June 26, 2022)
What type of Mario games would you like Nintendo to focus on developing new entries for the most?
Developing new entries for the main platformer series. 33.93% (495 votes)
It doesn't matter to me as long as Nintendo produces fun, high-quality Mario games. 27.07% (395 votes)
Nintendo should make new games that fulfill several of these options instead of focusing too much on one area. 13.98% (204 votes)
Developing new entries for spin-offs that have not had new entries for a long time. 8.91% (130 votes)
Revisiting games that have not yet had a sequel. 7.88% (115 votes)
Developing new entries for spin-offs that often receive new games. 3.56% (52 votes)
Nintendo should focus more on improving their existing games with content updates and DLC than on new entries. 2.40% (35 votes)
Developing new spin-offs based on entirely new game concepts. 2.26% (33 votes)
Total Votes: 1,459
Analyses
What are your first impressions of Mario Strikers: Battle League?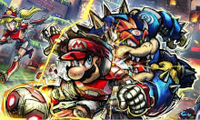 Both of the polls I'll be covering today are by Electrical Bowser jr. (talk). The first one focuses on the latest entry in the Mario franchise, Mario Strikers: Battle League, and what our viewers' first impressions of the game were. The most popular option, with 37% of the votes, was that the game seems decent, but could be better with some improvements. I'd assume that this is most likely due to the fairly scarce amount of content currently in the game, with only ten playable characters (Daisy being a notable omission) and five fields to play on, as this seems to be a very prominent criticism of the game. Nintendo has confirmed that there will be updates in the future, so hopefully they'll help people enjoy the game more.
Coming in second, with 22% of the votes, is actually people who have no first impressions of the game at all. Now, to be fair, the game was only two days old when the poll first launched, but it's still a bit surprising to see, considering the demo and easy access to footage on various websites. Beyond that, reception to the game still seems to be mostly positive, with about 20% and 12% of voters saying that the game is very good and excellent, respectively. At the bottom, 6% of voters think that the game is poor, and exactly 3% consider it one of the worst Mario sports games to date.
I'd say these results are pretty encouraging for the game's reception. Almost all of our voters who have first impressions stated that they were positive, with only 9% of voters disliking the game.
What type of Mario games would you like Nintendo to focus on developing new entries for the most?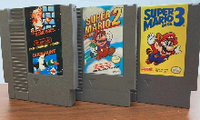 Our next poll looks at what kinds of Mario games voters would want Nintendo to focus most on developing. The most-selected option with nearly 34% of votes was for Nintendo to focus on developing new main series platformers. I have to admit I'm a bit surprised that this one got the most votes. I think maybe this has something to do with the drought of new entries for the main series. Aside from remakes and ports, although the latest main series entry was technically 2019's Super Mario Maker 2, the game that most people point to is 2017's Super Mario Odyssey, which is already five years old at this point. I'd be curious to see what the results would have been if we ran this poll closer to a new main series release.
Next, 27% of voters said that it didn't really matter, as long as Nintendo continued to provide the fun, high-quality experiences that they're known for. Following that up, nearly 14% would prefer Nintendo's focus to be spread across a variety of different games, rather than putting too much effort into any specific kind. The rest of the options are more specific - nearly 9% want to see revivals of spin-offs that have been neglected for a while, like the recent revival of Mario Strikers. Nearly 8% want to see sequels for games that have not had a followup at all, and about 4% want continued support for spin-offs that Nintendo still makes games for, like many of the Mario sports titles. The bottom two options, with around 2% of voters each, are for Nintendo to focus more on games that are already released and improving them with updates, and finally, developing entirely new game concepts. I'm surprised to see that one all the way down at the bottom.
So aside from a lot of our voters eagerly awaiting a new entry in the main platformer series, it looks like most people don't see a need for Nintendo to focus in any one area specifically, whether they're content with whatever they put out, or wanting to see more variety.
Conclusion
Well, we've come to the end of this issue's Poll Committee Discussion, and this committee's Poll Committee Discussions as a whole. Be sure to keep an eye on the Thirteenth Poll Committee being assembled, consider applying if you're interested, and continue supporting them by voting in the main page polls!
Anniversary Announcements
Written by: Lakituthequick (talk)
Welcome to July! You are reading Anniversary Announcements, where you read announcements about the anniversary!
The news
The polls have closed! Results have been tallied and sent to the presenters that have already signed up for a presentation. There are still some spots open to present an award for yourself, so please do sign up for a presentation if you haven't already taken up a few!
The tournaments
Quite a few tournaments are now well on the way! In this subsection, I will summarise upcoming and ongoing tournaments and update you on their proceedings.
---
Thank you again for reading, and I hope to see you around for the Awards ceremony on the 12th next month! Have fun, play some tournaments, make a presentation, and have a good one!
Mario Calendar
Hey everyone! As I'm sure you're all aware by now, a new month means a new installment of the Mario Calendar. If you want to learn all about the history of Mario in July, this is the place to do it!
Region Abbreviations
| Abb. | Region |
| --- | --- |
| ALL | All Regions (JP/NA/EU/AU) |
| JP | Japan |
| NA | North America |
| EU | Europe |
| AU | Oceania/Australia |
| SK | South Korea |
| CHN | China |
| UK | United Kingdom |
Console Abbreviations
| Abb. | Console |
| --- | --- |
| NES | Nintendo Entertainment System |
| Famicom | Family Computer Disk System |
| SNES | Super Nintendo Entertainment System |
| N64 | Nintendo 64 |
| GC | Nintendo GameCube |
| GB | Game Boy |
| GBC | Game Boy Color |
| GBA | Game Boy Advance |
| DS | Nintendo DS |
| 3DS | Nintendo 3DS |
| Switch | Nintendo Switch |
| Wii VC | Nintendo Wii Virtual Console |
| 3DS VC | Nintendo 3DS Virtual Console |
| Wii U VC | Nintendo Wii U Virtual Console |
| VB | Virtual Boy |
| G&W | Game and Watch |
| 64DD | Nintendo 64 Disk Drive |
| MS-DOS | Microsoft Disk Operating System |
| CD-i | Philips CD-i |
| IQ | iQue Player |
| NVS | Nvidia Shield |
| ACPC | Amstrad CPC |
| ZX | ZX Spectrum |
| Coleco | Colecovision |
| TI-99 | Texas Instruments TI-99/4A |
Overall, I'd say that this was an incredibly strong month for Mario. Obviously, many iconic spinoffs were released in Japan, such as Paper Mario: The Thousand Year Door, Mario Kart: Super Circuit, and Dr. Mario. There were also mainline games such as New Super Mario Bros. 2, and the initial American port of Mario Bros.! However, the main achievement goes without saying - Donkey Kong was released in Japan for the first time, making all the other games possible! I hope you enjoyed this month's Mario Calendar, and I'll see you next month!
Roleplay Update
Written by: MightyMario (talk)
Hello again! This is MightyMario with Roleplay Update! Let's see what happened in the Roleplay section in June! Also, be sure to vote for the best Roleplay event in the Community Awards!
New RPs
HALF-LIFE | By Matz - Based off of the hit video game series Half-Life, Gordon Freeman explores the Black Mesa research facility and encounters various dangers throughout his journey. Matz plays Gordon Freeman.
Coconut Mall - Roleplay | By Waffle Dee - The Coconut Mall is open for business! Explore the wonderful stores and speak with friendly employees as you shop till you drop! Waffle Dee stars as Clyde, Yoka, and Telaco, while LJS plays a Best Buy employee named Abigail.
Notable Events
Toadia and Toadiko (ToadetteFan) practiced for their ballet class, while Cayde (MightyMario) prepared for her courtroom trial, and Elijah Guy returned in Mushroom City Car Wash.
The Second Tale in Tales from the Megaverse has begun, introducing new characters and new stakes.
New Bans
None. Keep that streak going!
And this was another edition of Roleplay Update! I'm MightyMario and see you in August for more updates!
Clearing the Pipes
Greetings, readers! This is Clearing the Pipes, a new interview-style section where I grab creators from across the community and take a deep dive into their process, their inspirations and favourite bits of media, and any other revelations we come across along the way. To start, I kidnapped Hooded Pitohui, who readers may recognise as the team leader behind Strategy Wing. He's a lot more than that, though! Long time contributor and writer for The 'Shroom, as well as other creative projects such as the Awards Ceremony, just to name a few. It was a simple task to steal him away, but finding out his inner secrets? Let's see how that went in the interview below.
The Interview
TPG: Hello, dear readers. Welcome to Clearing the Pipes, a special section with a very special guest. Here, I'll be conducting interviews with creatives from across the community, taking deep dives into their process, their drive, and - most importantly - their favourite pieces of media to consume. That way, you can come away from this section with something to do!
TPG: Now, onto our interviewee. Current Awards Director, Strategy Wing team leader, and former leader of, well, most community projects. You've seen him around, it's Hooded Pitohui!

Hooded Pitohui: Hello there! I appreciate you having me today.

TPG: It's good to kick things off with you. I'll start with the basics.
TPG: So, I don't think I'm being bold when I assume your creative output of choice is fictional prose (though you haven't shied away from drawing when needed, of course). Your writings have appeared across the 'Shroom, many Awards Ceremonies, and the famed AKG3.
TPG: What draws you towards this type of storytelling, and would you say you have any specific inspirations or memories of how you first got into it?

Hooded Pitohui: "Famed" AKG3 might be a bit of a stretch, especially coming from one of the two showrunners on the spectacular AKG4, but I will accept the compliment! Onto your question, though, I'd say what draws me to prose is, in part, its accessibility. Writing is within my grasp in a way that other artforms are not, simply put. Now, is it because of a lack of talent that I don't dip into other artforms more often? No, I mean, I don't think I'm particularly talented, but at the same time, I recognize that it's a matter of practice. Artists of all stripes have put an incredible amount of effort into their craft, and it's important to acknowledge how much of it comes down to practice and commitment.
Hooded Pitohui: Though, I'm already off-topic. Like I said, prose writing is accessible to me. I feel like I have more control over the medium that, say, visual art or poetry, and I have the confidence to put it forward as my best possible work.
Hooded Pitohui: Which, is really the goal for me whenever I put something forward, regardless of the medium. Is it my best possible work, scaling for the investment of time and energy put into it, that's what I use as my standard. Mind you, I do try to improve that work over time, though! "Best" should not be a static measure.
Hooded Pitohui: Funnily enough, getting to the second part - inspirations and memories - I would actually say I'm not all that confident with fiction and comedy. My writing specialty is definitely non-fiction writing, more academic writing - something I don't often do around this community. I suppose that focusing on fictional prose is an offshoot of that, in many ways. I've written stories here and there over my lifetime. Little children do like to write, regardless of the quality, after all, and I was no exception!
Hooded Pitohui: But, if there is any true through-line for fictional writing for me to what I do in this community, it's probably writing little stories and fanfics - for my own consumption, really - in my high school years. That's when I decided I ought to embrace trying a few new things with the media I liked, just for fun and as a little bit of a broadening of my horizons.

TPG: While I haven't read your more academic writings, I'm certainly familiar with your more journalistic-style writings for The 'Shroom. But, we'll come back to that later.
TPG: You're saying that part of what draws you to prose is the accessibility, the ability to jot something down regardless of where you are or what you have on you. To that end, do you find yourself coming up with ideas or acting on them on the fly, or do you like to have a set place to write? What's your typical workflow for getting a project off the ground?

Hooded Pitohui: I've found that to vary a bit over time, actually. For large and significant work, I much prefer to sit down at a laptop - or with physical pencil and paper, though that doesn't happen often in the context of this community specifically - and at a counter. I have a dedicated working space (well, "dedicated". It takes up space in the kitchen, but it's exclusively for work when I'm actively working, and I'm the type to shut down and put things away if I'm not). It's simply more comfortable and more efficient than trying to work on a phone or work in an environment where I'm going to have to strain my back hunching over or trying to keep my laptop in my legs or anything of that sort.
Hooded Pitohui: For smaller projects, or projects that are solely for fun, I'll often open up a text editor on my phone or open a notebook and jot them down on a whim. A few years ago, I used to do that far more often. I'd write little stories for fun. I'd write 'Shroom sections on my phone like that. An idea would pop into my head, and, depending on the intensity with which it stuck, I might start on it immediately or, usually, have it stuck in my head for three or four days, and then start on it and chip away at it in pieces. I've noticed I've done that far less lately. In the past year, year and a quarter, actually, I've done that only a few times. I don't know what that is. I think perhaps I'm just at a low-point this year in the cycle of having energy, particularly creative energy. I find I have more energy at some points in life than others.
Hooded Pitohui: Hopping back to those larger projects, though, those can vary in how I approach them. Sometimes, just like the small projects, I get an idea in my head and it stays stuck there until I can get it onto paper in some form (they usually expand considerably in scope and ambition in that time, which is not conducive to getting them on paper quickly!). Most of the time, I have to put some work into getting the thoughts together, which usually involves sitting down, getting my mind to transition away from everything else, focusing exclusively on one task at a time as I break up what I'm writing and zero in on it and only it.
Hooded Pitohui: There's usually false starts. It probably takes me ten minutes of rewriting, if I'm whipping something up in an hour, to an hour of rewriting, if I have the luxury of time, to get started, to get going. I'll put words down, dislike how they're coming together, delete, try again, delete, try again, until a direction starts to emerge I can work with (I usually have a few in mind, so it's like going down a list and eliminating them) and until I have momentum on my side.

TPG: Yeah, these last few weeks and months have been pretty creatively draining - I've seen that reflected across much of our community. Still, we push through to put our ideas out there. Would you say (in a hypothetical world where we have no issues with burnout) you'd be doing larger projects more often than smaller ones? What's your ideal scope?

Hooded Pitohui: Ooh, let's see here. In a hypothetical world, one where we're still limited by such things as "the need to sleep" (terrible) and "the need to take care of ourselves," but where there is no burnout, I'd say my ideal would look something along the lines of two-two-two-two. Make progress on, scaled to the scope of the project and deadlines, two major projects each week, make progress on two smaller projects that aren't entirely for myself, two small projects that are mostly for myself, and two small projects entirely for my own indulgence.
Hooded Pitohui: What fits in the second category versus the third isn't always clear cut. For example, 'Shroom sections, I'd usually put in the third category, because I enjoy writing the sections I do, and I do them mostly because I get a boost from the act of doing them. That's not to say there's never been a month where a section or submission feels closer to the second category, though.
Hooded Pitohui: I think that'd give me a pretty good balance considering I tend to devote all of a day's free time, or the vast majority of it, to a larger project's work session. Two days given to the larger projects during the week leaves me with five days to mix and match the other six goals.
Hooded Pitohui: I suppose I might clarify that I'm speaking to writing projects specifically, with all of that.

TPG: True, and you have been featured as a guest writer for Shmaluigi: Private Investigator, which could be closer to the second category. What was it like, writing in another person's world and with their style - and, in general, what do you think you get the most out of when doing collaborative projects, such as AKG3 or writing for other users?

Hooded Pitohui: Writing with WT for Shmaluigi, P.I. was great fun. I felt a little bad for him, because, well, he had to wait on me to write (if I recall correctly, he mentioned it was one of his longest editions by word count), but I had great fun with it.
Hooded Pitohui: It wasn't too difficult a task to write something in the section's style. Now, of course, I was only contributing bits and pieces to a framework mostly being written and driven by Waluigi Time (though we did plan out said framework together in advance), so would it be as easy to emulate the section's style if I were to, say, write an edition from scratch to honor it in an Awards presentation? Certainly not! I do think it wouldn't be too difficult, though. I'm in a little collaborative writing group and I have experience doing collaborations here, too, so I'm fairly used to adapting to other styles, and even handling characters other people have created, for that matter. I've done enough collaborative work to get a feel for what different folks go for with their creative writing, to respond to that, learn it, and to shape what I'm doing to match them.
Hooded Pitohui: What I gain most from it, I'd say, comes in the planning process, not the writing process itself. Necessarily, I'm analyzing their writing, trying to elucidate what I like about it and what doesn't click with me, adapting their techniques to my own writing, but I can do that... simply by reading their writing. I need not collaborate with them to do that. What collaboration gives me is insight into other folks' planning and problem-solving. How do you get a character's voice down? How do you plan out and pace a larger story? How are you handling, say, in a setting like KG, players not behaving as you expected them to? Those kinds of questions are the questions I can get answers to while collaborating with someone and seeing them actively writing, planning out things with them.

TPG: And I'm sure we'll see (or have been seeing, considering the publication date of this section) more examples of your collaborative process and creative efforts in this year's Awards Killing Game Odyssey, with yourself, GBA, and Lakituthequick. I'll say that I'm extremely looking forward to it - you three are juggernauts in your own territories. A combination of those powers? It's gonna be something.

Hooded Pitohui: I'll tell you, at the time we're having this interview, the final pieces to get AKGO moving are about in place, and I'm excited. I'd be lying if I said I wasn't still a tad nervous, but I am also genuinely very excited to get the game going for everyone.

TPG: From what I've seen, it's well worth the hype.
TPG: Now, moving on to the other major part of this section, where I extract media opinions rather than insights. I'll keep it brief - what's your favourite type, style, or genre of media to consume? And as a follow up, what is your favourite single piece of fiction; does it fit into the previously established category?

Hooded Pitohui: I'm open to a pretty wide range of media, honestly. It's easier to say what I don't like than what I do. I'm not a fan of gore for the sake of gore. I'm not a fan of edgy, grimdark media that tries to impress hopelessness and despair upon people without offering any additional messages. It's fine, necessary even, to acknowledge that the world is often a cruel place, and that you can fight the good fight your entire life and still lose, but don't stuff your doomerist, edge work with a smug sense of superiority and nothing more to back it.
Hooded Pitohui: There's room for all types of media. I'll gladly watch an arthouse, avant-garde production and trope-filled shlocky "junk food" media. I've always liked the junk food analogy since I encountered it. Consuming something that's derivative or shallow, it's fine as long as you aren't limiting yourself to it exclusively. Enjoy it every now and again! Don't try and subsist on it exclusively, though. There's so much out there that you need to engage with to fill yourself with new ideas and perspectives.
Hooded Pitohui: Even in medium, I'm flexible. Give me a published book. Give me a fanfiction. Give me a show. Give me a videogame. Tell a story with it, or make a statement with it somehow (a statement can be less a message and more a "I sincerely believe that game design requires you to provide players with an antepiece that introduces a mechanic and then to iterate on it with a completely new, unexpected use every stage"), and I'll give it a shake. I may not like it or finish it, but I'll give it a shake.
Hooded Pitohui: There was a show not long ago, a standard-fare American television sitcom. It was called American Auto. It was not at all entertaining. I could happily have spent the hours I had to spend watching that show doing something else. I still tried to take something away from it, though. I had some excellent, detailed conversations about its structure - what didn't work about its comedy of errors approach, what with the way every error was a collective self-inflicted wound for its ensemble cast, why you just stopped caring about the characters at a certain point - how it portrayed women, and what jokes did manage to land and which ones didn't and what distinguished those jokes. I'll never watch it again, but I still took plenty away from it.
Hooded Pitohui: Once again, I digress, however. One thing I can say is that I tend to like media that's... more grounded. Don't get me wrong. I'll read about a superhero or enjoy something more surreal now and then. I've even watched a mecha show and enjoyed it well enough. But I prefer fiction that's more grounded, closer to our reality, because fiction is, as much as it is a means to entertain, a means to explore ourselves. Fiction is a mirror we hold up to ourselves to ask ourselves about our values, our history, our nature, and, for me, it's easier to relate to more grounded media.
Hooded Pitohui: My single favorite piece of media... That's quite the question, and I say that knowing you were going to hit me with that in advance! I mean... what do I answer to that? There are some stand-out anime I've enjoyed, but anime is... There's a post out there on the Internet noting that you have to be careful recommending anime, because every anime has a certain amount of anime... quirks, to be more polite, and everyone has only a certain tolerance for those quirks and it differs from person to person. I've enjoyed plenty of games, but do I rank any of them that highly? Not really, no. Some books have gripped me, certainly, but not to the level I'd call any one my single favorite piece of media. There's an ongoing piece - not entirely public, unfortunately - that it's a strong contender.
Hooded Pitohui: It's a disappointing answer, I'm well aware, but, I might just have to say I don't have a single favorite piece of fiction. Maybe, maybe, if I had to give an answer with a gun to my head, I could say I enjoyed, uhhh, the show A Place Further than the Universe quite a bit.
Hooded Pitohui: Oh, I guess there's the theatrical adaptation of Fiddler on the Roof, too, or The Good Earth. I thoroughly enjoyed those, too. No matter what the answer is, though, I'd say those all fit the "grounded" aspect of media I tend to like - it's all very human drama.

TPG: Yes, there's a lot of risks in recommending one work to someone you aren't certain will have the same tolerances as you - you often have to avoid showing off things you hold dear to yourself, because you know your love for it lets you move past its flaws. From the perspective of an unaware reader, the problems (and potentially offensive material, on the topic of anime 'quirks' and portrayal of women) will become apparent first, before they have the chance to properly engage with it.
TPG: Let's talk about A Place Further than the Universe, given that yes, I do have a gun, and I'm taking your head hostage until your mind hands over the insight I need. My quick web search makes it out to be about a group of students travelling to the Antarctic for adventures, expedition, research, and a little bit of mystery. It's definitely feasible - though I don't know any students with the kind of money to travel to the bottom of the Earth - and seems like a good baseline for producing character-based drama through the stress the protagonists go through to see their mission to an end.
TPG: I know you have a keen interest in biological sciences. Are there any aspects of this Antarctic anime that tickle this particular interest? In general, to what extent would you say your hobbies and non-media interests influence your taste and choice in shows and books?

Hooded Pitohui: Take it from me. I've watched enough anime to tell you that there's no such thing as a good anime. They're all a mess. Enjoying them at all is about picking out which ones aren't as much of a mess. In all seriousness, though, I can't say my interest in biology in particular affected my perception of A Place Further than the Universe. There's not too much to it in that regard, really. My appreciation for the natural sciences in general might have made me somewhat more partial to it, though, since it does make it clear that the crew going down to Antarctica - including these students - are there to do actual scientific work, not to lounge about.
Hooded Pitohui: It's strange, in a way, to call it one of my favorite pieces of media. It's nothing extraordinary. It has plenty of flaws, from perhaps simple-and-predictable character arcs to an episode that is entirely wasted. It doesn't take great risks. I like it in spite of all of that, though. I appreciate that it embraces adventure and change, that it makes it abundantly clear that you should step out of your comfort zone and try something you may have never dreamed you would try and that you should take that step out of your comfort zone with other people. It's a simple message, but, mayhaps for an introvert, fond of routine and wary of excitement and adventure (read: me), it's a message that's helpful.
Hooded Pitohui: Now, back on track, certainly my other interests and hobbies influence the books I pick up and the shows I watch! It's certainly one of the reasons I crack open far more non-fiction books than fictional works, but they have some influence on the fiction I pick up, as well. Not long ago, I picked up a book, non-fiction, Noise: A Flaw in Human Judgement, which, well, that wasn't spurred by biology either... But it was a book I picked up because it fit my general interests in sociology and psychology. On more of a "enjoyable read" level, there was Bill Bryson's The Body. An interest in biology and a friend's recommendation got me to try out the show Heaven's Design Team, too.
Hooded Pitohui: It's not exactly a hobby, but I do have an interest in death, in how people react to it, in how different cultures view it, in how we grapple with it, and, well, if your work waxes philosophical on death in some form or fashion, or dissects it and analyzes it (conceptually and philosophically or quite literally by looking at the processes of death), you're on your way to getting my attention.

TPG: Well, I do like the sound of an adventure. Maybe I'll pick it up in good faith, some day!
TPG: I'm agreed on the concept of death and loss. I think it's something that we could never truly finish exploring. Well, until we die, and then we can figure it out from there. It's the one thing that unites us all, that inevitable march of entropy pushing us forward and away from the past. If you, dear reader, have ever pondered upon it, then I encourage you to find the nearest book store and have a mosey about in there.
TPG: Now, onto our final lightning round of questions! Just three super-simple little things to cap off this informational journey.
TPG: 1. Do you prefer reading/writing in the first or third person?
2. If you could start a wiki to one franchise, brand, or storytelling universe (or a series of non fiction works!), what would you pick, and why?
3. Any last recommendations for the readers at home?

Hooded Pitohui: I prefer writing in the third-person. I've done a little bit of writing in first-person before, specifically to challenge myself to try something different, and, frankly, I don't mind it. I actually did think it made describing scenes easier, too. When I'm explicitly writing from a character's point of view, it's easy to focus on only what they would notice (a very useful piece of advice Yap has provided me before, though I'm simplifying it here). That said, I'm more experienced with third-person, and I do find it gives me a bit more flexibility in describing what a character is doing.
Hooded Pitohui: Question two is... well, forgive me for being predictable, but I'd fill out a wiki for, ah, Sigsawa's Alternative Gun Gale Online. I mean, if I had unlimited time, I'd start a wiki for most anything that I know well, because I'm a firm believer in throwing as much information as possible onto the Internet, and that's part of why I'd pick that spinoff series. I wouldn't posit that I'm the expert on it or anything, but there's probably not many people who have dove so deeply into it, and I could slap information up, cite pages from the light novels, go into detail, write about obscure material I've dug up.
Hooded Pitohui: Recommendations, eh? Whatever you're thinking about doing, try it! Really, I mean that! If I can do the various things I've done in this community, you can, too! One thing I've learned since joining this community is that it's important to jump in and try something when you want to do it. At worst, you'll be a little embarrassed if it doesn't pan out, you know? You can overcome that and shake it off. Draw that piece of art! Write that story! Host that game session!
Hooded Pitohui: Too often, I see people talking about things they want, things they're very capable of making happen, and then... just not doing them because they assume they won't be able to organize something, or worry too much about not being skilled enough, or because, and this one is a real shame, they assume someone else will do it (and possibly get more attention/a better response). Do not assume someone else is going to do something! Go and do it! Put yourself out there! Have an adventure! Weigh your time, sure, don't get too ambitious, sure, but give whatever you've been thinking of trying a go!

TPG: Well then, there you have it! Tips, tricks, and titillating insights from a wonderful creative man. I hope we're all able to take away something to think about for this month. I've been TPG, this has been Hooded Pitohui, and you've been you. Goodbye!
In Conclusion
Well, it looks like you've got a few things to chew on while you wait for the next interview. A Place Further than the Universe, theatre's Fiddler on the Roof, and The Good Earth. And if you're ever in the mood to make something, just go ahead and do it! Look how far that attitude has carried Hooded Pitohui here.
If you know of any brains you want picking apart, let me know. Until then, I'll be back soon.
What's in a Campaign?
By: Mustard Machine (talk)
Hello, Pipe Plaza readers, and welcome back to What's in a Campaign?, The 'Shroom's premier (and only) Robot Wars history section. Last month, we took a look at Series 4's Mousetrap. This month, in a twist that should shock no one, we are once again returning to Series 3 to review the birth of the legend that is Pussycat.
The Pussycat team (formally called Team Cold Fusion or Team KAT in later series) were no strangers to Robot Wars when the third series began. Originally a team of nuclear engineers (hence the team name), the team entered the cone-shaped Bodyhammer (which, oddly enough, didn't have a hammer) in the first two series to somewhat mixed success. They made the Grand Final of Series 1 after winning their heat in very suspect fashion in a fight that saw Shunt sacrifice itself to free Bodyhammer from that arena grills, then went on to have a fairly poor showing in the Grand Final where the only thing of note they really did was run away from Roadblock as time expired. Seeded number three in Series 2, Bodyhammer would make history as the first seeded robot to ever lose in the first round of a heat, with their body getting stuck on the ramrig and only moving three meters.
After an embarrassing performance in Series 2, the team decided to go with a different design. Interestingly enough, when they designed Pussycat, they still had the gauntlet from Series 1 in mind. Attempting to create a robot that couldn't get stuck in the gauntlet, the team decided on a four-wheeled pyramid design. This design is unique because, due to the placement of the wheels and the pyramid shape, Pussycat can run with any side up, taking away the biggest advantage of flippers. Now, funnily enough, even though the gauntlet ended up being removed and the format switched to combat-only, this design would still prove effective since it was impossible to immobilize by simply flipping, and, considering the fact that in Series 3 only like five or six robots had completely functioning self-righting mechanisms, this put Pussycat in a rare class. For a weapon, Pussycat sported a diamond-coated saw capable of spinning at 1200 rpm. Powered by two 750w motors, Pussycat had a top speed of 14mph, but Pussycat had another secret weapon up its sleeves, that being its driver, David Gribble. David originally joined the team in Series 2 but didn't make much of an impact since the cumbersome Bodyhammer didn't have great maneuverability. But, here, with Pussycat in his hands, it's a site to see. The way he can move the robot, constantly being on the offensive, constantly flipping his own robot about to make sure the blade is at the opponent, I can't say enough that it's a sight to see. Joining David on the team is his neighbor Robert Bettington and team captain Robin Herrick, who is the only original Series 1 member left on the team.
As a reminder, all pictures are sourced from the fantastic Robot Wars Wiki. If you'd like to watch any of these fights, check out this video. Time stamps are provided in the section.
Placed into Heat M, Pussycat's first fight was against the newcomer Hammerhead. From jump, this fight (1:47) is all Pussycat, with Pussycat starting the fight immediately cutting into one of Hammerhead's wheels before pushing Hammerhead into the wall.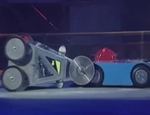 Pussycat would land another blow to the wheel of Hammerhead before Hammerhead would finally attempt to bring its hammer into play. Hammerhead would take a mighty swing of its hammer and... get it stuck on the arena floor. Unable to retract its hammer, Hammerhead would spend its last few second on Robot Wars being pushed around by Pussycat until Pussycat eliminated it by pushing it into the pit.
In the second round, Pussycat was placed in a very tough matchup against Cassius 2, the much-improved sequel to Robot Wars Series 2 runner-up Cassius. Designed by one of the early pioneers of British robot combat, Rex Garrod, Cassius 2 was considered one of the favorites to win Series 3. Needless to say, Pussycat entered this fight as a heavy underdog. The fight (3:59) does not go well for Pussycat to start, with Cassius 2 honestly bodying it. While Cassius 2 never gets under it enough to flip Pussycat over, it does keep Pussycat on its toes, so to speak, and never lets Pussycat get in position with its blade.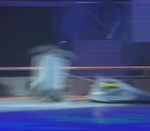 Cassius 2 and Pussycat end up near the wall close to the pit and Cassius 2 gets in a very clever attack when it uses its rear pneumatic spike, which was originally designed as a pit escape contraption, to shove Pussycat near the pit. This would end up proving Cassius 2's undoing, though, because Cassius 2 makes a big drive towards Pussycat to shove it into the pit. But Pussycat moves at the last second and Cassius 2 is unable to stop in time and drives itself into the pit, eliminating itself in a match it probably could not have lost otherwise.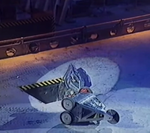 There's a conspiracy theory that Rex Garrod intentionally drove into the pit and eliminated himself out of protest over the lax and confusing safety standards Robot Wars Series 3 had. It's true that Rex absolutely hated the safety standards of Robot Wars, or, more specifically, the lack of such standards and that this would be his last run with the program, with him leaving specifically over the issue, but, to be honest, I don't really believe he threw the match intentionally. There's this weird thing in early Robot Wars where people believe every Cassius loss was done intentionally. There's also a theory that he intentionally lost the Series 2 grand final to Panic Attack because of the Panic Attack team's charity pledge. I don't buy that one either. Honestly, I think the truth is Rex Garrod made great robots but he was never a great robot driver, and I think it's honestly as simple as he built a robot that went too fast in the moment and he wasn't able to stop it when Pussycat moved.
This upset victory would send Pussycat into the Heat Final, where they would face off against Scutter's Revenge. For this fight, Pussycat would replace their diamond-coated blade with a hardened steel blade. Much like the last fight, Pussycat would start this fight (6:29) on the defensive, with Scutter's Revenge using its bulldozer to push and flip Pussycat around. Pussycat manages to get away from Scutter's Revenge, but, in the process, their disc makes contact with the wall and completely shatters, leaving Pussycat weaponless for the remainder of the fight. Needless to say, things aren't looking so good for ole Pussycat.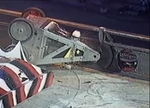 Scutter's Revenge goes back on the offensive, shoving Pussycat into the wall repeatedly before breaking down... and losing the fight...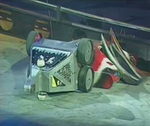 Somehow, despite being completely outmatched and losing its weapon, Pussycat would defeat Scutter's Revenge, sending it through the Heat and into the Semi-Finals.
Or, at least it would have, but, you see, there's a problem. Remember how I said its blade shattered? Well, as it turns out, there was actually a rule that prohibited the use of hardened steel blades because of safety concerns. The Pussycat team did not know this rule and honestly didn't even mean to break it. Basically what happened was that Pussycat had, like, a box of blades and basically just threw one on. But because of this rule breakage and, despite the fact that it ultimately played no role in the outcome of the fight, the judges disqualified Pussycat, stripping their victory and sending Scutter's Revenge into the Semi-Finals. This is a very controversial decision and a lot of people disagree with it. A lot of people think it was too harsh, but, if we're being honest, I agree with the decision. You had a rule that prohibited using that kind of blade and, even though they didn't mean to break it, you had to enforce it, which means you had to disqualify Pussycat if that's what the rules called for.
This isn't the end of Pussycat; rather it's an unfortunate beginning. Returning In Series 4 with a new specially-designed blade, Pussycat would go on to be one of the greatest robots in UK history. While they never managed to win the UK championship, coming closest in Series 4 where they finished runner-up, they would do much better in side competitions, winning four in the UK while also notching another tournament victory in the USA version of Robot Wars, winning the War of Independence special. Pussycat would go on to notch a further thirty-two wins, including two dominating victories over all time great Razer. But all of these matches (outside of Robot Wars Extreme: Tag Team Terror) are stories for another month.