Ninja Squid
From the Super Mario Wiki, the Mario encyclopedia
Jump to navigation
Jump to search
Who's online: Hewer, SolemnStormcloud, LadySophie17, Memelord2020, Porplemontage, Sparks, MisterAstro, DrippingYellow, Goombud, PiNGOUiN, Midnight06, TamirYT123, Polley001, Koopa con Carne, DeadHeat16, Dwhitney, UltraMario3000, Ender78, Jdtendo, PopeLuigi, AmongUsGuy2009, TheKerberos01, TomZhao, NINTENDOBRO 2007, ToadMushroom823, TimonLeslieBerkowitz, LinkTheLefty, ITom33.ro, Results May Vary, JoeRunner, X-Biaur 19, Blueyoshisrc, Annalisa10, TheRaoul1992, Zootalo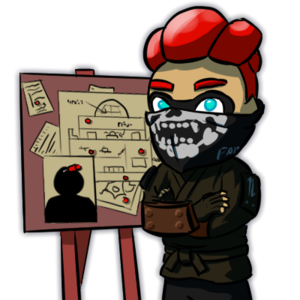 Intro
Hello, folks!
My name is Ninja Squid (formely known as LudwigVon). I am the current Director and Statistics Manager of The 'Shroom, which means that if you are interested in writing for our community newspaper, you must send me an application to write for the newspaper by following the instructions that you can find on the sign up page here. In other aspects of the community, I am currently a member of the Twelfth Poll Committee, and been the Tenth Poll Committee's Chairperson and member of the Seventh, Eighth, and Eleventh Poll Committees (2016-2018, 2020-2021). If you have any questions regarding The 'Shroom, feel free to send me a message!
You may be able to see me on the wiki occasionally, but I am more active on Super Mario Boards and Discord.

I like the Mario series, with my favorite Mario games being:
Paper Mario: The Thousand-Year Door
Mario & Luigi: Dream Team
Super Mario World
Super Mario World 2: Yoshi's Island
Super Mario Odyssey
Super Mario 3D World
My favorite Mario character is Ludwig von Koopa, one of the Koopalings.
Concerning other Nintendo series, I am a fan of Splatoon, Fire Emblem, The Legend of Zelda, Xenoblade Chronicles, and I also like the Kirby, and Metroid series.