Slidin' the Slopes
From the Super Mario Wiki, the Mario encyclopedia
Jump to navigation
Jump to search
This article is about a Super Mario Advance 4: Super Mario Bros. 3 e-Reader level. For the similarly-named move, see Slope Slide.
Slidin' the Slopes is an e-Reader level for Super Mario Advance 4: Super Mario Bros. 3. The level contains four Advance Coins. Its official difficulty rating is ★★☆☆☆. This card was released as part of series 1 in Japan and North America[1][2]. The former depicted Morton Koopa Jr. on the keyart, while the latter depicted a Boomerang Brother.
Level synopsis
[
edit
]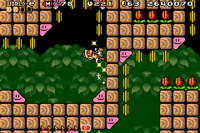 This level has the same floor and background as World 8-2. One of the Advance Coins in this level is hidden in an area accessed by a Warp Pipe. The player has to find a Triangular Block and keep running through other Triangular Blocks, and if the player stops, they fall on a floor filled with Munchers. After that, there is a steep hill. Then there are coins in the shape of e+. A Boomerang Brother with a blue boomerang then comes before the goal. This is the only level outside Japan to feature Triangular Blocks and the Boomerang power-up.
New level elements
[
edit
]
Enemies
[
edit
]
Flavor text
[
edit
]
English:
Japanese:
Romaji:
Translation:  

Run and slide all around. You'll even get to go up-side-down!
さかみちを 気持ちよく すべりおりたらおまえは 谷に まっさかさまだ!!
Sakamichi o kimochiyoku suberioritara omae wa tani ni massakasama da!
"If you enjoy yourself while sliding down the hill, you'll fall head first into a valley!"
Names in other languages
[
edit
]
Language
Name
Meaning
Japanese
すべりだいのようなさか!?
Suberidai no Yō na Saka!?
A Slide-like Hill!?
References
[
edit
]
External links
[
edit
]
Super Mario Bros. 3 / Super Mario Advance 4: Super Mario Bros. 3 levels
Grass Land
World 1-1 • World 1-2 • World 1-3 • World 1-4 • World 1- • World 1-5 • World 1-6 • World 1-
Desert Land
World 2-1 • World 2-2 • World 2- • World 2-3 • World 2- • World 2-4 • World 2-5 • World 2- • World 2-
Water Land
World 3-1 • World 3-2 • World 3-3 • World 3- 1 • World 3-4 • World 3-5 • World 3-6 • World 3-7 • World 3- 2 • World 3-8 • World 3-9 • World 3-
Giant Land
World 4-1 • World 4-2 • World 4-3 • World 4- 1 • World 4-4 • World 4-5 • World 4-6 • World 4- 2 • World 4-
Sky Land
World 5-1 • World 5-2 • World 5-3 • World 5- 1 • World 5-

Tower

• World 5-4 • World 5-5 • World 5-6 • World 5-7 • World 5-

Fortress

2 • World 5-8 • World 5-9 • World 5-
Ice Land
World 6-1 • World 6-2 • World 6-3 • World 6- 1 • World 6-4 • World 6-5 • World 6-6 • World 6-7 • World 6- 2 • World 6-8 • World 6-9 • World 6-10 • World 6- 3 • World 6-
Pipe Land
World 7-1 • World 7-2 • World 7-3 • World 7-4 • World 7-5 • World 7- 1 • World 7- 1 • World 7-6 • World 7-7 • World 7-8 • World 7-9 • World 7- 2 • World 7- 2 • World 7-
Dark Land
World 8- (Big Tanks) • World 8- • World 8- • World 8- • World 8-1 • World 8-2 • World 8- • World 8- (Super Tanks) • World 8-
World-e
★
01: Classic World 1-1 • 02: Classic World 1-2 • 03: Classic World 1-3 • 04: Classic World 1-4 • 05: Classic World 2-2
●
01: Wild Ride in the Sky • 02: Slidin' the Slopes • 03: Vegetable Volley • 04: Doors o' Plenty • 05: Bombarded by Bob-ombs • 06: Magical Note Blocks • 07: The ol' Switcheroo • 08: Piped Full of Plants • 09: Swinging Bars of Doom • 10: Para Beetle Challenge • 11: A Musical Trek • 12: Armored Airship • 13: Ice Dungeon • 14: A Sky-High Adventure • 15: Sea to Sky • 16: It's a Shoe-In • 17: Slip Slidin' Away • 18: Ice Cubed • 19: Puzzling Pipe Maze • 20: A Towering Tour • 21: Castle Dash • 22: Rich with Ropes • 23: Vexing Doors • 24: Caped Escape • 25: Ground Work • 26: An Aqueous Adventure • 27: Bowser's Last Stand • 28: Koopaling Confusion • 29: Bowser's Airship 1 • 30: Bowser's Airship 2
PR
Airship's Revenge • No Time to Dawdle • Treacherous Halls