World 3-Fortress 2
From the Super Mario Wiki, the Mario encyclopedia
Jump to navigation
Jump to search
World 3-

Fortress 2 is the ninth overall and second fortress level of Water Land in Super Mario Bros. 3. This level can be played after completing World 3-7, and beating this level unlocks World 3-8.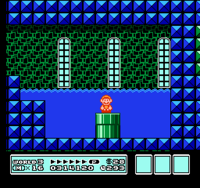 This level spawns Mario on a platform next to water and a Warp Pipe at the bottom of the water. This Warp Pipe leads Mario to a submerged area. Mario must swim past a Roto-Disc and two Cheep-Cheeps. A power-up holding ? Block lies between the two Cheep-Cheeps; it is the only one in the entire level. Past the ? Block and the second Cheep-Cheep is another Roto-Disc and another Warp Pipe. Between the Roto-Disc and the Warp Pipe is another Cheep-Cheep, which forces Mario to swim as high or as low to the ground as possible in order to successfully dodge the Roto-Disc and Cheep-Cheep. The Warp Pipe leads Mario to the third area of the fortress, which is also submerged. Mario encounters two Stretches, marking the enemy's first appearance in the Super Mario franchise. He must swim above, below, or in between the two Stretches to another series of Stretches. This area contains three more Stretches. Past these enemies is the final Warp Pipe which takes Mario to Boom Boom's arena.
Enemies
[
edit
]
Level statistics
[
edit
]
Due to the typical green palette being replaced with cyan in fortresses in the NES version, the Cheep-Cheeps appear cyan instead of their normal green. This is not present in remakes.
Super Mario Bros. 3 / Super Mario Advance 4: Super Mario Bros. 3 levels
Grass Land
World 1-1 • World 1-2 • World 1-3 • World 1-4 • World 1- • World 1-5 • World 1-6 • World 1-
Desert Land
World 2-1 • World 2-2 • World 2- • World 2-3 • World 2- • World 2-4 • World 2-5 • World 2- • World 2-
Water Land
World 3-1 • World 3-2 • World 3-3 • World 3- 1 • World 3-4 • World 3-5 • World 3-6 • World 3-7 • World 3- 2 • World 3-8 • World 3-9 • World 3-
Giant Land
World 4-1 • World 4-2 • World 4-3 • World 4- 1 • World 4-4 • World 4-5 • World 4-6 • World 4- 2 • World 4-
Sky Land
World 5-1 • World 5-2 • World 5-3 • World 5- 1 • World 5-

Tower

• World 5-4 • World 5-5 • World 5-6 • World 5-7 • World 5-

Fortress

2 • World 5-8 • World 5-9 • World 5-
Ice Land
World 6-1 • World 6-2 • World 6-3 • World 6- 1 • World 6-4 • World 6-5 • World 6-6 • World 6-7 • World 6- 2 • World 6-8 • World 6-9 • World 6-10 • World 6- 3 • World 6-
Pipe Land
World 7-1 • World 7-2 • World 7-3 • World 7-4 • World 7-5 • World 7- 1 • World 7- 1 • World 7-6 • World 7-7 • World 7-8 • World 7-9 • World 7- 2 • World 7- 2 • World 7-
Dark Land
World 8- (Big Tanks) • World 8- • World 8- • World 8- • World 8-1 • World 8-2 • World 8- • World 8- (Super Tanks) • World 8-
World-e
★
01: Classic World 1-1 • 02: Classic World 1-2 • 03: Classic World 1-3 • 04: Classic World 1-4 • 05: Classic World 2-2
●
01: Wild Ride in the Sky • 02: Slidin' the Slopes • 03: Vegetable Volley • 04: Doors o' Plenty • 05: Bombarded by Bob-ombs • 06: Magical Note Blocks • 07: The ol' Switcheroo • 08: Piped Full of Plants • 09: Swinging Bars of Doom • 10: Para Beetle Challenge • 11: A Musical Trek • 12: Armored Airship • 13: Ice Dungeon • 14: A Sky-High Adventure • 15: Sea to Sky • 16: It's a Shoe-In • 17: Slip Slidin' Away • 18: Ice Cubed • 19: Puzzling Pipe Maze • 20: A Towering Tour • 21: Castle Dash • 22: Rich with Ropes • 23: Vexing Doors • 24: Caped Escape • 25: Ground Work • 26: An Aqueous Adventure • 27: Bowser's Last Stand • 28: Koopaling Confusion • 29: Bowser's Airship 1 • 30: Bowser's Airship 2
PR
Airship's Revenge • No Time to Dawdle • Treacherous Halls